I was never a good putter. I wasn't even average. Truth? I was lousy. I had to get better to succeed on the PGA Tour. It started with learning what I was doing wrong (besides missing the hole). My former coach, Brett Saunders, used biomechanical-analysis software—like Trackman, but for putting—to look at what my stroke was doing to the ball. No surprise: My launch angle was off (yes, putts have a launch angle) and so was the amount of spin I put on the ball. To try to correct these issues, I went to a left-hand-low grip and a counterbalanced putter. That helped, but not without a lot of practice. Now I'm proud to say my putting has substantially improved. In 2017 on the PGA Tour, I was top 20 in two important stats: strokes gained/putting and one-putt percentage. I also won the Valspar Championship and shot a 59 with 21 putts in the third round of the CareerBuilder Challenge. If you're a lousy putter, or just want to improve, some of the things I did can help you, too. Read on for the details. – With E. Michael Johnson
First thing you need to know is, you don't have to trash your putter. I stuck with mine (an Odyssey Tank Cruiser). The familiarity helped develop better feel.
To improve my roll and get the ball started on the line I've chosen, I now play it slightly forward of center in my stance, and I grip the putter with my palms facing each other, and the left hand lower than the right (below). I grip it this way to minimize any unwanted movement of the putterhead when I make a stroke. This keeps the face square more consistently.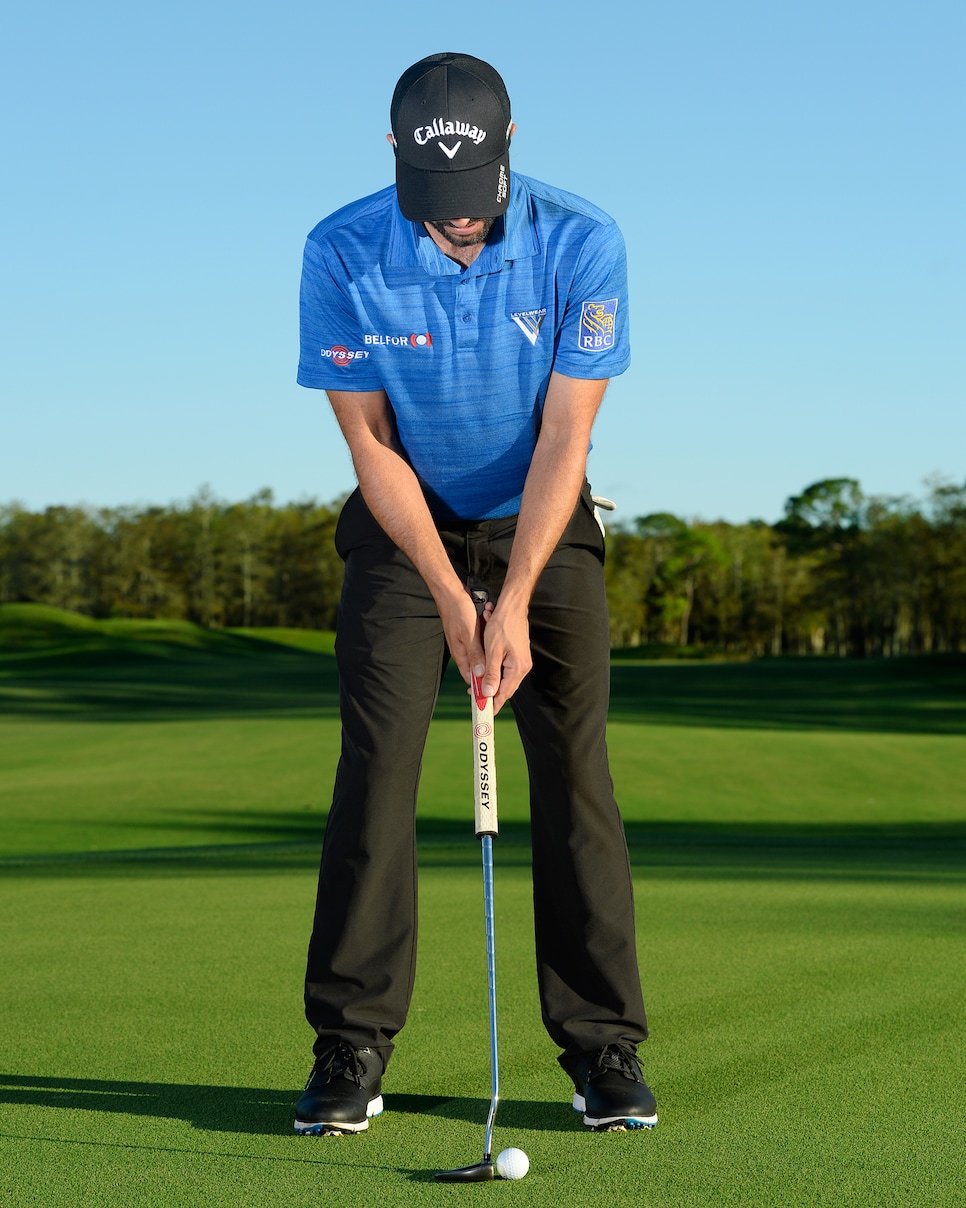 The main culprit for my putting woes was speed control, so I spend as much as 30 minutes a day practicing all sorts of difficult putts—uphill, downhill, sidehill, over ridges, etc. A lot of golfers spend time practicing medium-length flat putts, but I don't think you get anything but comfort from that. I also do a drill where I lay a stick a couple of feet behind the hole—like a backboard. If I hit the stick, that's no good. I start at 15 feet (below) and move back 15 feet at a time until I get about 45 feet away. I want to roll it close (or make it), but not hit it too far past.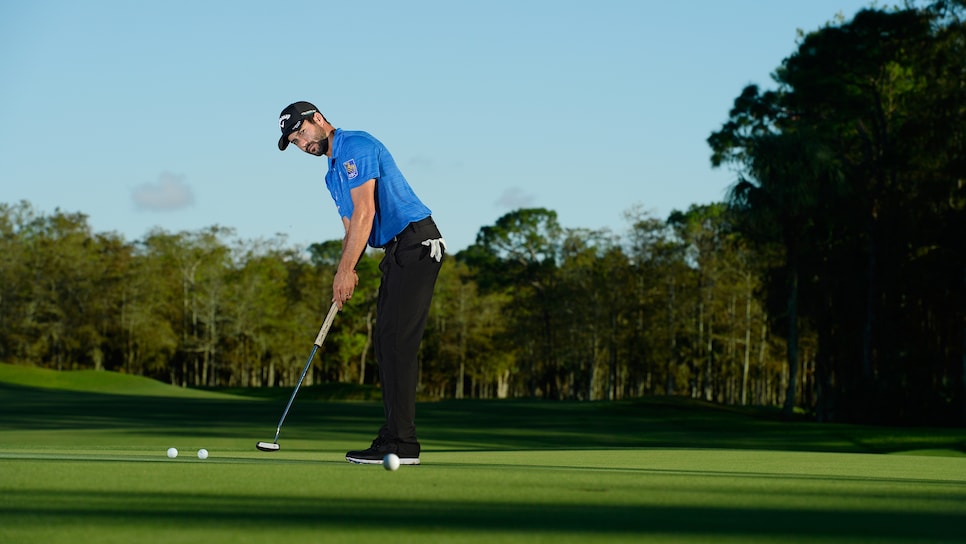 If you want to avoid three-putts, getting it close is only half the task. You also have to make the short ones. To practice these, I focus on hitting the dead center of the hole. I insert a tee in the back of the cup and another a few feet away as my starting point. I then try to hit 20 putts in a row that tap the tee before falling (below). I do this to make sure I'm not getting lazy with my focus and stroke. You can still wiggle it in from short distances with a sloppy stroke, but if you continue to take these putts for granted, you're going to miss one that really matters­—trust me. As you get better at this drill, start challenging yourself by taking on a more difficult three-footer, one with more slope. You know your speed, line and stroke are all good when it goes in dead center on a breaking putt.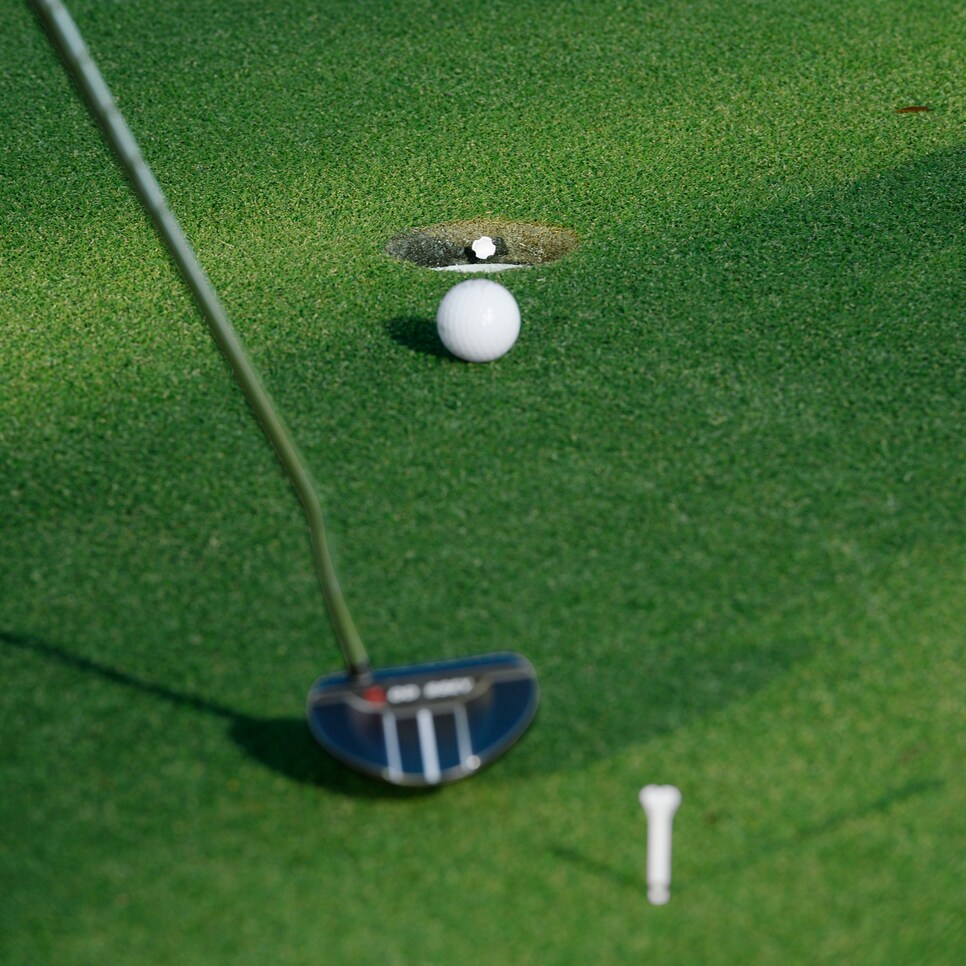 One final piece of advice: Put the time in to get better. Those days when I don't want to practice, I re-watch a video from the 2010 Canadian Open, my first PGA Tour event. I drilled a 5-iron on a 205-yard hole to eight feet and had a straight, flat birdie putt. It didn't touch the hole—not even close. I don't ever want to do that again. And so far, I haven't. Now you don't have to, either.