The Loop
Stingers: Westwood is master of winning the (other) Masters
Jack Nicklaus once said Tiger Woods would wind up with more Masters titles than he (six) and Arnold Palmer (four) combined. Who'd have thought it would be Lee Westwood who would get to 11 first?
That's right. With his successful title defense of the Indonesian Masters over the weekend, Westy picked up his 11th Masters title worldwide. Hip, hip, hooray! From the Quinn Direct British Masters and the Portugal Masters, to the Volvo Masters Andalucia and the Canon European Masters, I think it's safe to say that Westwood is the Master when it comes to winning Masters. And who could ever forget his three-peat at the Sumitomo VISA Taiheiyo Masters?! I'm pretty sure Paramount is in production right now for a movie depicting that historic feat.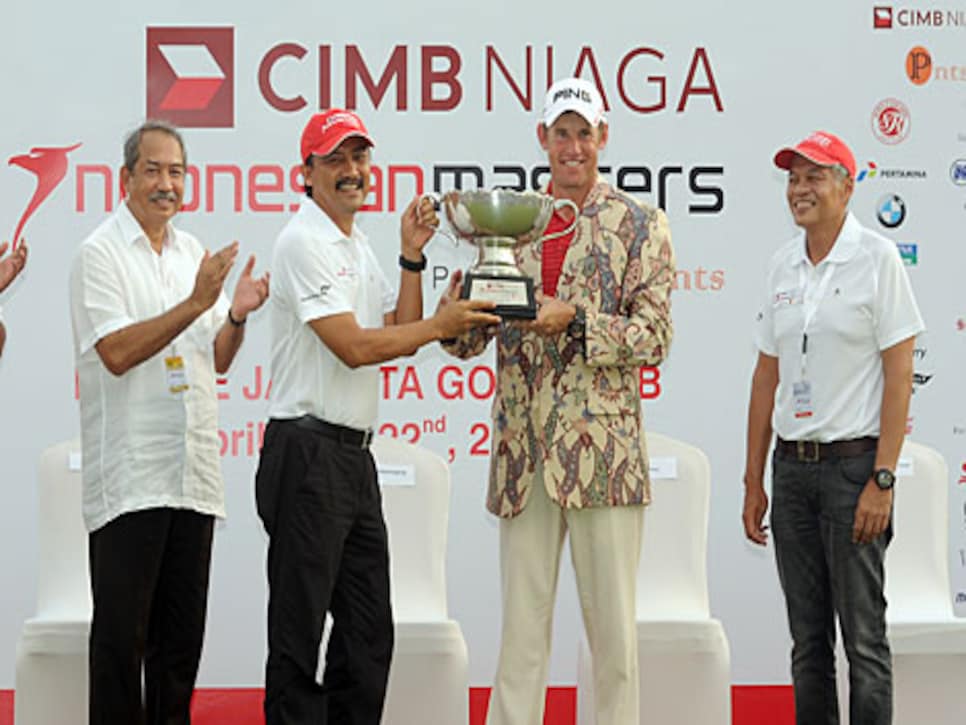 Westwood poses in his latest (camouflage?) jacket. (Photo: Getty Images)
You mean Jack was specifically referring to the Masters that's played every year in Augusta and not some lesser imitator? My bad. In that case, to steal a line from the "Seinfeld" character J. Peterman (played by golf enthusiast John O'Hurley) "Congratulations on a job... done."
Look, Westwood is obviously a world-class player, but when you dig a little deeper into his 38 career wins as a pro (his first happened to come at the 1996 Volvo Scandinavian Masters), his resume leaves a lot to be desired, especially as someone who recently spent 22 weeks as the top-ranked player in the world. Even his two PGA Tour titles (yes, that's TWO, as in, one more than the totals of luminaries like Chris Couch and Eric Axley) aren't particularly impressive. He captured the Freeport-McDermott Classic (Now the Zurich Classic of New Orleans) in 1998 and the St. Jude Classic in 2010 thanks to Robert Garrigus' 72nd-hole meltdown. Sure, he's spent most of his career playing in Europe, but he also has yet to capture that tour's flagship event, the BMW PGA. If only it were called the BMW Masters instead...
To his credit, Westwood does have seven top-three finishes at major championships since 2008, including two in the past three years at the real Masters. But while he's been able to rack up wins in smaller events, for some reason under real pressure -- let's just say the main culprit rhymes with the word "cutting" -- he always seems to come up short in the big spot. Most notably, he bogeyed three of the final four holes at the 2009 British Open to let Stewart Cink and Tom Watson overtake him.
Westwood turns 39 on Tuesday, meaning there's still plenty of time for more close calls and perhaps, even a win or two on one of the sport's biggest stages. In the meantime, I hope he has a big closet for those whatever-color-other-than-green jackets he's been collecting.