The Loop
Stingers: Predicting the PGA Tour is impossible
Carl Pettersson and his band of merry men may have garnered most of the attention at Hilton Head last week, but a certain white-haired, slice-putting veteran caught my attention: Billy Mayfair. Remember him? You should. He's the only person to beat Tiger Woods in a playoff in a PGA Tour event (1998 Nissan Open) and his career tour earnings (nearly $20 million) are probably enough to buy a chain of islands somewhere. But this isn't about Mayfair, specifically, but about how unpredictable pro golf has become due to an unprecedented depth of talent.
Consider that since 2009, Mayfair hasn't come close to finishing inside the top 100 on the FedEx Cup point list. But a 67-69 weekend at Harbour Town netted him a T-4 and a check for $250,800. Not bad for someone I wasn't even sure still had a PGA Tour card.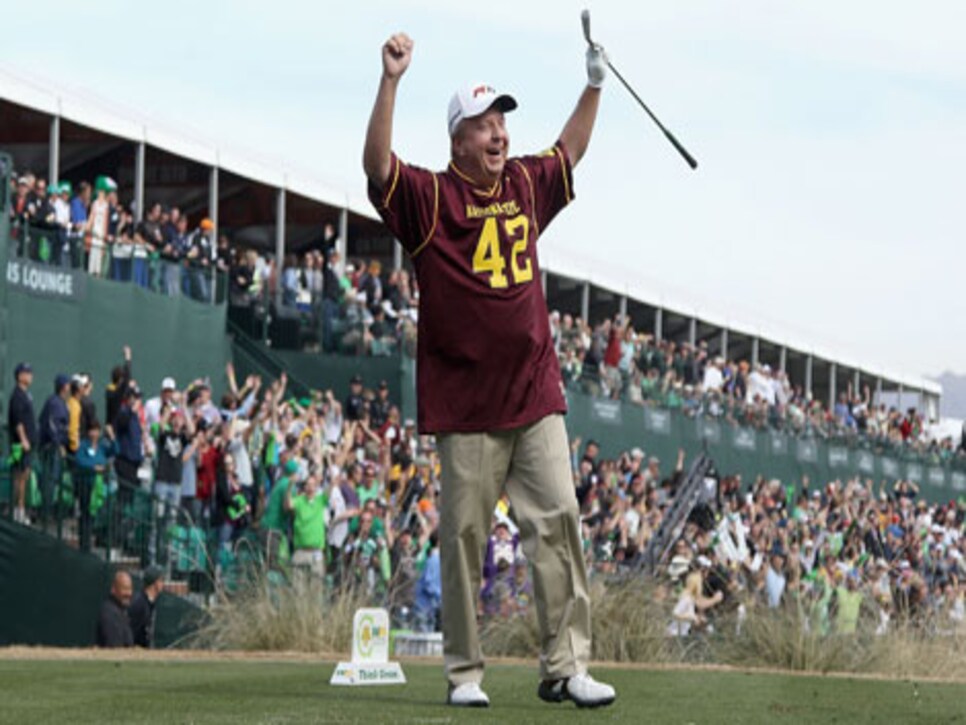 Could anyone see this guy contending last week? (Photo: Getty Images)
And this is just one example. Remember Harrison Frazar winning last year's St. Jude Classic in his 355th career start? What about Tom Gillis' recent T-2 with Tiger at the Honda? Or how about this year's Masters. It's the major championship that always has the smallest field and is staged on the same course every year. As a result, it's usually more predictable than the other three. But this year, other than Phil Mickelson playing his way in (and out) of contention, very little went to plan. I was part of the 99% who predicted Woods would win and you'd be hard-pressed to find anyone in that other 1% who didn't take Phil or Rory. Golf World editor-in-chief, Jaime Diaz, who knows as much about golf as anyone, picked the 22-year old from Northern Ireland and he and Woods staged quite a battle alright. Tiger's clutch birdie putt on the 72nd hole ensured the two would tie -- for 40th place.
As GolfDigest.com's resident fantasy golf writer, I come at this topic from a slightly different angle. These menaces, I mean, lovable underdogs are trying to embarrass me and my ilk! OK, so that's obviously not their intention, but they are making the sport tougher to prognosticate (Yeah, yeah, excuses, excuses...) than Kim Kardashian's next wedding date.
But hey, I'm not complaining. If you want predictable in sports, watch college basketball, where the same schools divvy up the country's top high school recruits and make up the national rankings every year. No, I'll take golf and all the Billy Mayfairs that come with it. Just cut us fantasy "experts" a little slack...