The Loop
Stingers: It's getting tough to listen to Tiger Woods
On a Mother's Day when just about everyone associated with the Players -- from tour pros to volunteers -- wore pink to celebrate Breast Cancer Awareness Day, the closest Tiger Woods came to honoring the cause was the colorful energy drink he occasionally pulled from his golf bag. Apparently, Woods is in his own world when it comes to discussing his golf game as well.
Following a final-round 73 that included a dismal front-nine 40, he offered this stunning assessment:
"Just one of those things where Joe (LaCava) and I were talking about that on the front nine, I didn't really hit any bad shots, and all of a sudden, I had a bogey, a birdie and a double," Woods said.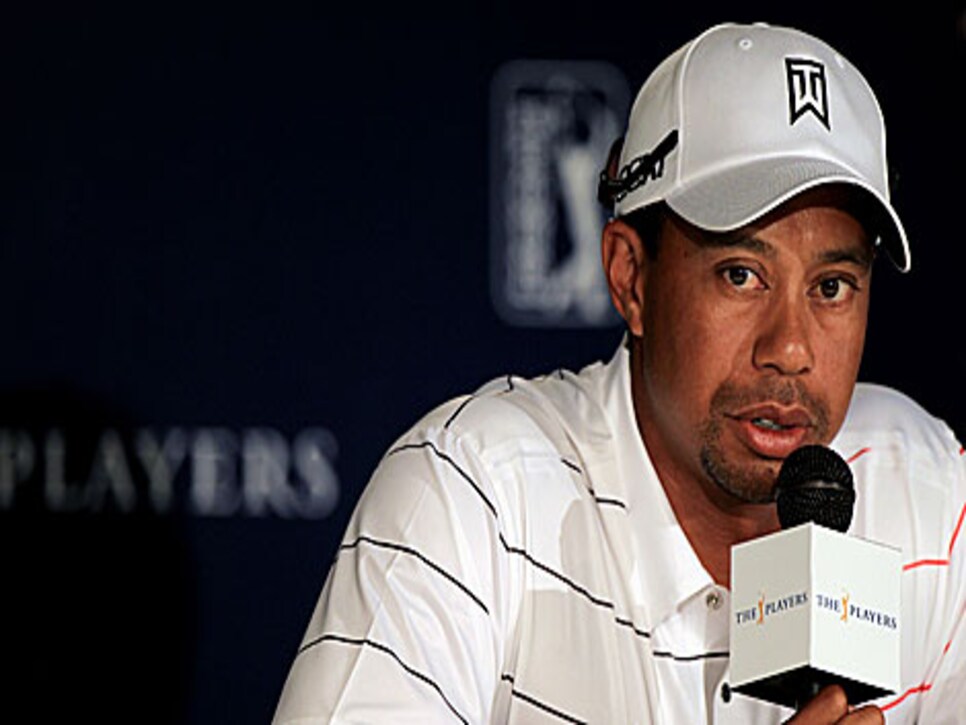 LaCava is Woods' caddie. He also just might be the world's most patient listener. Then again, he is getting paid a lot more than most psychiatrists.
No bad shots? Did we hear that right? How about the sand wedge over the green on No. 1? How about the 9-iron from the middle of the fairway into the water on No. 4? How about the drive on the par-4 fifth? Or your tee shot on the par-3 eighth, both of which could barely be tracked on the computer screen by the PGA Tour's ShotTracker?
And I guess Woods wasn't counting a once-magical short game that has lost more of its luster than his brand image over the past few years. Tiger tried the old putt with the 3-wood trick on the opening hole and came up woefully short. He could barely get his ball within 30 feet from a greenside bunker on No. 6, and then there was another missed putt from less than four feet on No. 9. Woods' comments made him sound downright delusional when you consider that most 6-handicappers aren't as positive when they fail to break 40.
I understand that Woods is as tired of answering the same questions as we are of hearing his canned responses. I also get that his wanting to evaluate his game through rose-colored glasses stems from the fact that he thrives on confidence. But failing to admit he's struggling despite the worst three-tournament stretch (T-40 at Augusta, an MC at Quail Hollow and another T-40 at TPC Sawgrass) of his career? Um, Tiger, allow me to introduce you to a certain river in Egypt.
As always, Woods, who has displayed flashes of brilliance at times in the past year, remained consistent when it came to giving "insight" into his game. So what's next in this "process" with swing coach Sean Foley that is approaching two years in duration?
"Just keep working. Keep working."
Fair, but what about the shocking lack of distance control? Is that a problem?
Oh, OK. Got it. (A version of the "I'm hitting it so flush," line could also be inserted here.)
And what are the improvements he's seen since Augusta?
"Well, I'm starting to hit the ball up in the air again, and doing it correctly. Some of the way I used to do it..."
How you used to do it, huh? We'll have to see about that. Last we checked, how Tiger used to do it didn't require much explanation at all.