The Loop
Stingers: Comparing Rory to Tiger? Stop it!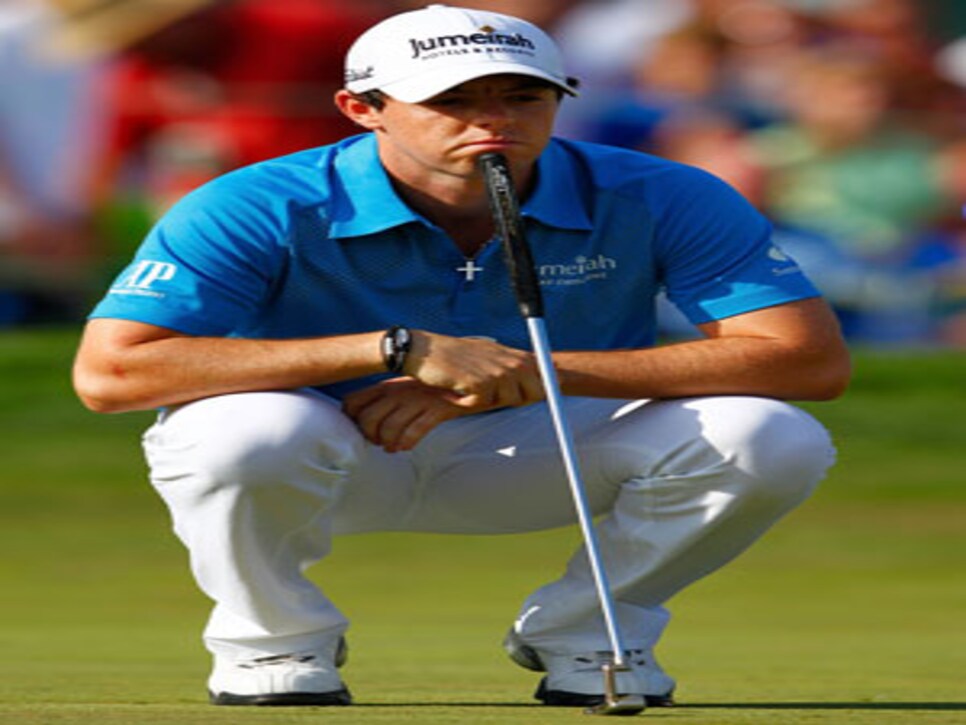 Rickie Fowler collecting his breakthrough PGA Tour win in spectacular fashion is now the dominant story in golf. But the orange-colored blinders have many overlooking how once again, Rory McIlroy failed to close on a big stage.
To be clear: McIlroy is the best player in the game today and he's poised to be the sport's dominant figure for the next two decades. The notion that he's the next Tiger Woods, though, seems about as silly as a Golf Boys music video.
What made Woods better than anyone who has ever picked up a club for a 15-year period was his uncanny ability to come through when he had a chance to win. No, he didn't will every pressure putt into the hole -- like McIlroy's missed 5-footer for par on the 17th hole on Sunday -- but it sure seemed like it, especially during those 14 major titles. Until Y.E. Yang ended Tiger's otherworldly streak, Woods with a 54-hole lead was as safe a bet as there was in sports. And before that, his three straight U.S. Juniors followed by three straight U.S. Amateurs makes McIlroy's resume as a child prodigy look, well, childish.
McIlroy's rise to the top of the world ranking has come from a Woods-like string of consistent play. He has now finished in the top five in 12 of his last 14 events worldwide. What's not Woods-like, however, is that the 23-year old has only taken home trophies at two of those tournaments. In one, the Honda Classic, he held off a Woods charge, but he's let two far more prestigious events get away from him in the WGC-Accenture Match Play -- where he lost in the final to Hunter Mahan -- and now this latest close call.
Like Woods, McIlroy showed at last year's U.S. Open that when he's on, there's no one capable of tracking him down. When he's off, though, like over the weekend at Augusta National the past two years, he's had scoring meltdowns that are just as spectacular. And when things are tight, those curly locks don't intimidate quite like those red Nike shirts golf fans got used to seeing on Sundays.
Perhaps, it's a lack of a killer instinct (McIlroy and Fowler looked pretty chummy on the Quail Hollow practice green before heading out for the playoff) that causes the McIlroy-Woods comparison to fall a bit flat -- much like the premature declarations that LeBron James was the NBA's next Michael Jordan. Or perhaps, as Mahan and Fowler have shown, McIlroy is allergic to orange. Either way, young Rory is being held to a near-impossible standard. So let's be fair to both parties and keep Mr. Woods' name out of the discussion.