The Loop
Stingers: Colin Montgomerie is a Hall of Famer?
I'll admit, I was never much of a Colin Montgomerie fan. But that changed -- at least, briefly -- when I drew the plum assignment of following the Scot around Winged Foot in one of Sunday's final groups at the 2006 U.S. Open.
A week shy of his 43rd birthday and with his career in its twilight, Monty managed to hold things together as well as anyone that day on the treacherous A.W. Tillinghast track, and I, a young reporter rooting for a great story, believed I had lucked my way into covering this unlikely major championship win from inside the ropes. Then, Montgomerie pulled, well, a Montgomerie.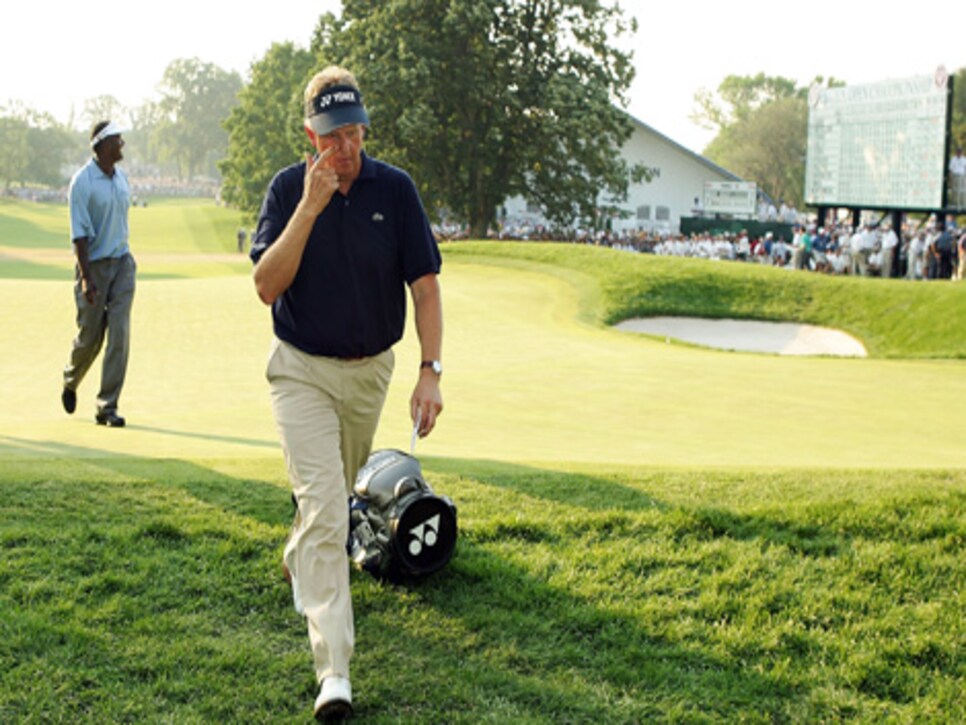 Pumped up from draining a 50-footer for birdie on No. 17 to take a share of the lead with Phil Mickelson, Montgomerie found the 18th fairway (something Phil famously wouldn't accomplish minutes later), but chose a 7-iron for the uphill, 172-yard shot. He didn't come close. A pitch and three putts later, Monty, like Mickelson, wound up one shot behind winner Geoff Ogilvy. Unlike Phil, Monty didn't collect his runner-up trophy at the awards ceremony, instead storming off and reportedly having an altercation with a New York state trooper.
Just like that, Montgomerie's final opportunity to capture a major championship was gone. One would think his chances at being inducted into the World Golf Hall of Fame had vanished as well. I was wrong.
On Tuesday morning, Montgomerie was named the latest player to earn entry into the Hall (receiving just 51% of the vote on the international ballot), despite the fact he will never win one of its four biggest tournaments. Even more stunning? Montgomerie has never won a single PGA Tour event. I guess I missed the announcement that the Hall of Fame is now just the "Hall of Very Good"?
The case for Montgomerie? A sterling Ryder Cup record and 31 wins on the European PGA Tour, which he dominated during the 1990s to the tune of four Player of the Year awards and finishing first on the Order of Merit (money list) seven times, adding an eighth in 2005. Those are impressive accomplishments, but keep in mind that tour's depth wasn't nearly what it is now -- when it is still a distant No. 2 to the PGA Tour.
Meanwhile, Montgomerie played his fair share of tournaments in the States and often came close to winning, including losing playoffs at both the U.S. Open and PGA Championship. But he never got the job done. Not in a major. Not in a Honda Classic.
Earlier this year, Fred Couples, with his 15 PGA Tour wins and one major, was also selected to the Hall. Like Monty, Freddie was no slam dunk to get the nod, especially so soon. But the pair's speedy selection, while others with similar credentials like Ken Venturi have had to wait so long, is just the latest case of Hall of Fame standards -- not just in golf, but in all sports -- being lowered.
If guys with no major titles are going to start being inducted, what's going to happen to all the one-time winners, who have become so abundant during this recent era of parity? Good thing there's plenty of space on that St. Augustine property.
Maybe it's a little harsh, but I had a front-row seat for Monty's chance at true golfing immortality. Like that ill-fated approach shot, he came up short.