All's Fair In Love And Golf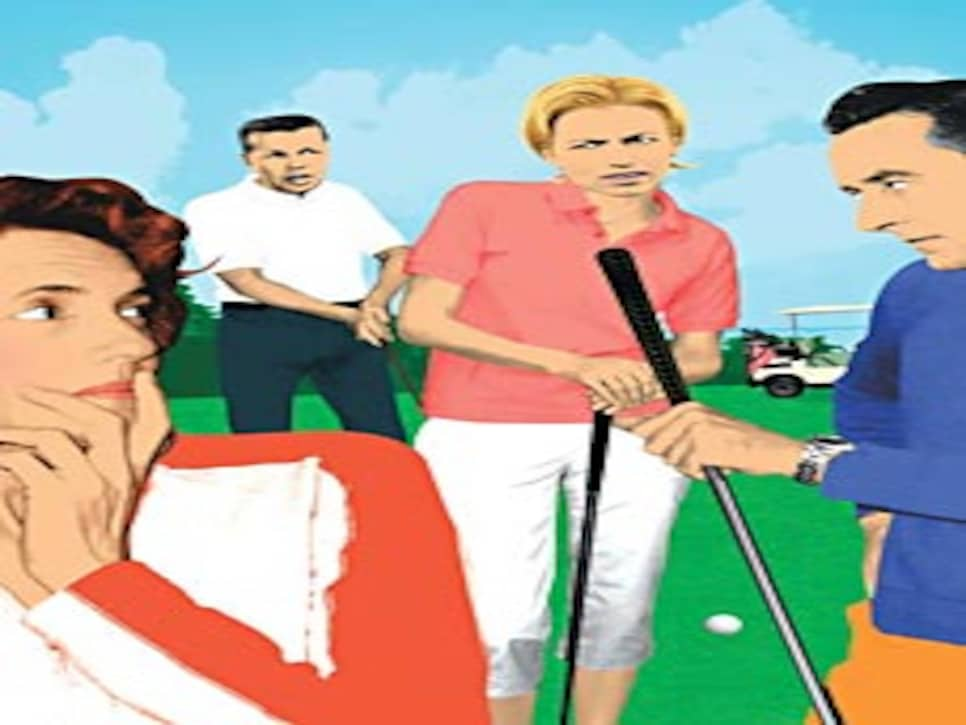 Q: My wife and I play golf with her brother and his wife, and he likes to give his wife swing tips. Besides slowing play, it's obvious she's getting annoyed, and the whole thing is getting uncomfortable. Advice?
A: As a rule, instruction should be dispensed on the range, not the course, and, in my experience, it should never come from a spouse. Not only could it lead to frustration and resentment on the course, it could also upset the couples' balance of power off the course. There's more than golf at stake here. If you're close to your brother-in-law, I suggest pulling him aside at an opportune moment and telling him that it's tough to watch the bickering that goes on when the four of you play. Suggest that he'd be better off getting his wife some lessons with a certified instructor. That is, unless your brother-in-law's ultimate goal is to get his wife to give up the game. In that case, he should keep doing what he's doing.
Q: Please settle a domestic squabble. If my wife, who's playing from the forward tees, wins a hole in our match, shouldn't I still tee off first on the next hole to save time?
A: Whatever happened to ladies first? It seems to be the case in everything but golf. Actually, I'm only half-serious. As I always say, there's no chivalry in golf, nor should there be. However, Rule 10-1 says that in match play, "the side that wins a hole takes the honor at the next teeing ground," no matter what tees are used. Having the honor is an advantage in match play.
It allows a player to put pressure on his or her opponent, so your wife is right in demanding the honor when she has earned it.
That said, if you're just playing a friendly match, and you're at a hole with 100 yards between your tees, and you're sharing a cart, then it's common sense that you should tee off first. But offer her the option anyway.
Reader Ken Munson strongly disagreed with my calling a man's act of getting out of his cart to watch a woman tee off from the forward tees "misguided chivalry" (March 2009).
"We get out of the cart so that we have extra sets of eyes on her golf ball. It's called courtesy," Ken says.
I appreciate Ken's -- and the dozens of other men I heard from -- intentions. But your courtesy has unintended consequences. Your presence can cause performance anxiety for the woman. Of course, she won't tell you that, but I'll bet if you asked, she'd say that she would prefer you stay in the cart. Women are just wired differently. And, frankly, we might not hit the ball very far, but we usually find the fairway, so there's not a great need for you to stand there.
Two Golf Digest publications recently ranked the best places to practice golf in the United States. Heading the Golf Digest Index list of the 75 Best Practice Areas was the private Pine Valley (N.J.) Golf Club. It was followed by four public courses: World Woods Golf Club in Brooksville, Fla.; Pinehurst (N.C.) Resort; Bandon (Ore.) Dunes; and TPC Sawgrass in Ponte Vedra Beach, Fla. Golf World magazine asked its readers to rate the best resort practice areas. No. 1 on the list was Turning Stone Resort & Casino in Verona, N.Y. World Woods was second, followed by Reynolds Plantation in Greensboro, Ga.; Kiawah Island (S.C.) Golf Resort; Pinehurst Resort; and Sea Island in St. Simons Island, Ga. To see the lists, visit golfdigest.com/go/lists. * -- Ron Kaspriske*