All's Fair In Love And Golf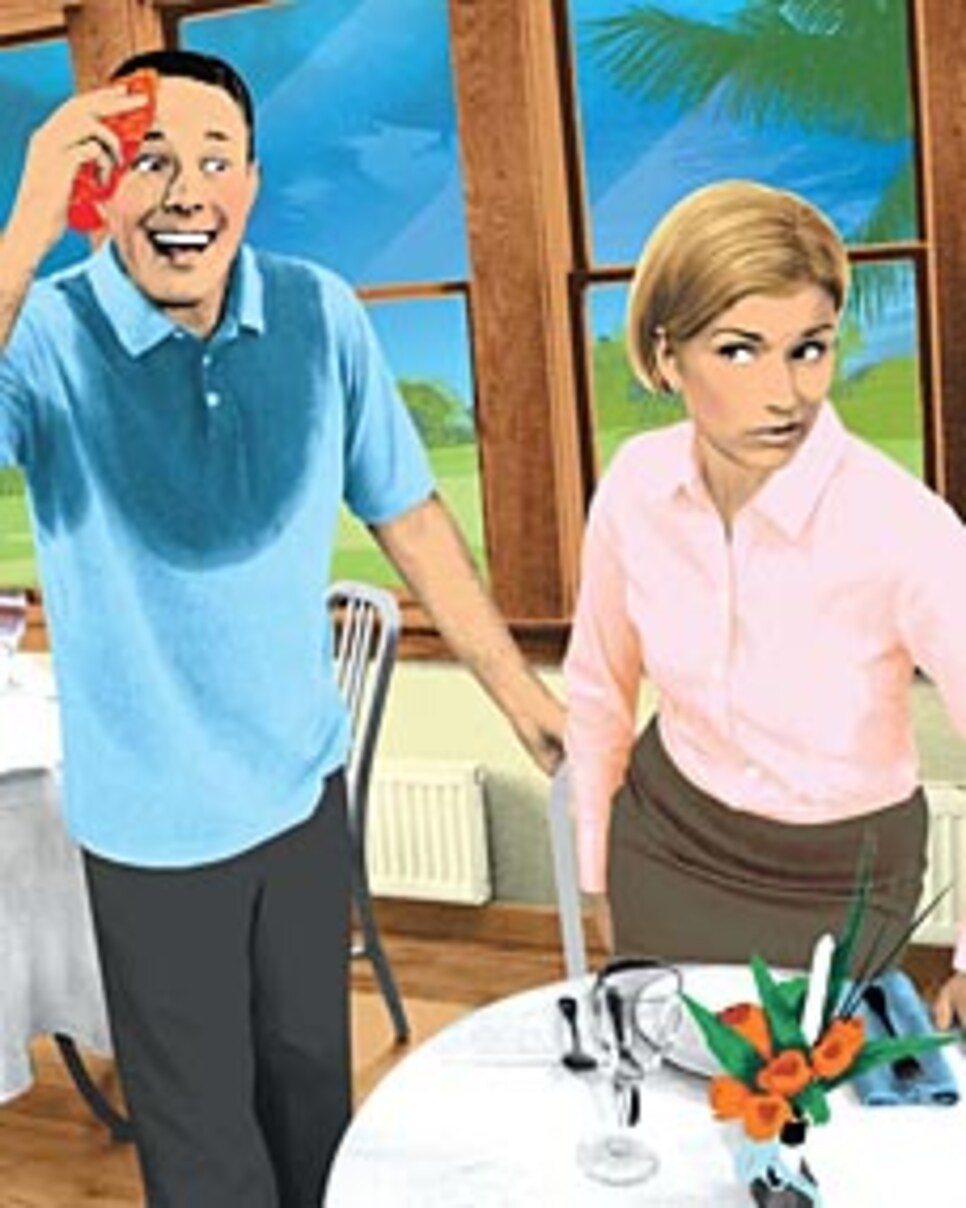 Q: What's the protocol for after-golf drinks and/or dinner with a woman? Should I bring a change of clothes and take a shower before eating?
A: It depends on several factors. For instance, what type of course are you playing? If it's an upscale private club and you're staying for dinner, a shower and change of clothes is a good idea. If it's not an upscale club, then it depends on who you're playing with. Are you playing with your boss and his wife, or perhaps a woman you're trying to impress? In both of these situations, take a quick rinse and put on a clean shirt and slacks. If you're playing with a college buddy and his girlfriend, you probably don't need to bother. However, if it's going to be hot or humid, then bring a change of clothes, even if it's at the local muny and you're playing with your sister. No woman wants to sit through dinner with a smelly dude. And, gals, same goes for you.
Q: I like to play from the forward tees, but most courses don't provide the Course and Slope ratings for men who hit from those tees. Is there a formula to figure the ratings?
A: Welcome to my world. This is exactly what a lot of women who prefer to play from the second or third set of tees have to deal with. Fortunately, the USGA has a formula. It involves identifying the nearest tees rated for your gender, determining the yardage difference between those two sets of tees and checking that yardage difference against a chart that you can find under section 5-2g in the USGA Handicap System Manual (available at usga.org). The chart will provide a number to subtract (or add to, if you're a woman) from the Slope and Course ratings of the nearest tees rated for your gender. This will give you the ratings for the tees you want to play.
Battle of the sexes II? In August, I wrote that a long-hitting, 4-handicap amateur male would have little chance against an LPGA Tour player on a course measuring more than 7,000 yards. This sparked a barrage of emails. Most readers agreed with my assessment, but there were doubters. In fact, several guys even laid down challenges. Said one guy: "I have two dozen or so 4-handicappers or better at my club willing to take your bet. According to the LPGA website, the 152nd ranked LPGA player drives the ball 229 yards on average and hits 42 percent of greens in regulation. At our club, which measures 7,264 yards, she would be out of any match by the turn."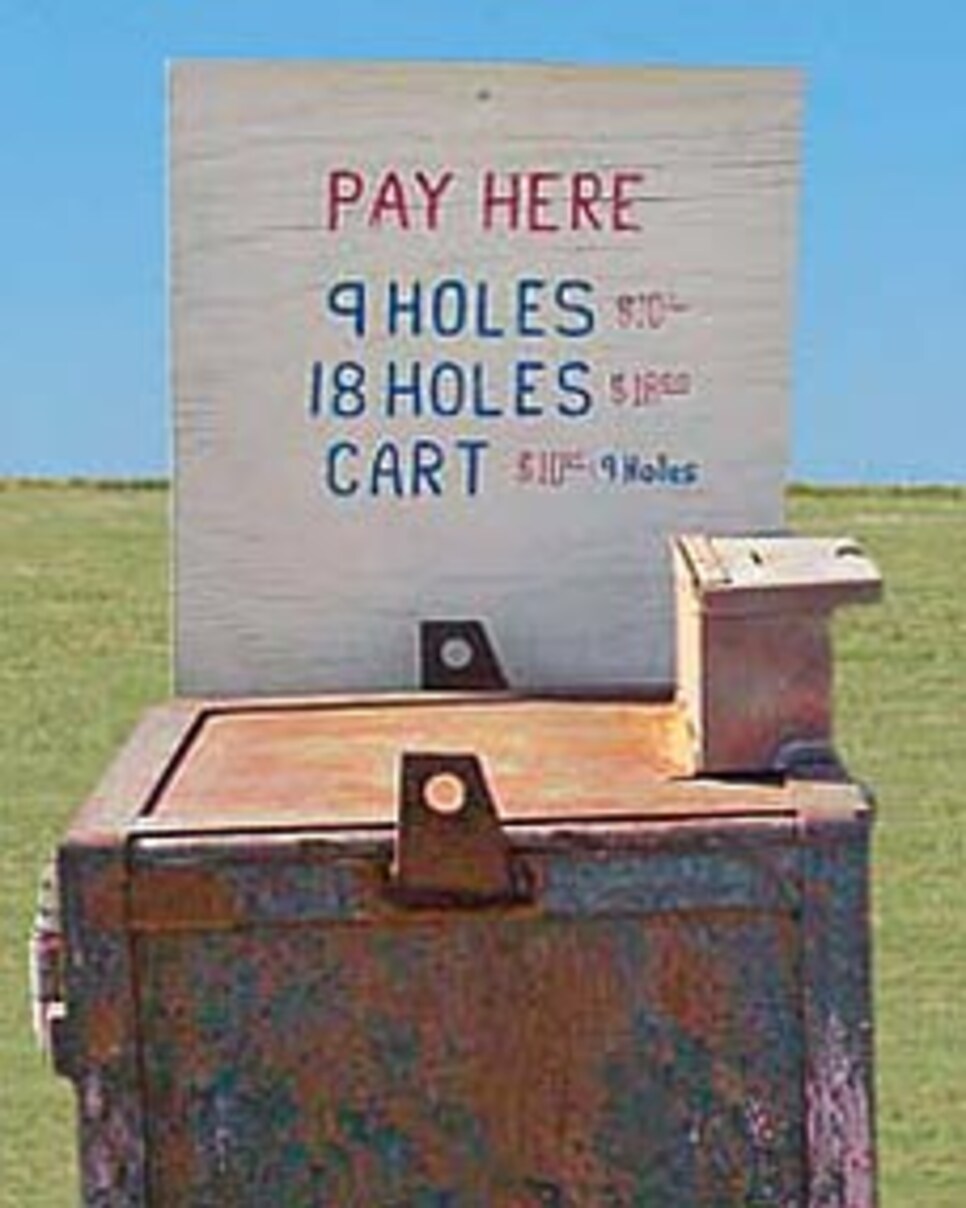 Looking for a price break? You can play the Frederick (Md.) Golf Club (5,225 yards, par 69) all day for $12.75. Not bad. Here are five more 18-hole courses that might fit your budget.
Pine Valley G. Cse.($12, Sherwood, Ark.)
This isn't exactly like the ultra-private P.V. in New Jersey. One of the rules at this 5,377-yard, par-70 course is that golfers can't wear shirts with printed obscenities.
Brownsville G. Center ($11, Brownsville, Tex.)
A fan of this 6,144-yard, par-70 layout says the course has an undeserved bad reputation but excellent fairways.
Cardinal Creek G.C. ($10, Brockport, N.Y.)
The 5,618-yard, par-70 course has "wicked" greens, says one golfer. The 64.8 Course Rating suggests otherwise.
Green Hill G. Cse. ($10, Dothan, Ala.)
At this 5,643-yard, par-70 layout, you can play for $8 when it's over 98 degrees.
Dumas Memorial G. Cse. ($9, Baker, La.)
The 6,596-yard, par-72 course was designed by former Baton Rouge Mayor Woody Dumas.