All's Fair In Love And Golf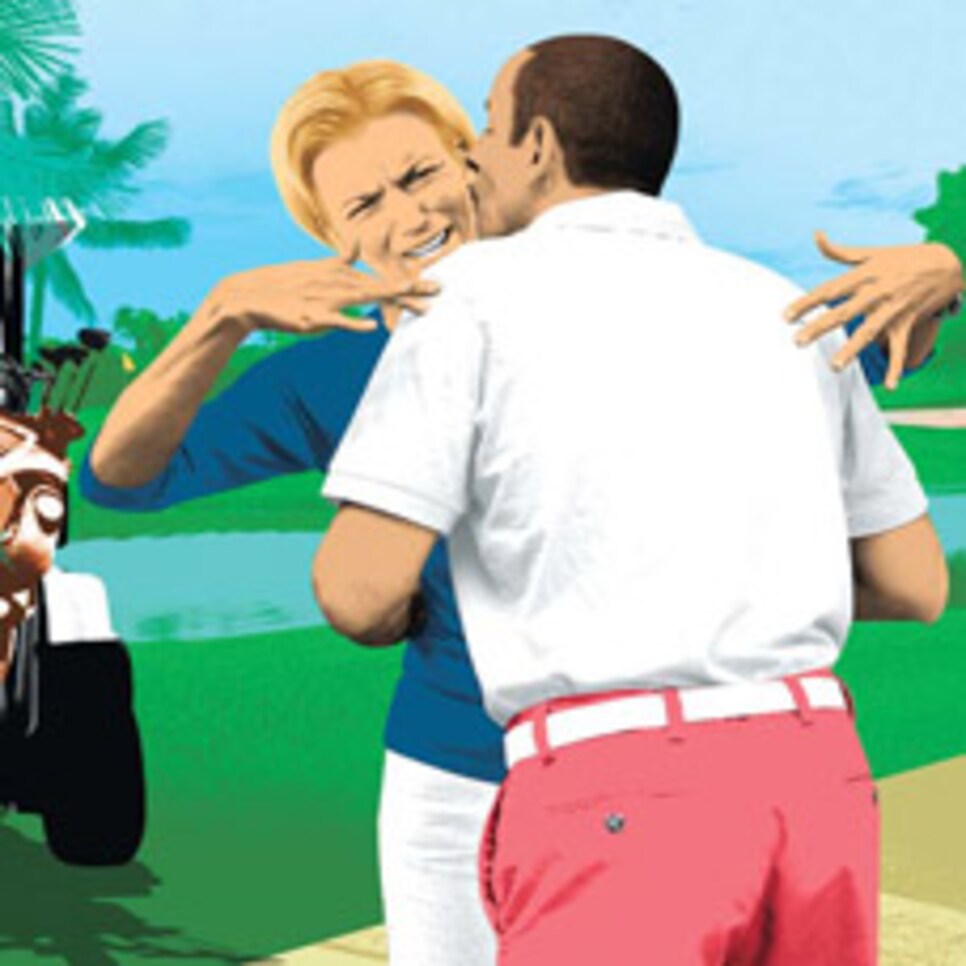 Q: Handshake, hug or kiss? What's the proper way to complete a round of golf with someone of the opposite sex?
A: Some situations are fairly clear: If the person is a good friend, then naturally give him or her a hug and a kiss on the cheek at the end of the round. However, if the person was a stranger at the beginning of the round, then a handshake is more appropriate. It's when you're playing with someone who falls somewhere between (especially at a work-related outing) that it becomes complicated. You don't want to do something that could be deemed inappropriate by the other person, and you don't want to come off cold. When I'm in this gray zone, I smile and stretch out my hand and see what happens next. If the guy grabs my hand and leans in for a peck on the cheek, then I do the same (unless he's someone I just don't like; then I duck to avoid the peck and pretend to tie my shoe or something). But if he just shakes it, then I hang back as well. The key is to make a decision quickly and stick with it. Otherwise you're left with an awkward fumble that might leave you both red in the face.
Q: My husband insists on taking a cart, drinking beer and smoking cigars when we play. His blood pressure and cholesterol are sky high. How do I get him to treat golf as exercise?
A: It sounds like your husband needs to stop indulging and start exercising, or his rounds might be numbered. If reasoning with him doesn't work, employ some trickery. Buy him a lightweight carry bag and a pair of comfy golf shoes. Try arranging a golf outing with others who prefer to walk. No matter how much your husband likes to ride, there's no way his ego will allow him to be the only guy not hoofing it. It's also tough to walk while drinking beer and smoking cigars, so if you can get him to ditch the cart, maybe he'll leave his vices behind.
Q: What's your take on Annika Sorenstam's retirement and the future of the LPGA Tour?
A: I salute Annika for her decision to "step away" (you never know -- she could come back). Although the void will be substantial, I don't think the tour's health is in danger. Lorena Ochoa is a worthy successor, and there are many talented young players. Keep an eye on rookie Vicky Hurst. She could end up breaking Sorenstam's records one day.