All's Fair In Love And Golf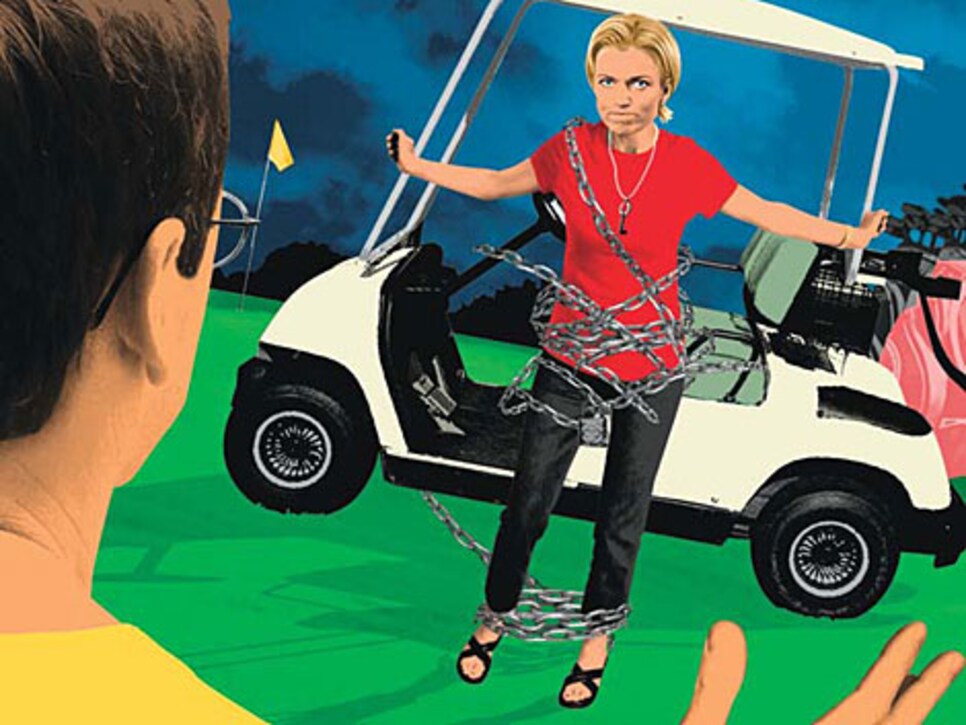 Q:__ My husband plays almost 100 rounds a year, and I've finally had it. I've told him to choose: golf or me. He says he'll never stop. What can I do?__
A: If you've been married for several years, you should know that ultimatums rarely work in a relationship. You have two choices: Give your guy some options for a compromise (ask him to spend one weekend day with you for each that he spends with his golf buddies, or tell him he can play all the golf he wants as long as he's home by lunch so he can spend the rest of the day with you). Or consider the old saying, "If you can't beat 'em, join 'em." Golf is a fantastic game, and learning it has two benefits: It'll give you more time with your hubby and add a great hobby to your life.
Q:__ I know it's a knee-jerk reaction, but I think a lot of men wince when they see a woman in the group in front of them. How did women get such a reputation for slow play? Are LPGA Tour players slower than PGA Tour players? __
A: I have no idea why male golfers assume that female golfers play more slowly than they do. In my experience, it's rarely the case. A mixed group could take a smidge longer because the players use different tees, but that's no more the women's fault than the men's. Most women are so afraid of being accused of slow play that they're usually the ones speeding around the course and doing all the waiting. LPGA Tour players, on the other hand, do play a little slower than their male counterparts (four hours, 45 minutes per average round versus four hours, 30 minutes). The main reason is they've made a habit of having their caddies line them up for every shot. But the LPGA Tour has been cracking down on slow play, and new penalties have shortened the average round by 10 minutes this year.
Q:__ What do you think about Paula Creamer using a pink ball in the U.S. Women's Open?__
A: I love Paula Creamer, but the pink thing is getting old, especially the pink ribbon she puts in her hair (she's 22!). But Paula's ball is a good one (the Precept Lady IQ 180), and it's a shade of pink that is easy to spot in the grass. Colored golf balls aren't new. Don't forget that Jerry Pate used an orange ball to win the Players Championship in 1982. And because Precept is getting more publicity from that pink ball than all their other ball deals combined, they're not likely to change the color anytime soon.