The Loop
Still no Tiger in Colorado, but all else apparently is forgiven
The PGA Tour is back playing in Colorado for the first time in eight years, in football season, no less, still without Tiger Woods, while choosing to honor a man who rejected an opportunity to hold his Colorado PGA Tour event during football season and was disinclined to hold it at any time without Tiger Woods.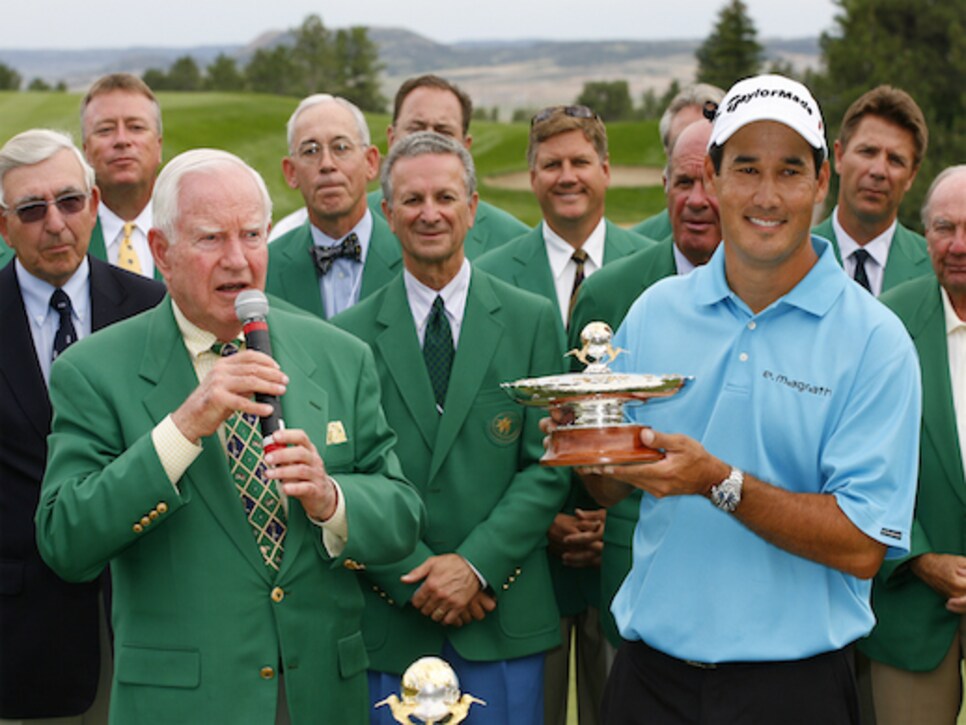 Jack Vickers with Dean Wilson, the final winner of the International (Getty Images photo)
There once was an annual tour stop in the Denver area, the International, played at Castle Pines Golf Club south of the city. Woods played in the International twice, the last time in 1999, which didn't sit well with Castle Pines founder Jack Vickers, who also ran the tournament.
Vickers lamented what he perceived to be the tour's indifference to helping him secure a sponsor as well as its inability to entice Woods to play in the International. So in February of 2007, Vickers pulled the plug on the International, ending a 21-year run.
"You've got a one-man show out there right now," Vickers said, alluding to the days when tournaments fell into two categories — the haves and have-nots, those that had Tiger and those that didn't.
Meanwhile, the tour was launching the FedEx Cup and asked Vickers if he'd consider moving his tournament to August or September as one of the three playoff events. Vickers concluded golf could not compete with the popularity of the NFL in Denver specifically and elsewhere generally and declined. And that was that.
Until now. The PGA Tour is back in the Denver area, with the BMW Championship at Cherry Hills Country Club, a FedEx Cup playoff event, with the Broncos playing their season opener at home against Indianapolis on Sunday evening.
As for Vickers, the tour this week saluted his "vision of bringing PGA Tour golf to Castle Pines Golf Club outside Denver [resulting] in one of the most memorable stops on tour for more than 20 years," and made him the 11th recipient of its Lifetime Achievement Award.
Woods, meanwhile, is home in Florida rehabilitating his back.