Not quite over it
Still miffed by Ryder Cup snub, Adrian Meronk turning anger into motivation as he contends at BMW PGA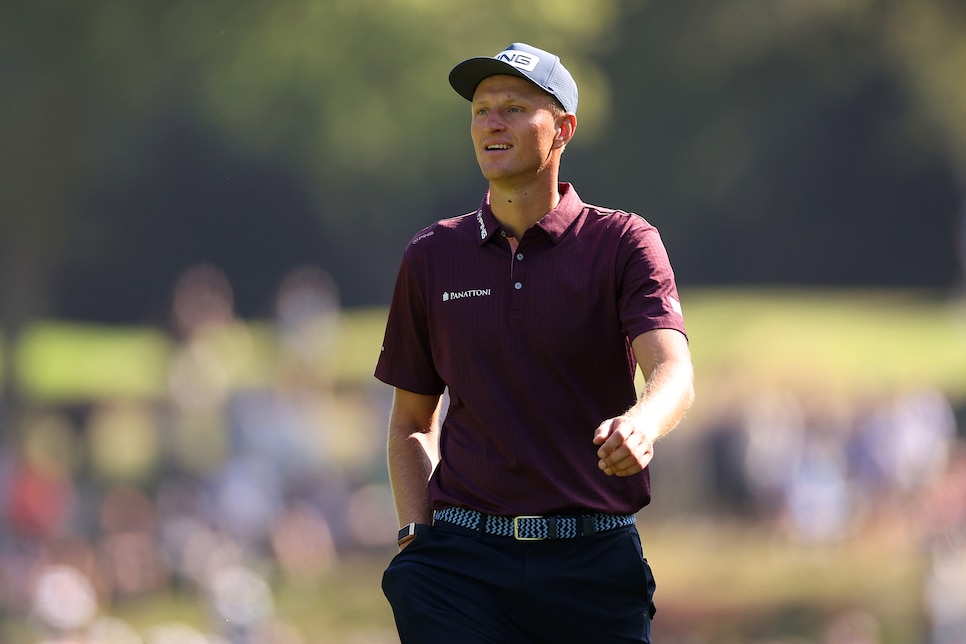 VIRGINIA WATER, England — Yes, Adrian Meronk is still upset, which is fair enough, given the level of disappointment he has experienced recently. Eleven days from hearing he was not going to be part of the European Ryder Cup team later this month, the 30-year-old from Poland is riding a wave of sympathy from all corners of the DP World Tour and Wentworth during the BMW PGA Championship, where he is nine under par after two rounds and firmly in contention. He is, as he was quick to agree after signing for a second-round 68, "a man on a mission."
"I definitely think it is wrong," said Meronk, of European captain Luke Donald's decision not to select him. "I feel like I deserved it. I feel like I showed over the last three years on the DP World Tour how good I was. If you look at the numbers and the results. I felt like it was enough. But now it's over."
Maybe so. But the aftereffects continue to linger for the Australian Open champion, who this year won the Italian Open over the Marco Simone course that will host the Ryder Cup.
"The Ryder Cup is definitely a motivation," Meronk said. "But I'm trying to turn all that disappointment and anger into fuel and motivation, especially this week. I'm very motivated, even though this is my fourth tournament in a row. I can feel it in my body. But I want to keep going and play my best golf."
Buoyed by "a lot of good words" from Ryder Cup assistant captains Thomas Bjorn and Nicolas Colsaerts, Meronk has been further heartened by what he has been hearing from the vast galleries roaming Wentworth this week.
"I have been getting a lot of support," Meronk said. "It's been unbelievable to be honest. From the players. From coaches. From staff. From spectators. It's been very encouraging. Today, I had people shouting to me in Polish, saying I should be on the team, I deserved it, I'm good enough. I know all that. It doesn't really matter now though. But it's nice to have that support from so many different people."
Moving forward, Meronk's word of choice is "acceptance."
"The key for me was to accept the decision," he said. "Then move on. I've had my parents, my girlfriend, my coach, my caddie, my psychologist all helping me with that. We just accepted it as a team and moved on. I'm not sure what was the best advice I have received. That's a good question. Again, I have to say 'acceptance.' I know that is easy to say. It's like having a bad round or a bad tournament. You have to let it go. This was a bit tougher to accept because it wasn't based on me. Someone else made the decision. I've been pretty good at that though. Acceptance is the key here."
Still, there are little signs that, even this soon after the infliction of a clearly painful wound, some healing is taking place. Immediately after the realization of his exclusion sunk in, Meronk had no intention of watching the Ryder Cup. Now, however, his position has softened. At home in Poland, he will be taking in every moment on a course he knows—and plays—so well.
"I will watch," he said. "It is still one of the greatest tournaments in golf. It is going to be exciting. Marco Simone is close to my heart."
Moving along, Meronk wasn't above giving out some advice for those in charge of the qualifying process that he feels has treated him so cruelly. One could argue it is flawed, having identified Scotland's Robert MacIntyre as an automatic qualifier and having failed to do the same for Tommy Fleetwood. Even a cursory glance at the numbers confirms that the latter comprehensively outplayed the former over the course of the qualifying period.
"I do think six picks is too many," Meronk said. "I would say four is reasonable. I think leaving one or two picks for the big tournaments at the end is a good idea. They picked the team after four weeks of break then two small events. At least one spot should be reserved for this week."
As for the future, both immediate and intermediate, Meronk seems determined to remain philosophical about his fate. Already he is looking forward to 2025, when the Ryder Cup will visit a raucous Bethpage Black on Long Island.
"I definitely have my eye on 2025," he said. "I was saying that before the team was announced. If I play well and keep improving, I hope that will be enough to qualify and not be picked for the team. That will be my goal in two years. Plus, it will be easier for me to get past all of this after the Ryder Cup. The talk will be over. Now there is a lot of hype around and you can't really avoid it. I know it's there and I know people are going to talk about it. I know I'm going to see the guys around on the range and in the gym. Which is fine. I haven't tried to avoid anyone. We eat together and train together. It would be impossible to avoid people. Again, acceptance is the key. That's all I can do."
There is one more thing, of course. The best response Meronk could ever give to Donald's snub is to win this week at DP World Tour headquarters and claim the biggest title on the Old World circuit. And don't think he hasn't thought of that.
"My golf has been very solid," he said. "I'm very pleased with my long game. I struggled yesterday but today was better. I had a lot of good chances and I'm excited for the weekend. It could be a huge weekend. But I don't want to put any extra pressure on myself. I know what I am capable of. I can only control that. I'll focus on my strategy and see where that takes me."
Not to Marco Simone, of course. But perhaps to Bethpage. Time will tell. Or, the next European captain will.