The Loop
Steve Williams: "It's the greatest week of my life"
*Adam Scott may have won his first world golf championship on Sunday at the Bridgestone Invitational, but Steve Williams, Scott's caddie, seemed to get most of the attention afterward. Williams, who was recently fired by Tiger Woods after a 12-plus year partnership, had plenty to say afterward about both his new and old bosses. Here's a transcript of his full post-round interviews with reporters at Firestone CC: * * *__
Q. What does it mean to you?
STEVE WILLIAMS: I think it's always when you go to caddie for another player, it's no different to when you start with a new player. The very most important thing is when you get the first opportunity to have a win is to try and show them that you know what you're doing. It's easier said than done. I think it just validates what I told Adam and what we were trying to achieve. So getting the first win is very important. I think that takes a lot of pressure off going forward.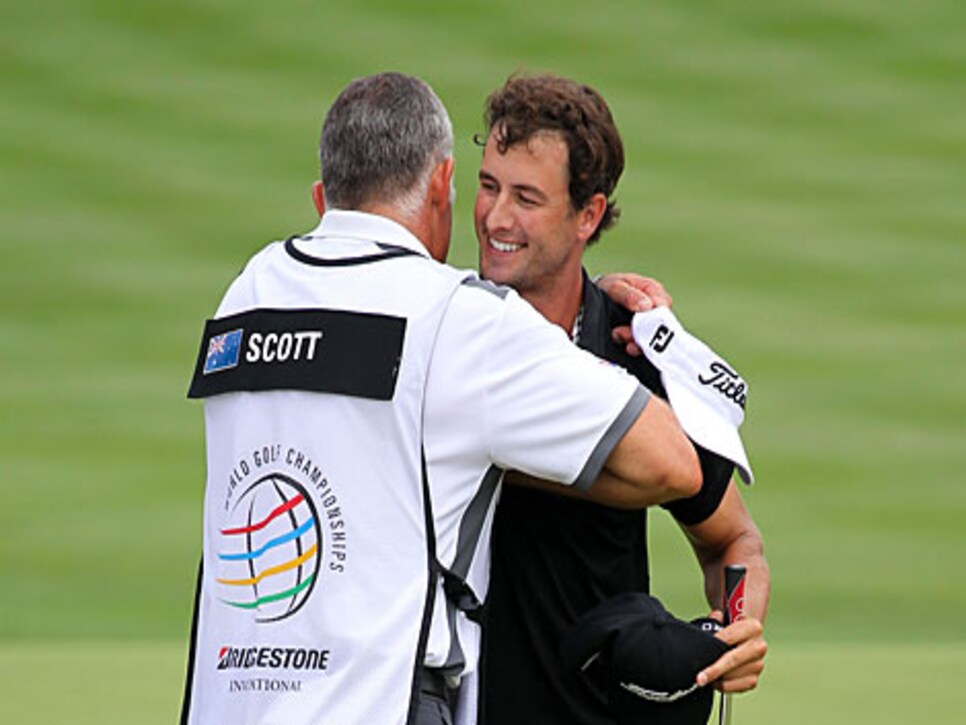 Q. The comfort level that you have with him now, do you feel like it's a relationship that's going to last for a long time?
STEVE WILLIAMS: Why do you ask that? (Laughter.) I'm going to be straight up and honest. I'm on the downside of my caddying career. I live in New Zealand and I've been caddying for 33 years. I'd like to help Adam get across the line and try and win a major championship. That's my goal with Adam, obviously, and when that point comes, I'll decide from there. But I'm certainly on my downside, there's no two days about that.
Q. What intangibles do you bring to the job?__
STEVE WILLIAMS: Obviously it's well documented I've won 145 golf tournaments. Every single guy that I've caddied, even guys that I've caddied for just here and there over the years has won tournaments. There's no one I've caddied for that hasn't won tournaments. So I guess when I caddie for someone, it's kind of a reassurance thing that Steve knows what it takes to get it done. Obviously I'm very confident, not only on the golf course, when I race. I've always backed myself. I'm a very confident sort of person.
Q. What is it like with Adam going forward, the things that you need to bring to the relationship?
STEVE WILLIAMS: I think it's really exciting. I was straight up with Adam when I had the opportunity to go and work for him. I stressed to him that if you want me to come and caddie for you full time, you've got to sit down and do some hard work and do some hard yards because that's what I expect, and I see some weaknesses in his game that need improving on, between him and his coach and myself, I've been very adamant. Even though it's only been three weeks, I've been pointing out the weaknesses and what he needs to work on. Players and caddies and coaches, I'm not different from anyone else.
Q. Has it been difficult?
STEVE WILLIAMS: Fans have been unbelievable. It's the greatest week of my life caddying and I sincerely mean that.
STEVE WILLIAMS: You'll have to ask Tiger that. I was absolutely shocked that I got the boot to be honest with you. I've caddied for the guy for 11 years, I've been incredibly loyal to the guy and I got short shifted. Very disappointed.
Q. How did it happen? How did you find out?
STEVE WILLIAMS: He just called me up when I asked him to go and caddie for Adam, and he didn't agree with it, and thought it was time to take a break.
Q. Given what has happened with Tiger, how satisfying personally for you is this just to get back on the horse a little bit?
STEVE WILLIAMS: I mean, it's the most satisfying win I've ever had, there's no two ways about it. I'm not denying that.
Q. Do you see the game in Adam to win a major?
STEVE WILLIAMS: I wouldn't be caddying for him if I didn't think so. These tournaments here are very high quality tournaments. This is a very difficult golf course, a very good golf course and it's not that different from a major championship. If you can win on a course like this, there's nothing to say you can't win a major. The challenge is what makes this job great. You're a caddie, it's what makes the job great. It's the challenge of trying to win those majors.
Q. What was it like walking down the 16th, 17th, and 18th when you knew it was going to happen?
STEVE WILLIAMS: The last two years have been very difficult for myself and my family, and I sort of believe in destiny sometimes. I had no doubt in my mind this morning on the range, Adam had it so good on the range, I knew it was our day. He hit it so good on the range.
Q. The conversation that you had, the phone call, was there a consideration on your part like did he say, if you do this, it's over?
STEVE WILLIAMS: I was told on the phone that we need to take a break, and in caddie lingo, that means you're fired, simple as that.
Q. Simply because of Scott?
STEVE WILLIAMS: When you're told as a caddie we need to take a break, you're fired.
Q. Doesn't he owe you more than just that?
STEVE WILLIAMS: Hey, I mean, I see mechanics get fired on a race team, see mechanics get fired all the time. I got fired. Simple as that.
Q. The fist pump after the final putt went in, was there a little extra emotion in that?
STEVE WILLIAMS: Absolutely. (Laughter.)
STEVE WILLIAMS: I mean, like I said, there's a lot of expectations on Adam, not just myself. I mean, it's hard to explain, but he's under pressure a little bit, too, and to finish off on the last hole, it was kind of I said, you've just got to take all the trouble out of play, hit a 5 wood down there to that 196 sprinkler and it was right on that sprinkler, hit a 6 iron in there, and that's exactly what happened. It was kind of a scripted last hole.
Q. Have you and Adam ever talked about this nonsense for you and not him, and is he okay with all the attention you've received?
STEVE WILLIAMS: Hey, I can't help that. I mean, I love caddying. I do the job. I guess caddying for Tiger, I've probably been a bit unfair to the media sometimes. I realize I owe you guys something, so it's no problem.
Q. The confidence that he felt from you, is it from just maybe what you said to him and could you sense that from him in the tournaments you've caddied for him?
STEVE WILLIAMS: Absolutely, he's played well. He's played some good golf. It's not easy out here on the PGA TOUR. He had a third there at AT&T, he played well at the British and won here. That's a good year for some people. I don't think people realize just how difficult the PGA TOUR is, and to get a win, any player to get a win out here, it's a great effort.
Q. Are you flattered that people think you can put Adam over the top?
STEVE WILLIAMS: Well, I mean, just because you're a good caddie doesn't mean to say that you're the one that can put a player over the top. A good caddie doesn't necessarily help you've got to gel. That's the first thing. You go and work for somebody, there's no guarantees it's going to work straightaway, but sometimes you gel. I think the main thing for us is I'm a fanatical rugby supporter which is well documented, and Adam was in the all blacks today because we kicked the Aussies' ass last night. So you've got to gel first and do it, but you know, I was fairly confident. Adam is obviously a friend of mine off the course, so I was fairly confident that we'd get along pretty good. It's obviously like a dream come true.
Q. What did you think of those fans saying your name today?
STEVE WILLIAMS: Honestly I said it was the greatest week of week of my life. The people here have been absolutely astounding. This is a tournament that I've been to I don't know how many times, I caddied here from Greg, caddied here for Raymond, caddied here for Tiger, so I've been here a lot, and this is sort of a local town tournament so I would be willing to say 80, 90 percent of the people that attend this tournament come every year. So they know all the players, they know all the caddies, they know all the volunteers. It was just sensational.
Q. What about the deep friendship you had with Tiger. Did you discuss that on the phone call or take a break and that's it?
STEVE WILLIAMS: That's it, you've got it.
Q. Tiger said he did it in person at the AT&T National after the final round. Is that correct?
STEVE WILLIAMS: That is incorrect. I was told on the phone that we needed to take a break. At the AT&T the details of why I was fired were discussed, and that's for my own personal stuff.
Q. When actually was the phone call then, was it when you initially wanted to caddie for Adam?
STEVE WILLIAMS: Correct. Correct.
Q. How would you compare Adam's swing with Tiger's swing in 2000?
STEVE WILLIAMS: I don't really compare golf swings. I'm not a golf coach. Adam hit the ball tremendous this week, and he's had some tremendous rounds in the four tournaments I've caddied for him, so I don't compare.
Q. Kind of odd to become so popular and be carried around by the fans, you had to get fired? Now you're a sympathetic figure.
STEVE WILLIAMS: Hey, people are probably sympathetic to it. That's a good point. People are sympathetic to it.
(Photo: Andy Lyons/Getty Images)