News
Steve Wheatcroft birdies final six holes for career-low 62, leads by one at the John Deere Classic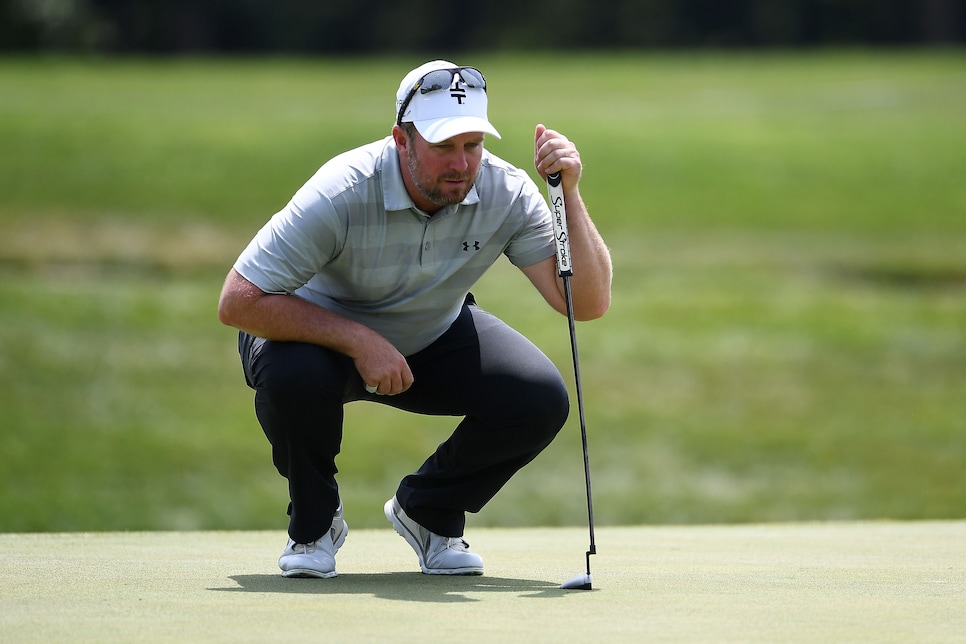 In his last 32 starts on the PGA Tour, Steve Wheatcroft has missed 16 cuts, finished in the top 10 just once, and made less than $400,000. On the Web.com tour, where Wheatcroft is a two-time winner, he hasn't had much recent success, either, failing to finish in the top 10 in eight tries. The last time you may have even heard his name, he was defending country music star Jake Owen, whom he played alongside in May at the Nashville Golf Open.
So it's fair to say that Wheatcroft's opening-round, nine-under 62 at the John Deere Classic came a bit out of nowhere, even if the 40-year-old Pennsylvania native had an inkling that a round like this was coming.
"I know if you look at my scores and my record for the year you wouldn't have believed it, but I've been playing some good golf the last month," said Wheatcroft. "I had a couple terrible Sundays to fall way back."
One of the Sundays he's referring to came this past week at The Greenbrier, where Wheatcroft entered the final round at seven-under par, which put him well back of the leaders, but still provided him an opportunity to post a number and register one of his best finishes all year. Instead, he stumbled to a six-over 76, falling into a tie for 65th.
"It's been a brutal year, to be honest with you," he said. "It's probably the worst year I've had so far, but I don't feel like I'm playing the worst golf of my career. I actually feel like I am playing good golf. I'm just not getting the results.
"It's a weird thing to say until you go through it. It's kind of hard to explain to people, but I feel like it's close. Sixty-two didn't surprise me today."
He may say he's not surprised, but after making six straight birdies to close out his career-low round on tour, he had to have been a little shocked.
"I don't know if I've ever done that to finish a round," he said. "It was great"
Unfortunately for Wheatcroft, TPC Deere Run was gettable for everyone on Thursday, and his 62 is only good enough for a one-shot lead over Michael Kim, who made just one bogey on his second-to-last hole. Johnson Wagner, Andres Romero, Nick Taylor and Joel Dahmen are just two back after carding seven-under 64s.
Francesco Molinari, who recently won the Quicken Loans National in dominating fashion, fired a six-under 65.