The Loop
Steve Stricker's remarkably efficient season
On the Sunday before the BMW Championship, Steve Stricker drove his matte black hunting truck from his home in Wisconsin to Chicago's North Shore in search of birdies. Not ducks, grouse or partridge. The golf kind.
The part-time golfer decided on the flight home to Wisconsin after the Deutsche Bank Championship that it wouldn't be right to skip the Tour Championship -- even though a hunting trip was planned in Colorado with some of his friends from Madison. Thus, his scouting trip to Conway Farms GC.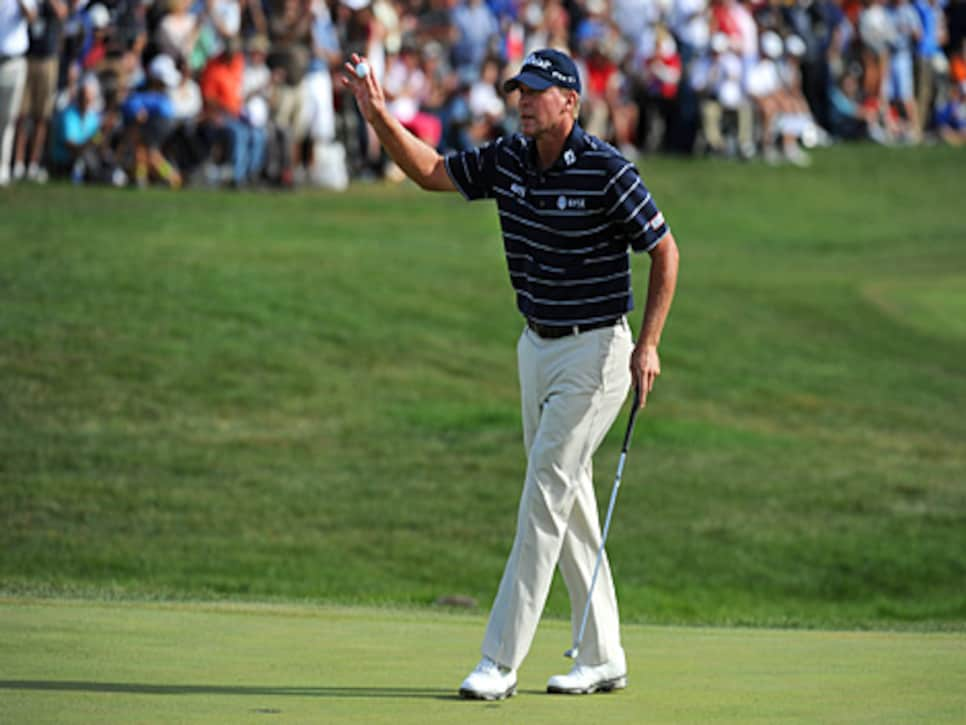 Stricker came to this decision not just because he is a good company man (the tour likes its best players competing for the potential $10 million bonus), but also because pulling out of the 30-man field at East Lake GC in Atlanta would mean one player would be without a playing partner. This was typical Stricker -- thinking of somebody else, not just himself. "I don't think that would be fair to the field or the other players," Stricker said. "There's one guy going out single every day and under his breath he would be cussing me."
His hunting buddies were cussing him already. They weren't pulling against him but weren't rooting for him at the TPC Boston. Stricker ignored them to finish solo second in his 11th official event of the year. On the weekend off, he rode south with father-in-law/ instructor Dennis Tiziani to Lake Forest. Awaiting them was the club's head pro, Harlan Chemers, and two golf carts.
Conway is a walking-only club but for such occasions Chemers is willing to make exception. Chemers played collegiately for Tiziani at Wisconsin and faced Stricker, who crossed state lines to play his college golf at Illinois.
The game was the best ball of Tiziani and Chemers against Stricker, but that quickly deteriorated as Stricker made the turn in six under on his way to making eight birdies the first time he saw Conway.
"We were two under at the turn and four down," Tiziani said.
With that, Stricker and Tiziani drove back home for dinner, content not only with Steve's game, but also his game plan to scale back his schedule to spend more time at home, whether with the kids or planting crops around his deer stand. At 46, Stricker determined earlier this year that less tour golf would mean more quality of life.
The plan worked. A top-10 at the BMW would be his seventh of the year, just one fewer than 20-year-old rookie, Jordan Spieth, who has played in 21 events. "I still have the opportunity and the chance to win, which I didn't think I'd be in this position starting the year with the limited playing schedule," Stricker explained.
His chances went up exponentially after his 64 Saturday at Conway Farms. He will drive back to Madison after the completion of play today, loaded for bear at East Lake and anticipating a practice round with Spieth before the Presidents Cup at Muirfield Village. It will be interesting to see if captain Fred Couples pairs his oldest and youngest players.
"I was still going to Illinois and playing college golf, not even knowing I would ever be good enough to play out here at that time," Stricker said of what he was doing at 20. "So it's cool to see."
It's also cool to see Steve Stricker, still in the hunt.