News
Steve Stricker wins inaugural Sanford International, third PGA Tour Champions victory in seven starts this year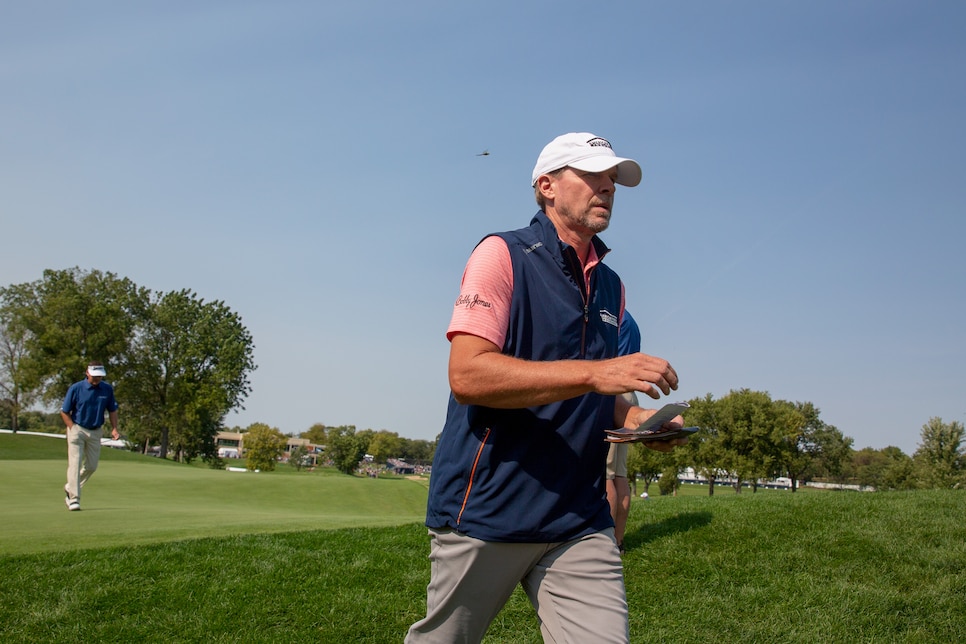 Steve Stricker does not yet play the PGA Tour Champions full time, for which those he is playing against surely are thankful.
Stricker, 51, won the inaugural Sanford International going away on Sunday, when he birdied three of the first four holes at Minnehaha Country Club in Sioux Falls, S.D., led by five at the turn and won by four.
"I've never felt so unprepared in my life playing a golf tournament," he said, regarding the torrential rains that limited play prior to the start of the tournament. 'You usually get around it a couple times at least. But you know what, there's something to be said about that, too, where you can just kind of plod your way around, kind of learn as you go around and take each shot really one shot at a time and keep plugging away. That's kind of what my mentality was this week. I didn't know some of the spots to miss it, I wasn't very familiar with it, but all in all, it worked out.
"I came out feeling really good, really comfortable [on Sunday]. Hit two really good shots and really played the first five, six, seven holes really solidly. Then once you get that lead, you know, it's like a different mentality sets in. You're trying not to make a mistake. It gets a little bit harder to play. I did my best. I was just trying to make pars and keep moving along, so it was good to hang on and a good finish."
The victory was his third in only seven senior starts this year. Moreover he has finished third or better in six of them, with a tie for fifth is his worst start. In 13 senior starts over two years, he has finished in the top 10 in 12 of them and the top three in 10 of them.
Stricker has been splitting his time between the senior and the PGA Tour. On the latter tour, he has made 12 starts and finished in the top 25 in four of them.
Meanwhile, he heads off to Paris, where he will serve as a vice captain on the U.S. Ryder Cup team this week.
Stricker, who shared the first-round lead, also started the final round tied for the lead with Brandt Jobe. But separation occurred quickly with Stricker's fast start and a pair of front-nine bogeys by Jobe.
A final-round three-under par 67 gave him a 54-hole score of 13-under par 197. Tim Petrovic equaled the best round of the day, a five-under par 65, to tie for second with Jerry Smith.
"I gave myself a C the first day, I gave myself a B [Saturday], I gave myself an A today," Petrovic said. "Just a little bit better every day. My thought process was a little bit better. I said this at the PGA, it's hard to try less, to try not to try, but it's hard to get in that zone and I got in that zone today, so it was nice."