The Loop
Steve Stricker says Tiger Woods is already calling him with ideas for the Presidents Cup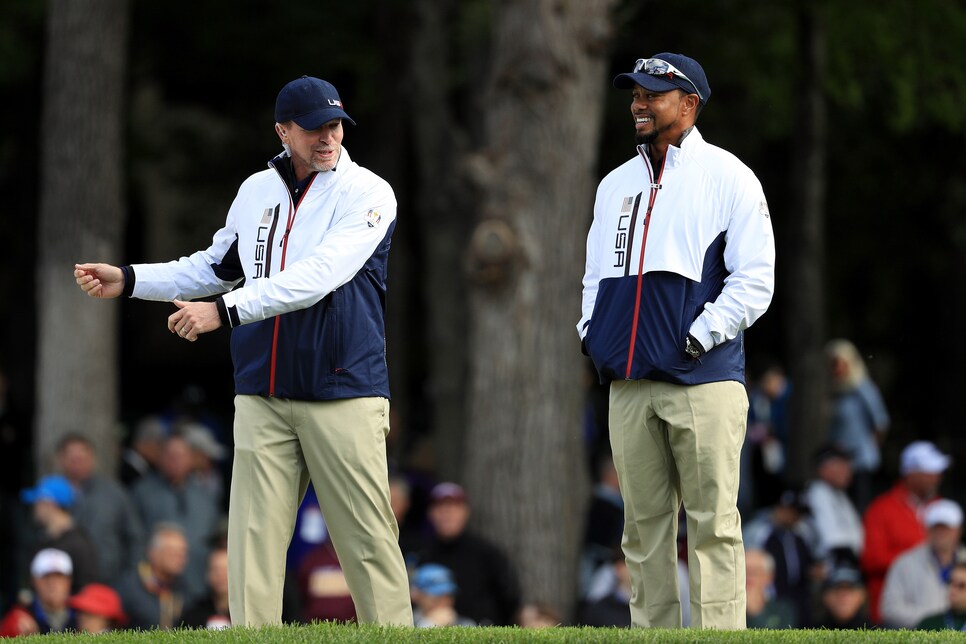 PGA of America via Getty Images
One of the biggest takeaways from the most recent Ryder Cup was the enthusiasm Tiger Woods showed for his role as a vice captain. Fellow captains and players alike raved about the 14-time major champ's involvement during Team USA's 17-11 victory at Hazeltine, and it seemed evident Woods would return to a similar role in the near future.
The announcement of that came sooner than expected when three days after the Ryder Cup ended, Steve Stricker named Woods as one of his three vice captains for the 2017 Presidents Cup. Although Stricker said he hopes Woods plays his way onto the team, we know Woods will be at Liberty National even if he doesn't. And like he was with Davis Love III leading up to the Ryder Cup, Woods isn't wasting anytime getting involved.
"Oh yeah," Stricker said. "I hear from him every once in awhile, and we stay in touch."
"It was really cool," Stricker said of Woods' involvement at Hazeltine, "and he's doing the same already. He called me a couple weeks ago and said he had a couple ideas so we've got a long ways to go yet, but he's sure thinking about it and he's excited to be a part of it again."
Reminder: The Presidents Cup is more than eight months away.
But hey, we love the enthusiasm, Tiger. Here's the excerpt of the interview: