The Loop
Steve Stricker discovers, corrects error in his putting and is back in contention
PALM HARBOR, Fla. – If Steve Stricker remains in contention this weekend at the Valspar Championship, he can thank the putting tip he received from Tiger Woods.   Wait, scratch that.   "He wouldn't help me. Even if I did call him, he wouldn't help me," Stricker, 49, said with a laugh after firing a five-under-par 66 Friday at the Copperhead Course at Innisbrook Resort that gave him a share of the 36-hole lead with Will MacKenzie at five-under 137.   He wasn't kidding. He and Woods might be friends, and they have traded texts while comparing notes on their respective back surgeries, but Stricker, as he has done throughout his career, has had to diagnose and treat the maladies in his game on his own.    While his ball striking was coming around last year amid a limited schedule – he made just nine starts as he recovered from back surgery – the putting touch that has been the envy of his peers was AWOL. Turns out that geometry was the key.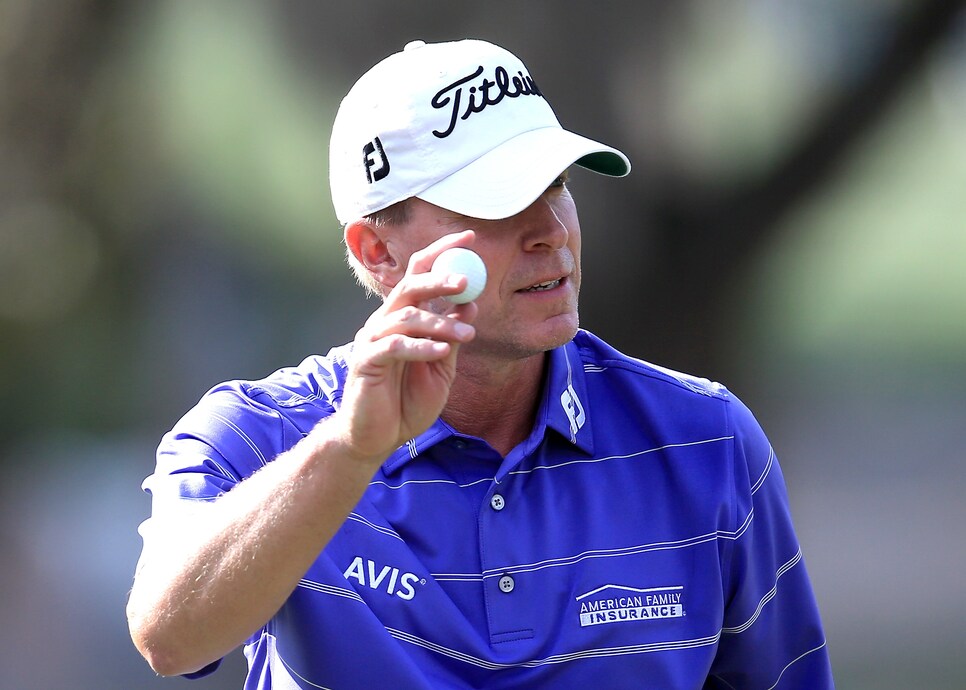 Pay attention, class, and sharpen your pencils, because this is worth jotting down.   Stricker noticed first that he was poorly aligned to the right of the target, but that wasn't the real problem. As he explains: "For me, it's all about starting the clubhead in this triangle back together and I wasn't doing that. My clubhead was kind of beating my turn back there and it was almost kind of running off, too. My triangle would stop and my clubhead would keep moving. I was trying to play catch up all the time."   The triangle he refers to is that made by his arms. The key is keeping the clubhead and his arms in sync.   It shouldn't be a surprise that Stricker leads the PGA Tour this year in strokes gained-putting and he is the leader in that category at the Copperhead Course. He made a comfortable living beating the daylights out of everyone on the greens. The surprise is that for the previous two years he somehow lost that magic stroke.   Hard work and stubbornness have corrected it.   Once ranked No. 2 in the world and now 249th, Stricker already has made six starts this year, with his best showing a T-11 at his last event, the Northern Trust Open. He still is committed to a part-time schedule, but he still expects full-time results.   Winless since 2012, Stricker began cutting back in 2013 to spend more time with his family. But in just 13 events that year he posted four runner-up finishes and made the U.S. Presidents Cup team, where he was paired with an up-and-coming youngster named Jordan Spieth.   That seems like ages ago. Stricker wouldn't disagree, but he refuses to give in on the notion that he can't compete against Spieth or anyone else. He's getting stronger and his confidence is returning.   "It's frustrating when you're only going to play those limited amount of times and you're not playing that well," he said. "I mean it's like OK, I want to play good when I come out, you know, even if I'm going to play 12, 14 times, whatever the number is going to be, I want to play well and I still think I can play well."
Stricker is used to comebacks. He twice was voted Comeback Player of the Year on the PGA Tour. Perhaps he has one more in him.