News
Steve Flesch beats Bernhard Langer, Scott Parel in playoff for first PGA Tour Champions victory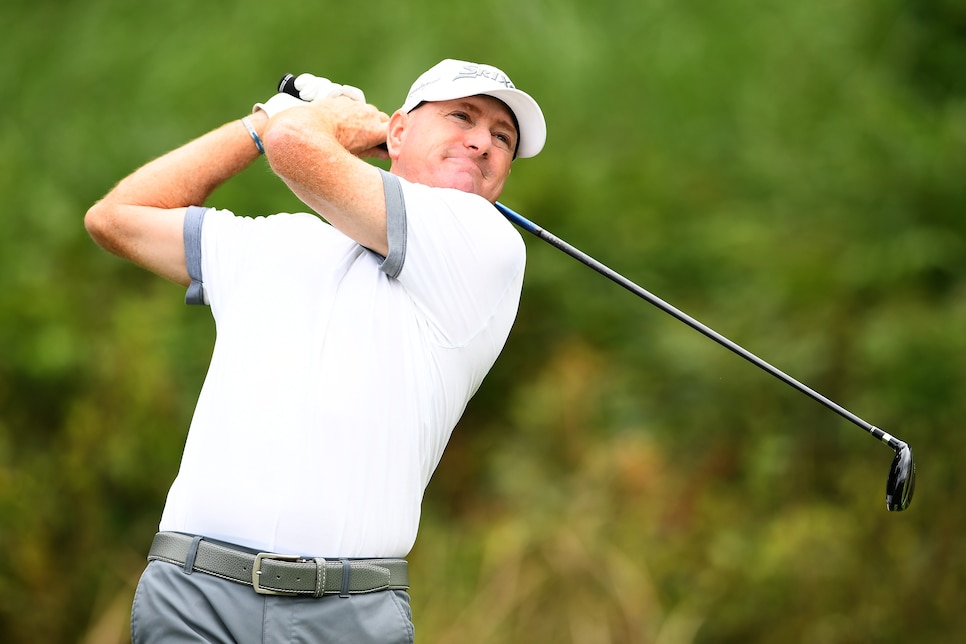 Steve Flesch can talk a good game, but he still has one, too, as he demonstrated at the Mitsubishi Electric Classic on Saturday.
A golf analyst for Fox Sports, and before that GolfChannel, Flesch, 50, defeated Bernhard Langer and Scott Parel in a playoff to win at the TPC Sugarloaf in Duluth, Ga., on Saturday. It was Flesch's first PGA Tour Champions victory in his 22nd start.
"I have such good memories of playing here on the regular tour," he said, recalling the BellSouth Classic. "I just am kind of comfortable here. I played great all day yesterday and mostly today. I'm just thrilled to death.
"I've been playing great. I've just been a little cautious, a little too conservative at times. Today I took a few more chances."
Flesch birdied the par-5 18th hole three times within a span of about 45 minutes late on Saturday afternoon, the first to get into a playoff, the second to remain in a playoff and the third to win.
The final round was scheduled to be played Sunday, but tour officials, citing an unpromising weather report, elected to have the field play the final 36 holes on Saturday. Flesch had rounds of 71-68 to complete 54 holes in 11-under par 205.
Langer, 61, was seeking to extend his streak of years with a victory to a 12th straight year, but he bowed out of the playoff after one hole when he was unable to hole his birdie putt.
Parel, 52, in pursuit of his first senior win, birdied the 18th to complete a round of eight-under par 64 and get into the playoff. He then birdied the first playoff hole. But on the second extra hole, the 18th again, he hooked his second shot and it bounded off a green-side bank and back into a pond fronting the green. He eventually tapped in for a bogey.
"Second one I just was in between clubs a little bit," he said. "I had like 209, which is probably about as bad a yardage that I can have, so I had to kind of choke up on a hybrid a little bit and couldn't hit it too hard. If I hit it right, a normal shot's going to be in the bunker, which is no bargain. So I just didn't hit it as crisply as I needed to."
Flesch, meanwhile, hit his second into a back bunker, then hit an exceptional bunker shot to with 2 ½ feet of the hole and won when he tapped in for a birdie.