The Loop
Stephen Curry's impressive pro debut, Hideki Matsuyama's rout & Brooks Koepka's girlfriend stars in *Sharknado 5*
Welcome to another edition of The Grind, where we have never been so excited about a Web.com Tour event as we were last week. Stephen Curry's performance even kept me up late on Friday night -- and by late, I mean nearly an hour past my normal 10 p.m. bedtime. (Give me a break, I just had my second wedding anniversary.) Calling Curry "Mr. 74" is a fitting nickname, but the excitement his big pro golf debut created deserves better. So instead, I'm going with. . . drumroll . . . "Stephnado"!
Of course, "Stephnado" would have been better if it had been televised like "Sharknado 5" (more on that later). Maybe next time. Curry hasn't even turned 30 yet and that golf game isn't going anywhere. Until then, though, there's a lot more to talk about.
Hideki Matsuyama: Four years ago, Matsuyama had a front-row seat for Tiger Woods' 61 at Firestone. On Sunday, he tied that course record while giving everyone a reminder that he could be golf's next dominant figure with a five-shot win at the WGC-Bridgestone Invitational. That gives the Japanese star three victories on the season, including two WGC wins by a combined 12 shots. A first major shouldn't be too far off.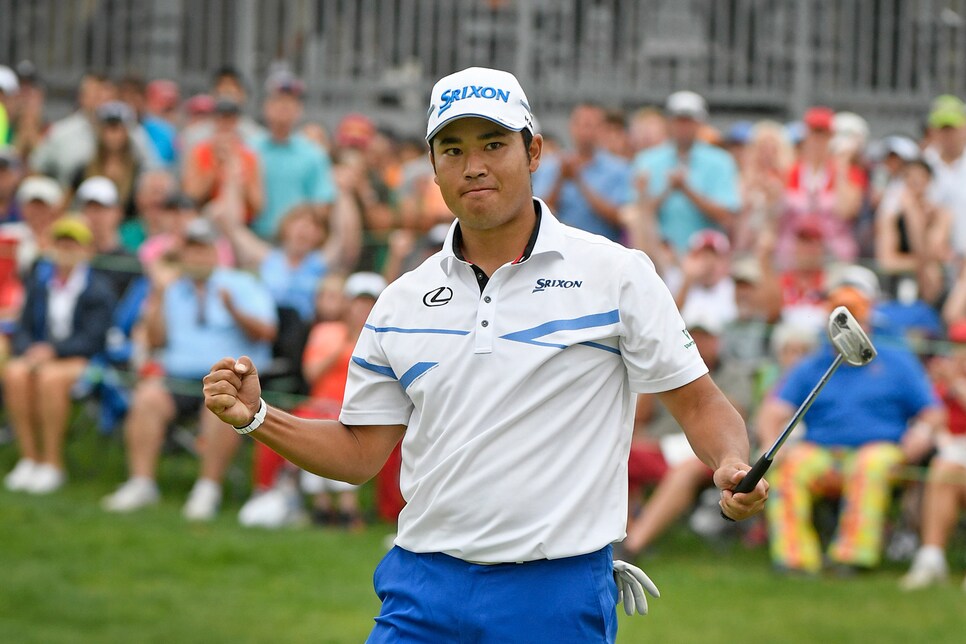 I.K. Kim: Five years after infamously missing a 15-inch putt that would have given her a first major title at the ANA Inspiration, Kim captured her first big one at the Ricoh Women's British Open. Redemption! OK, so I.K. will still be most known for that heartbreaking miss, but this should ease the pain.
Chris Stroud: The "Journeyman wins at long last" storyline is one of the coolest in golf, and Stroud is the latest longtime toiler on tour to break through. In his 290th career PGA Tour start, Stroud finally got his first win at the Barracuda Championship, and he did it in dramatic fashion by eagling the final hole to get into a playoff, which he eventually won. The only bad part? He kept fellow journeyman Greg Owen (265 starts) from winning his first event. Hang in there, Greg.
PGA calendar jumping: As a hardcore golf fan, my initial thought of the big schedule reshuffle that has the PGA Championship moving to May, the Players going back to March and the FedEx Cup Playoffs sliding up a month starting in 2019 was that it seems unnecessary. Then I remembered that even as a hardcore golf fan, I usually find myself watching football instead of golf on Sundays in September (NFL Red Zone is just too good). Having the FedEx Cup Playoffs end by Labor Day instead is smart, and I'll learn to get used to the PGA not being the final major of the season. As long as the Ponte Vedra Beach Chili's I always frequent at the Players is open in March, I'm on board.
Stephen Curry haters: They're still out there, even after Curry's impressive showing. "He missed the cut by a mile!" "What's the big deal about a 74? I can shoot that!" "He's still not as good of a basketball player as LeBron!" OK, so that last one was me, and it's true, but the other people need to pipe down. Curry posted back-to-back legit 74s (No mulligans, no gimmes, no double-bogey max for handicap purposes) under tournament pressure. And the fact that we're still talking about it proves that him taking a sponsor's invite was a good thing for golf. End of story.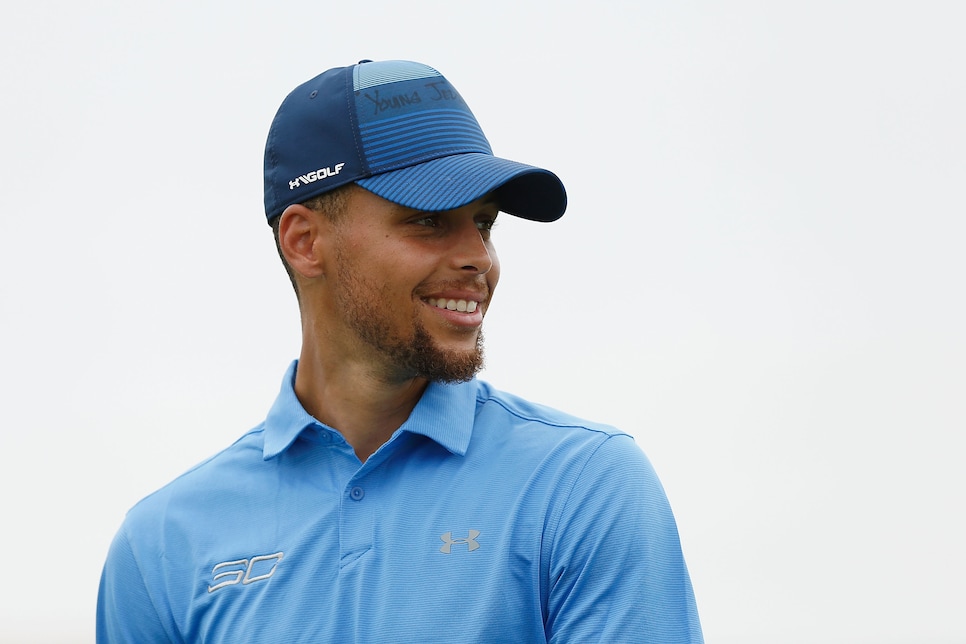 Shorts debate: A few PGA Tour pros bared their pale legs during a PGA Championship practice round (The PGA of America allowed it) and everyone freaked out. How is this even an issue in 2017?! If the guys want to wear shorts, let them wear shorts. And considering they wore them on a cool, rainy day, they must really want to wear shorts. Just look at how happy it made Phil Mickelson: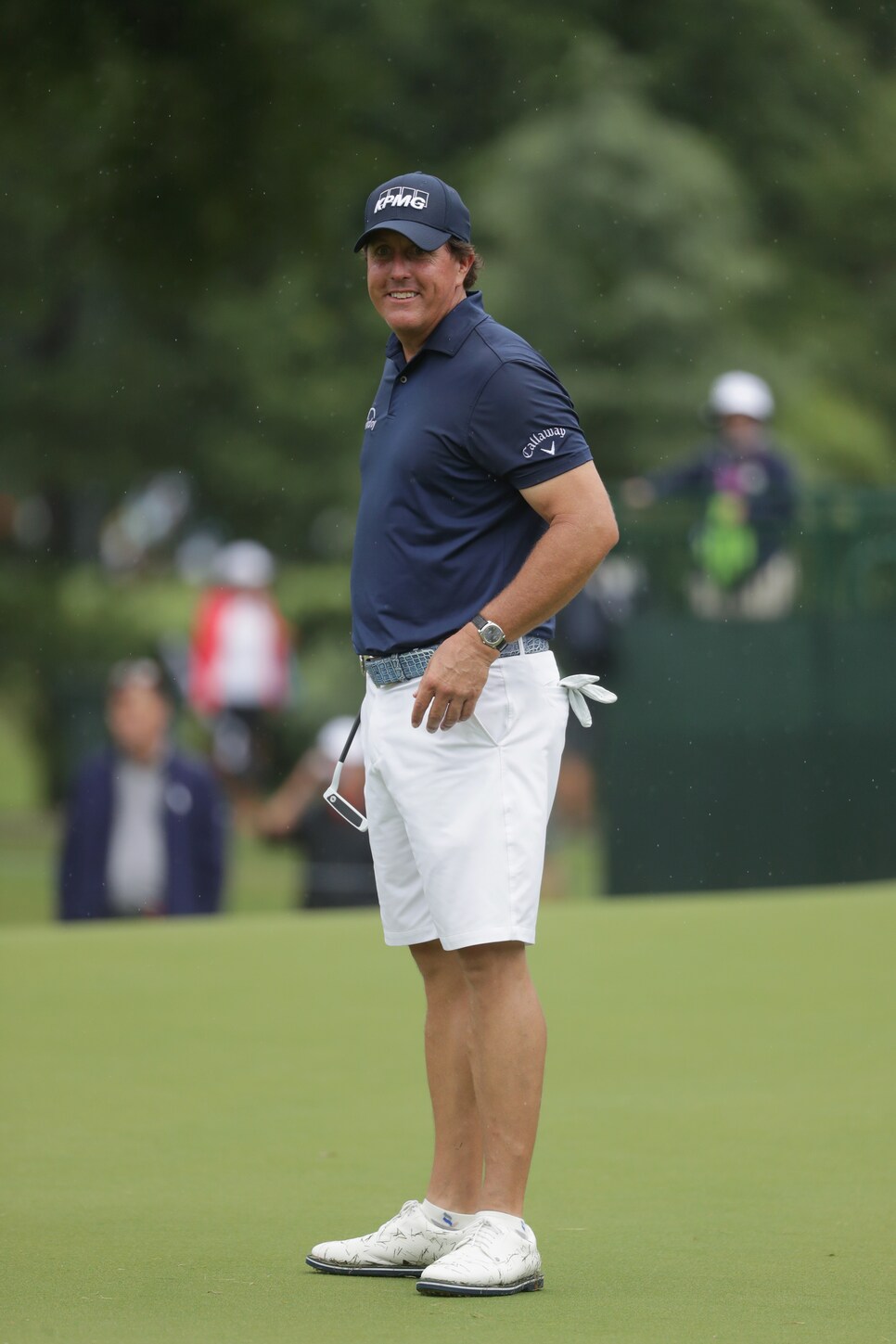 Stolen golf clubs: We've seen some unfortunate timing of late when it comes to airlines misplacing golf clubs, but having a set stolen out of your car is the real nightmare scenario. Such was the case for Masters amateur hero Stewart Hagestad who had his sticks taken out of his driveway the week before the U.S. Amateur.
The PGA Tour heads to Quail Hollow for the 99th PGA Championship, aka the artist formerly known as "Glory's Last Shot." Quail Hollow is in Charlotte, where Stephen Curry grew up and went to high school. It all goes back to Stephnado.
Random tournament fact: Jordan Spieth is attempting to become the youngest player to win the career Grand Slam this week. Bet you didn't know that!
RANDOM PROP BETS OF THE WEEK
-- Stephen Curry will earn his PGA Tour card after retiring from the NBA: 1 MILLION-to-1 odds
--Stephen Curry will earn his senior tour card after retiring from the NBA: 100-to-1 odds
-- Stephen Curry will look better wearing shorts than Phil Mickelson this week: LOCK
Tiger Woods is free diving for lobster? That back must be feeling pretty good! There's still no word on when Woods will return to golf, but in the meantime, it was nice seeing Tiger wearing red and black while holding a trophy again.
VIRAL VIDEO OF THE WEEK (TRICK SHOT DIVISION)
Golf trick-shot artists are getting so creative that golf trick shots aren't even golf shots anymore:
VIRAL VIDEO OF THE WEEK (MALFUNCTION DIVISION)
Check out the wild scene from a Topgolf where one of the golf ball dispensers went haywire:
Luckily, no one was hurt, and the band played on. Those guys are pros.
"I'm three back with three to play. I mean, I'm trying to win a golf tournament. I'm tired of finishing second." – Charley Hoffman to his caddie on the 16th hole of the final round. We need a mic on Charley Hoffman at every tournament.
THIS WEEK IN JIM NANTZ BEING JIM NANTZ
We got a rare look at Nantz's golf swing thanks to CBS broadcast partner Nick Faldo:
Listen closely and you'll hear Nantz say, "Thank you, friends" to those clapping for him. Obviously.
THIS WEEK IN DUSTIN JOHNSON-PAULINA GRETZKY JIMMY WALKER-ERIN WALKER PUBLIC DISPLAYS OF AFFECTION
Norman Xiong, 18, won the Western Amateur a couple months after being named national freshman of the year at Oregon. Remember that name. . . . Akshay Bhatia, 15, won the Boys Junior PGA Championship, thanks in part to a second-round 61 that broke a tournament record previously held by Jordan Spieth, Pat Perez and others. His 22-under also total broke Perez's 72-hole-record by five shots. Remember that name, too. . . . Shout-out to co-worker Max Adler for also going low in a second round with a 67 to make the cut at the Connecticut Open. Congrats, Max, but you're giving me more strokes next time we play. . . . And finally, I've never seen Sharknados 1-4, but I almost tuned in to see the fifth installment because Brooks Koepka's girlfriend, Jena Sims, is one of the movie's stars. OK, so I have no idea how big her role is (She plays NATO delegate Lee, according to IMDB), but Sims was in the film:
And she attended its premiere.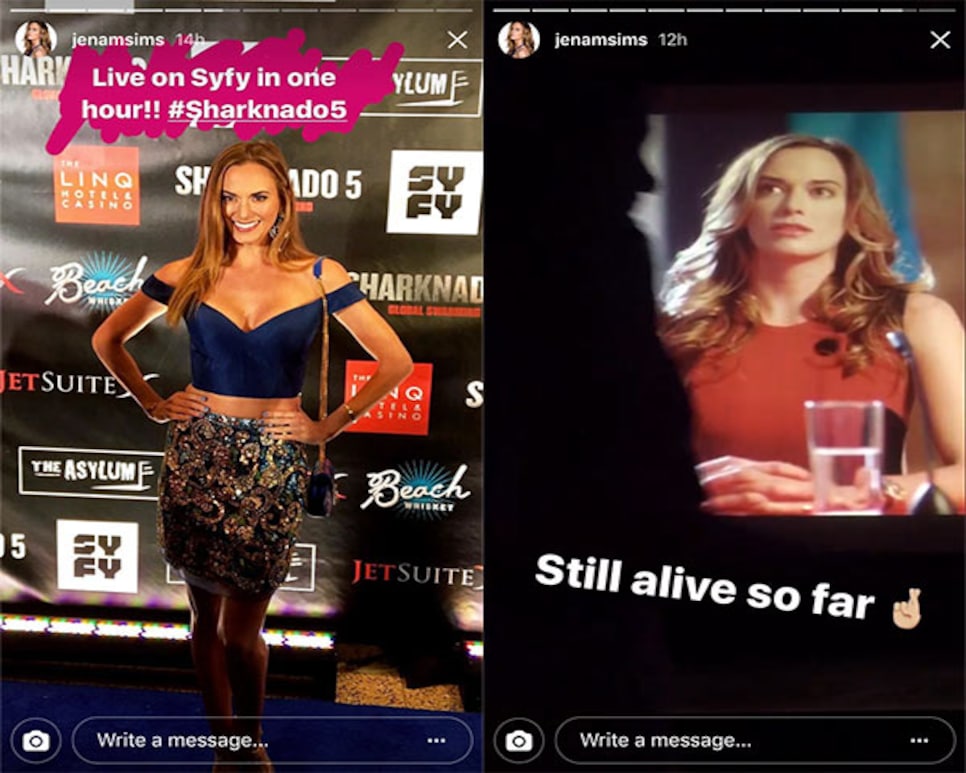 Guess we'll have to watch it to find out if her character survived.
RANDOM QUESTIONS TO PONDER
Can a five-shot win at Firestone springboard Hideki to a first major?
Can a part in Sharknado 5 springboard Jena Sims to a first major movie role?
How in the world have there been FIVE Sharknados?