News
Stephen Curry's good walk spoiled: He shoots an 86 in second round of Web.com Tour's Ellie Mae Classic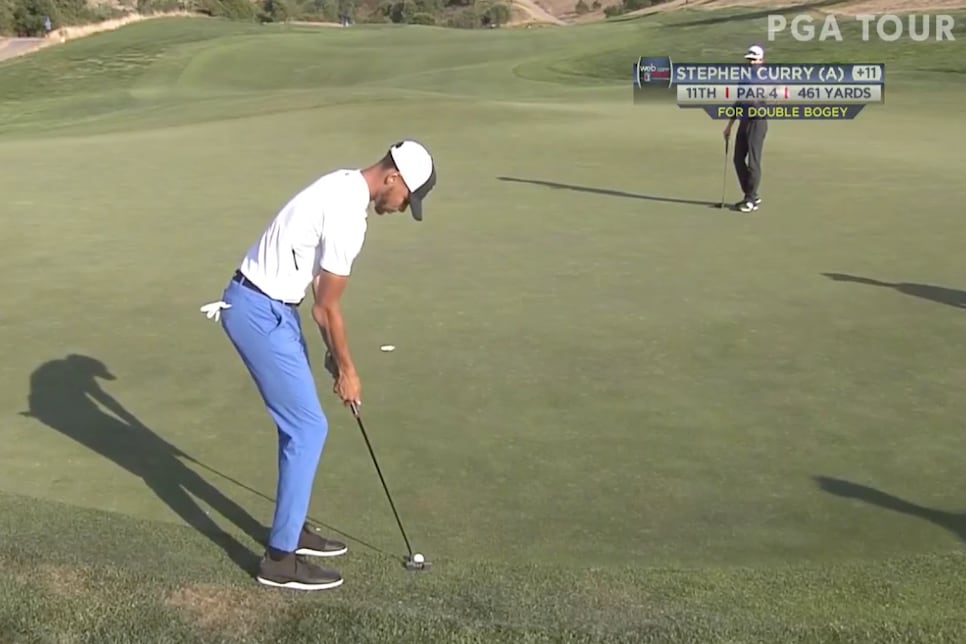 This was the golf equivalent of a shooting guard's shot abandoning him, though in this case Stephen Curry was unable to start passing off to Klay Thompson to pick up the slack.
Curry, the Golden State Warriors superstar who impressed with a first-round 71 in the Web.com Tour's Ellie Mae Classic on Thursday, began misfiring from the start in the second round at the TPC Stonebrae in Hayward, Calif., and shot a 16-over par 86.
He bogeyed the second hole, then hit two balls out of bounds on the par-5 third, where he made a quadruple-bogey nine. He also had a triple-bogey and a double-bogey on a front nine of 46 that brought a score of 90 or more into the equation.
The box score: He shot nines of 46 and 40, hit only five of 13 fairways and eight of 18 greens in regulation, and made more triple-bogeys or worse (three) than he did birdies (two).
On the eighth hole, his frustration was evident. He hit his tee shot left and into the junk and a fairway wood well right.
"How does this happen?" he said to himself.
His driver largely betrayed him, as did the tempo he had on Thursday, when he bettered his scores from a year ago in this tournament by three.
"It's always an amazing opportunity to be out here to test my game in pressure situations," he said. "Today was interesting all the way around. The wheels fell off on the third hole. I couldn't hit a drive today to save my soul. Just tried to have as much fun as possible down the stretch and hit some good shots.
"When you can't get off the tee in a professional tournament like this you're fighting an uphill battle. That was kind of the theme of the whole day."
By the turn, he appeared at that point to be trying to stay out of the way of his professional playing partners, Cameron Champ and Martin Trainer.
Incidentally, NBA training camps don't open for another five weeks or so. Curry, on this day at least, must have been thinking it can't come soon enough.