News
Stephen Curry scores again, posts a 71 in first round of Web.com Tour's Ellie Mae Classic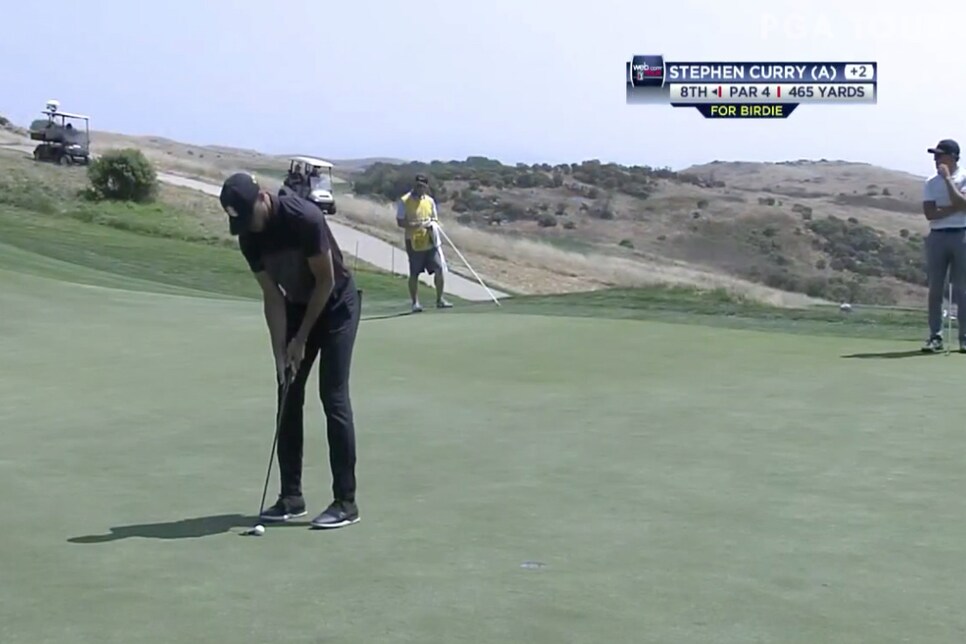 When professional athletes from other sports venture out of their comfort zones and into the cauldron of professional golf, their first — and maybe only — goal is to avoid going up in flames.
Golden State Warriors' star Stephen Curry on Thursday was not even singed in his return to Web.com Tour competition. A year after posting consecutive scores of 74 in the Ellie Mae Classic, Curry shot a better-than-respectable one-over par 71 at the TPC Stonebrae in Hayward, Calif., about 17 miles southeast of Oracle Arena, where he is never out of his comfort zone.
"Awesome day," Curry said. "I hit fairways, which for me has been the struggle the [first] five nines I've played [in his two Web.com Tour starts]. Hitting out of the rough all the time and scrambling puts a lot of stress on yourself. A couple putts went in and the shot on 17 [his eighth hole] was pretty cool. An inch away from dunking it. I don't get many dunks so that was pretty cool."
On the difficult par-4 eighth, Curry hit his drive down the middle, then from about 150 yards nearly holed his second shot, the ball hitting the pin about an inch from the top of the hole and the ball stopping about six feet away. He holed the putt for a second consecutive birdie en route to a back nine of two-under par 33.
Through 11 holes, Curry was four-over par, but rebounds are as important in golf as they are in basketball and he delivered a timely one. He birdied three of his last seven holes.
He is still likely to miss the cut on Friday, but by any measure, for a man who makes his living in another arena, it was a successful day. He hit eight of 13 fairways and 14 of 18 greens in regulation and only his putter kept him from scoring in the 60s. "I had six birdie putts, all great looks, that didn't go in," he said.
"It was fun. I was still nervous, had the same jitters on the first tee [as he did a year ago]. This time it took me to hole eight or nine to get comfortable. You can't simulate that pressure standing over eight, 10 foot putts. But once you get in a groove, great things happen.
"The turning point today was on two green [his 11th hole] and I three putted and was four over. I could have gone in the trash can. To be able to reel myself back in was fun."