Steph being Steph
Steph Curry shooting to replicate famous Woods, McIlroy, Spieth shots in new TV show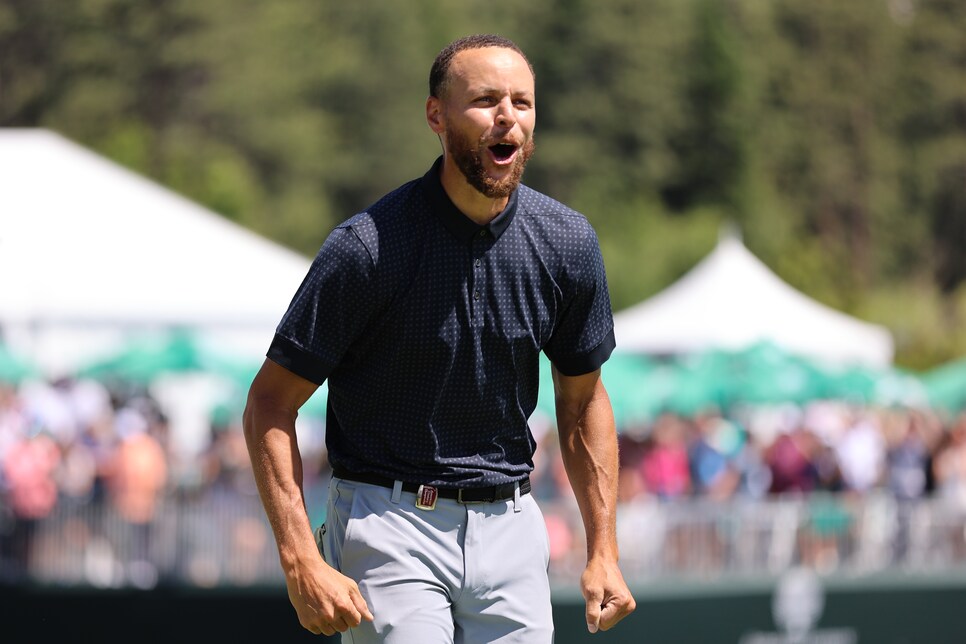 Steph Curry celebrates winning the 2023 American Century Champioship.
Isaiah Vazquez
Steph Curry knows great golf shots. That was evident in all of its glory a few weeks ago when, in the American Century Championship on the shores of Lake Tahoe, the NBA star produced a hole-in-one (and a rousing celebration to go with it), and then rolled in an eagle putt on the last hole to win.
It seems a no-brainer then that Curry would try his skill on the greatest shots that others have pulled off.
On Friday, NBC Sports and Curry's company, Unanimous Media, announced a four-part series, "Niiice Shot with Steph Curry," in which the scratch golfer will try to replicate four famous shots from more recent golf history. The episodes will air on NBC and Golf Channel, starting on this coming Tuesday, Sept. 12, with Curry trying Tiger Woods' flop-shot hole-out from the 2012 Memorial Tournament.
Tuesday, Sept. 19 (8 p.m. ET, Golf Channel): Jordan Spieth's hole-out from the bunker to win a sudden-death playoff at the 2017 Travelers Championship.
Sunday, Sept. 24 (2 p.m., NBC): Rory McIlroy's eagle hole-out on the 16th hole in the 2017 Tour Championship.
Tuesday, Oct. 10 (8 p.m., Golf Channel): Tiger Woods' 2-iron stingers that he used to avoid every bunker in the 2006 Open Championship at Royal Liverpool.
McIlroy will make appearances on the show, as well as Curry's Golden State Warriors teammate Andre Iguodala, former LPGA player Michelle Wie West and swing coach Alex Riggs.