Can you digg it?
Stefon Diggs lighting up a Chiefs fan that ran on the field is the best part of the best playoff game of all time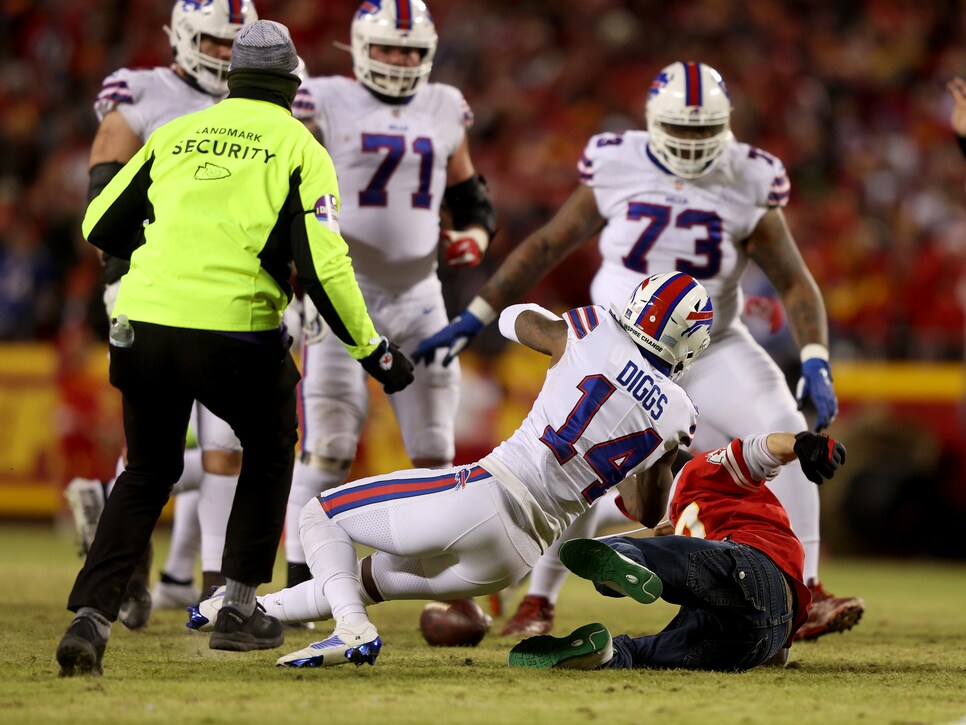 The Bills and Chiefs combined for 25 points in the last two minutes of their unbelievable Sunday battle. Three increasingly-wild touchdowns and a 13-second drive for a game-tying field goal all in 120 seconds isn't something to sneeze at, but it's what happened right after the two-minute warning that matters most … Stefon Diggs lit up a Kansas City fan that ran on the field.
In a game with minimal defense when it mattered most, the Buffalo wide receiver made one of the better hits of the entire playoffs. There was true animosity in that one for Diggs.
Was this brutal takedown the impetus for the scoring barrage to immediately follow? We have no proof it wasn't.
The CBS crew of Jim Nantz and Tony Romo hinted at what happened with Romo even saying that Diggs "took out some frustration" on the fan, but the live clips from the game really showed the destruction that took place.
What Diggs did is something that we'd imagine that most players would like to do in similar circumstances. With a game in its final stages and adrenaline at an all-time high, there's gotta be nothing worse than some (most-likely) inebriated idiot trying to get his 15 seconds of fame.
If anything, the NFL should pass a new rule that one player on the opposing team gets a shot at any ne'er-do-well that decides that they want to jump onto the field.
Stefon Diggs may have ultimately taken an L, but at least he got to get some anger out on one of the Kansas City supporters. We're looking forward to seeing Ja'Marr Chase suplexing a Chiefs fan that had one too many Bud Lights next week.