News
Steal Bryson DeChambeau's unconventional setup to hit it straighter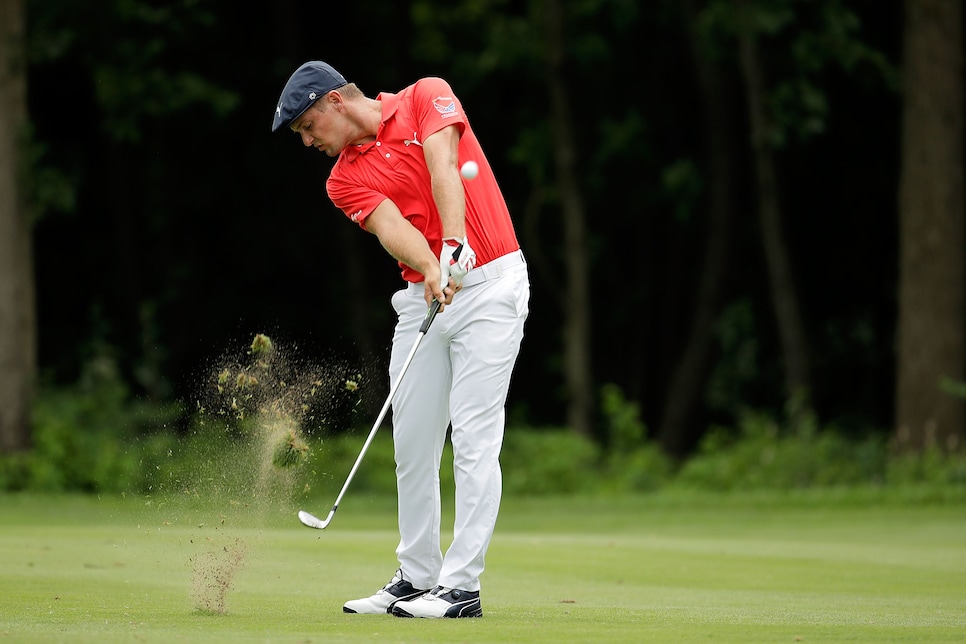 Nothing about Bryson DeChambeau looks standard. He doesn't swing like anybody else on the PGA Tour, and he doesn't dress in the same kinds of clothes.
But the check he earned for winning his first tour event at the John Deere will still spend the same. Getting back to the idiosyncratic swing method that won him the U.S. Amateur and NCAA Championship, DeChambeau hit 17 greens on his way to a Sunday 65 and a one-shot win over Patrick Rodgers. DeChambeau ran a 14-foot birdie putt in on 18 to secure the win and validate his unorthodox approach.
"There are a lot of ways to hit a golf ball, and Bryson has proved at every level his way works," says top Maryland teacher Bernie Najar, who is based at Caves Valley Golf Club in Owings Mills. "He uses single-length irons and an image of a single swing plane, and his goal is to set up and swing entirely on that plane."
That's decidedly different than most players, and a tough change to pull off for the average amateur. But even if you don't go for a total reconstruction of your swing to be more DeChambeau-like, you can take some pieces of the style to get better.
"First of all, finding an image to hold in your head that gets you doing the same things over and over is a hallmark of the best players," says Najar. "And Bryson's higher-handle, more upright setup is a great way for a lot of players to get a feel for a more solid impact position."
When the shaft is more in line with the forearms, it's easier to make a backswing with the arms in synch with body rotation, says Najar.
"And when you have that in-line club-forearms relationship at impact, your clubhead is going to be in a more predictable and stable position. And that's what Bryson says over and over about his swing. He loves that it's simple and predictable. Those are pretty good qualities for any swing to have."