News
Stats: The Broadmoor's demanding final hole
COLORADO SPRINGS, Co. -- Only 25 players completed their first round on Thursday (play was suspended due to lightning at 12:47 p.m.), and 72 players haven't even teed off.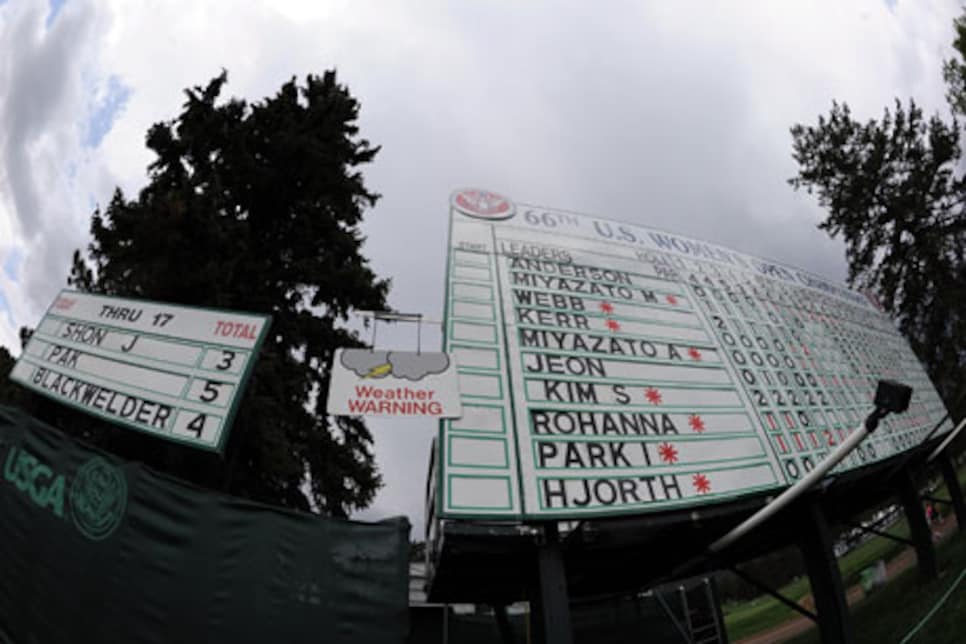 But a few compelling stats have emerged midway through the first round of the U.S. Women's Open:
--The field hit 66 percent of fairways (co-leaders Cristie Kerr and Amy Anderson hit 92 and 89 percent, respectively) and 61 percent of greens in regulation (Kerr and Anderson hit 60 and 75 percent, respectively).
--16-year-old Lexi Thompson leads the field in driving distance (312 yards), and Cristie Kerr leads in putts per green (1.47).
--The par-4 18th is playing as the toughest hole at The Broadmoor (golfers averaged 4.78 strokes), and the par-5 17th is the only hole that yielded a sub-par average (4.95).
--It seems the 18th hole's pleasant combination of a narrow fairway and tricky green is to blame for its difficulty. Just 51 percent of players hit the 18th fairway, and even though two thirds of the field attempted to get up and down, the 18th green demanded an average of 1.88 putts.
When first-round action resumes at 7:45 a.m. on Friday, golfers will face a much softer Broadmoor. So while they will likely average fewer putts, reaching greens in regulation will be a much tougher test.