The Loop
Statistical analysis shows why Jim Furyk (and Jordan Spieth) really should have more PGA Tour wins by now
At last week's Players, Jim Furyk and Jordan Spieth got nearly as much attention for not winning as Martin Kaymer did for capturing golf's "fifth major." Furyk finished runner-up on the PGA Tour for a second straight week, and Spieth failed to pull out a win as a 54-hole co-leader at a second straight marquee event.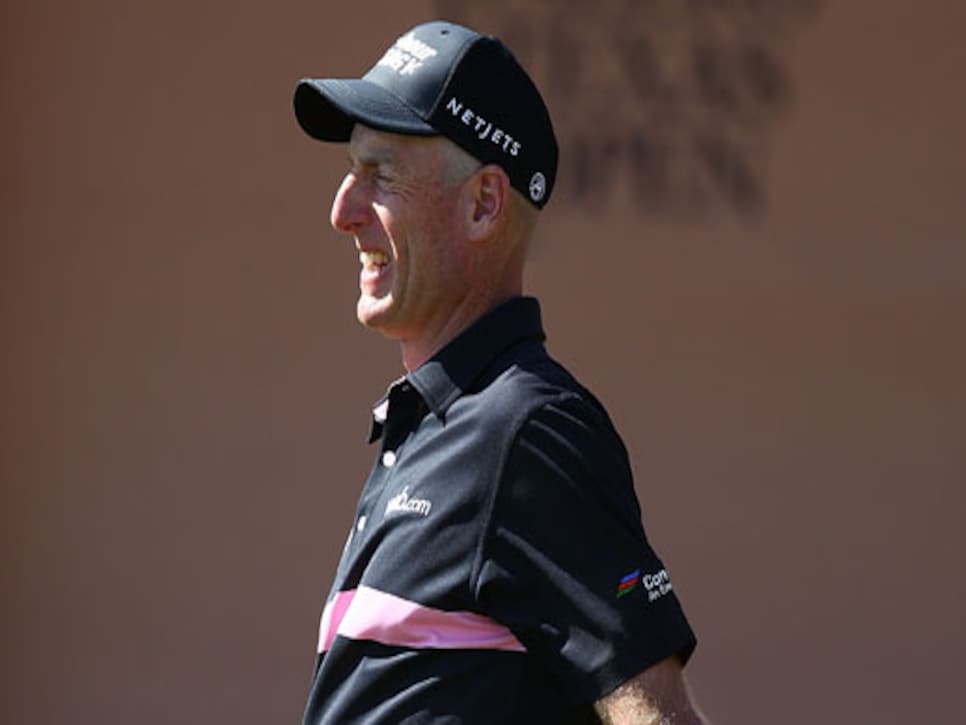 The lone knock on both players is that they have shown an inability to close the door on Sundays when in serious contention. But is that a fair assessment?
We'll start by defining "serious contention." For this study, we'll define it as a player finishing first, second or third in a PGA Tour event. Sure, players can back into those positions -- or have a good chance to win, but finish lower -- but in general, if you're in the top three, you had a legitimate chance of winning that week.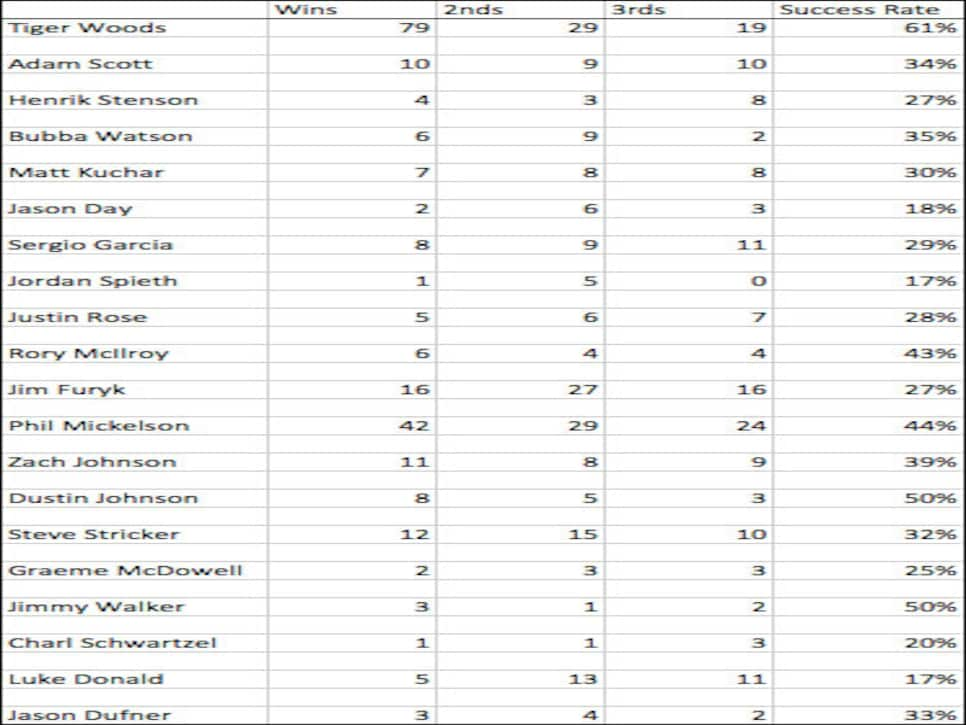 We looked at the current top 20 in the Official World Golf Ranking and broke down those golfers' top-three finishes. In total, those 20 players had 231 career wins and 580 top threes (including their wins). That comes out to them winning 40 percent of the time they finish in the top three.
Not surprisingly, Tiger Woods skews the numbers with his 79 wins in 127 top threes for a 61 percent clip. Take him out of the mix and the overall percentage of these top players drops to 34 percent. Let's use this number for our comparisons.
Of the 19 players not named Tiger, the majority fall within the 27-35 percent range. In other words, it seems most top players have very similar success rates when they're near the top of the leader board.
That might lead us to believe there is no real skill in closing out tournaments, and that if you're in the top three, you have about as good of a chance of finishing first as you do third. The numbers do indicate that the ability to "close" is overrated, but saying such an ability doesn't exist seems silly considering the record of all-time players like Woods (61 percent) and Arnold Palmer (49 percent), and Jack Nicklaus, Phil Mickelson, and Vijay Singh -- who all check in at 44 percent. Those golfers were all better at winning.
But let's get back to Spieth and Furyk. Of course, it's very early to knock anything about a 20-year-old star, but in his brief career, he has one win and five runner-ups. That comes out to a winning percentage when he's in serious contention of roughly 17 percent, which is tied for the lowest of the top 20 with Luke Donald (curiously, Lee Westwood, ranked 26th in the world, has an even worse success rate at 15 percent). Turn just one of Spieth's runner-ups into another win, though, and he'd be just around the average at 33 percent, so it's tough to label him one way or the other just yet.
Furyk, on the other hand, has a huge sample size from nearly two decades on tour, and his 27-percent success rate underscores how many opportunities he's let slip. His runner-up at the Players was the 27th of his career, matching Singh and placing him just two behind Woods and Mickelson. Those three other players however all have at least double Furyk's 16 career wins, with Woods having nearly five times as many victories.
So, why hasn't Furyk won more and how many wins should he have? Using the 34-percent average means Furyk should have claimed 20 tour titles, while using the 40-percent number and rounding up yields 24 wins. Either way, Furyk should have a few more trophies on his mantel.