'Changing history'
What makes playing majors at Baltusrol and Pebble Beach so meaningful according to an LPGA major winner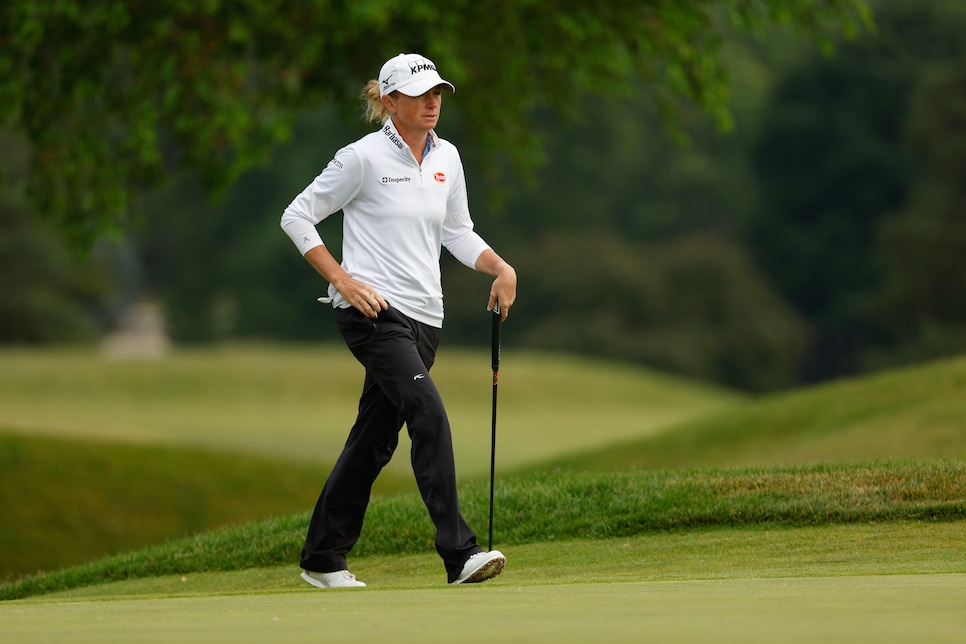 Stacey Lewis says playing at storied courses will create a new sense of history for the players and the clubs.
David Berding
SPRINGFIELD, N.J. — Kerry Haigh is ever the optimist. In Baltusrol Golf Club's Lower Course, the PGA of America's chief championships officer has got a layout that's close to everything he could ask for when setting up a major championship test: bouncy fairways, thick rough and firm greens that make the 6,621-yard par-71 track hosting this week's KPMG Women's PGA Championship feel almost links like. The one thing he doesn't have is a forecast working in his favor, with at least a 50-percent chance of rain predicted for all four days of competition.
"It is 50-percent of sunshine is what we hear," Haigh joked when asked about the weather.
The thing is, Haigh has experience with rain at Baltusrol, having to navigate wet weather when the Lower Course hosted the 2016 PGA Championship. Conditions got so bad, the PGA of America implemented lift, clean and place during the final two rounds that were stacked back-to-back on Sunday.
Should Mother Nature interrupt the festivities again this week, it would be a shame as the LPGA's top players come to one of the game's most historic courses. Baltusrol has hosted nine men's majors, but just two women's, the 1961 and 1985 U.S. Women's Open. In two weeks time, the top female players in the game will experience another legendary major championship venue for the first time, Pebble Beach making its debut as a U.S. Women's Open.
For the LPGA to compete on these stellar courses provides a unique opportunity to showcase the women's game. Casual golf fans may be more apt to tune into the coverage to see how the women will fare on courses they've seen the men play previously. The curiosity factor is bound to attract more viewers.
Thankfully, they'll have lots of opportunity to watch. Twenty-six hours of live coverage from Baltusrol will be shown on Golf Channel and NBC, and streaming on Peacock, double the amount from a year ago (with the final hour of NBC's final-round broadcast commercial free). At Pebble Beach, Saturday and Sunday rounds will be broadcast during the East Coast's primetime hours, a first for a women's championship
The opportunity to compete on these venues is something Stacy Lewis, a two-time major winner and the U.S. Solheim Cup team captain, has been longing for since joining the LPGA Tour in 2009. Since KPMG and the PGA of America came on board to help run the former LPGA Championship nine years ago, the venues have become more high profile: Hazeltine National, Aronimink, Atlanta Athletic Club, Congressional and now Baltusrol.
When asked about what the next two events will mean for the women's game, the LPGA veteran offered an intriguing answer. Rather than lament about it taking so long for the women to visit these premiere venues, she noted how exciting a time this has become as she spoke to what the LPGA is in store for in the coming weeks. And what LPGA players are most looking forward to in the experience.
"The biggest thing for me is you walk through that clubhouse, and you see the winners of all these past champions that have won big events here, and it's guys, it's guys, it's guys, and then there's maybe one here of a U.S. Am or something like that," Lewis said. "But to just start a history here of women being on those pictures and being around that clubhouse, that's the biggest thing for me of what's changing in women's golf, because we're doing this every year.
"We're doing this every golf course we go play. It's going to happen at Pebble, too. We're changing the history of these golf courses. I'm just glad that the powers that be picked up the phone and said that they were ready for it."