History Buff
Stacy Lewis didn't learn about one of the most iconic shots in Baltusrol (and golf) history until she was in the 18th fairway on Tuesday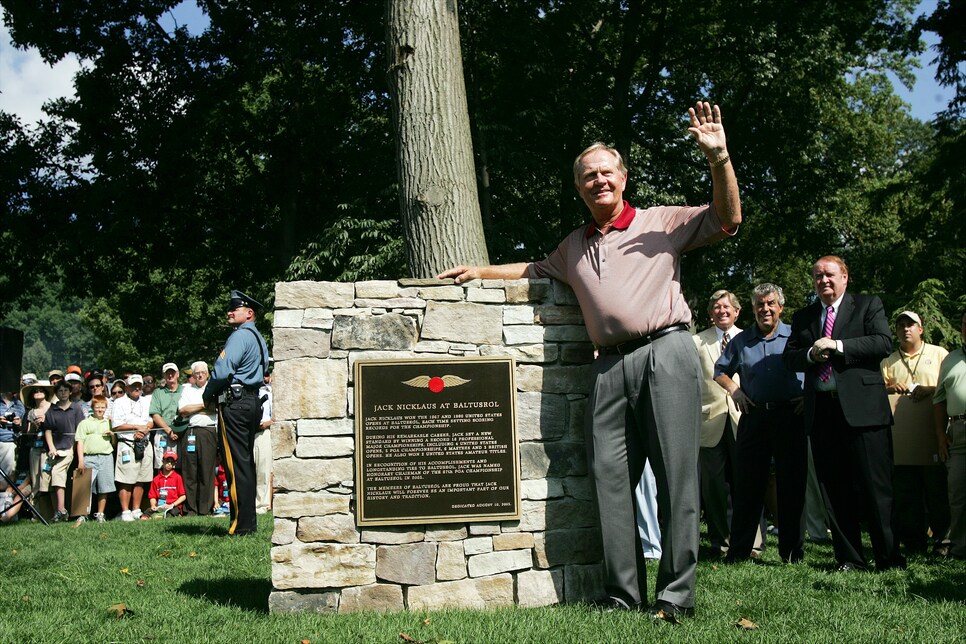 New York Daily News Archive
SPRINGFIELD, N.J. — This week's KPMG Women's PGA Championship is being held at one of the most historic venues in golf: Baltusrol Golf Club. Well, men's golf, that is.
To be clear, Baltusrol has hosted big-time women's events before. Four to be exact. A pair of U.S. Women's Opens and a pair of U.S. Women's Amateurs. But when you think of Baltusrol's Lower Course and its iconic clubhouse, you think of Jack Nicklaus, Lee Janzen, Phil Mickelson and, yes, even Jimmy Walker. More recently, you think of rising star Michael Thorbjornsen, who won the U.S. Junior Amateur here in 2018 over fellow phenom Akshay Bhatia.
Stacy Lewis, who is competing in her 15th Women's PGA in the Garden state this week, couldn't help but notice the same thing during her initial clubhouse stroll.
"The biggest thing for me is you walk through that clubhouse, and you see the winners of all these past champions that have won big events here, and it's guys, it's guys, it's guys," Lewis said on Wednesday. "And then there's maybe one here of a U.S. [Women's Am] or something like that."
In fairness, one of the members of the LPGA Tour's Mount Rushmore (if such a thing were to exist), Mickey Wright, won the U.S. Women's Open on the Lower Course in 1961. But, up until this week, there's been just one women's event at Baltusrol since, and it took place on the just-as-good-but-not-as-storied Upper Course, also originally designed by the legendary A.W. Tillinghast. This week the ladies will take on the Gil Hanse-renovated Lower for the first time in over six decades. It is a huge and much-needed opportunity on the big stage for the women's game.
"To just start a history here of women being on those pictures and being around that clubhouse, that's the biggest thing for me of what's changing in women's golf," she said. "Because we're doing this every year. We're doing this every golf course we go play. It's going to happen at Pebble, too. We're changing the history of these golf courses. I'm just glad that the powers that be picked up the phone and said that they were ready for it."
There is not a more historical figure at Baltusrol than the GOAT himself, Nicklaus, who won back-to-back U.S. Opens on the Lower Course, 13 years apart. The first win in 1967 featured one of the most iconic shots in golf history, the Golden Bear hitting a 238-yard 1-iron into the 72nd green to set up a birdie for a final-round 65. There's a plaque dedicated to the moment in the middle of the par-5 18th fairway, which is how Lewis learned about the shot's existence during a practice round Tuesday.
"Oh, man. I learned about Jack Nicklaus's 1-iron yesterday on the 18th hole," Lewis said. "I honestly haven't learned a lot about [the course] because I've been running from one thing to the next the last two days."
Believe it or not, there's even video of the shot despite it occurring in 1967. And it's in color.
You'll have to forgive Lewis for not being a massive golf nerd like the rest of us. The best way to learn about history is to see it and get a feel for it up close, which the women have not had a chance to do here at Baltusrol since 1985. This week, it's their turn to make some history of their own.