News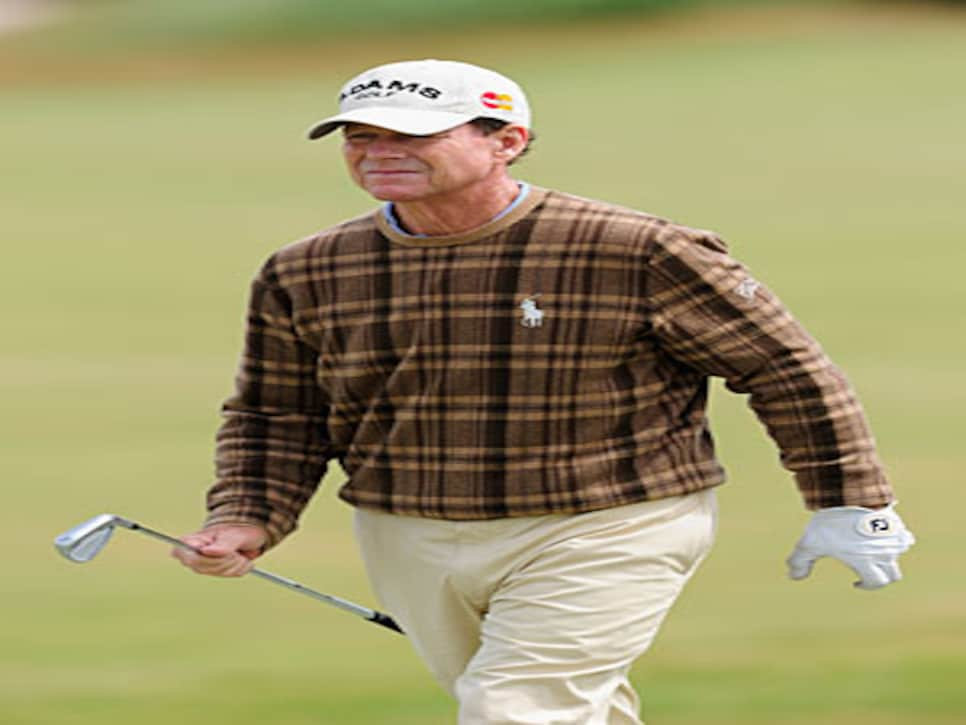 Watson is playing in his seventh Open at St. Andrews.
ST. ANDREWS, Scotland -- Say "Old Tom" in this town and people usually know who you're talking about. This week, though, the surname to go with the nickname could be Watson as easily as Morris.
It was just a year ago that Tom Watson threatened to eclipse Tom Morris Sr. as the oldest British Open champion. A par on the last hole at Turnberry would have earned him his sixth claret jug. A bogey put him into a playoff, which he lost to Stewart Cink.
Morris was 46 when he won his fourth Open in 1867. Watson was 59, on the cusp of the most unlikely and fantastic victory in the history of golf and one of the most significant in all of sports. Despite the heartbreaking defeat, Watson's performance at Turnberry resonated around the globe, particularly with other seniors. If Watson could win the British Open closing in on 60 …
"They come up to me and they say Tom, 'I couldn't stop watching what happened last year,' " Watson said Wednesday. "It's been a wonderful time talking with people who frankly said you've given me hope I can still do it at my age. The other sidelight of it is that I've had a bunch of kids come up to me. I hadn't had any young kids come up to me for years. It was always kids coming up to me saying, 'My grandmother loves you.' "
Watson will tee off in his seventh Open at St. Andrews Thursday at 9:20 a.m. in a grouping with Padraig Harrington and 18-year-old Ryo Ishikawa of Japan. Watson has played with Ishikawa before and likes what he sees -- especially on the greens.
"I think I like Ryo's putting stroke better than about any putting stroke out here," Watson said. "He reminds me of me when I was his age, straight back, straight through, and every putt solid. How do you do that? I've forgotten."
On the eve of this British Open, Watson contends that his putting is actually sharper than his ball-striking, which hasn't often been the case in the twilight of the eight-time major champion's career. "My form isn't quite where it was last year," Watson said, comparing how he is swinging with how he played at Turnberry. "It was getting better [Tuesday] at the end of the practice round, so I feel pretty strongly that things will sort themselves out and I'll hit the ball reasonably well."
Until his remarkable effort at Turnberry, this was to be Watson's British Open farewell, because the R&A had instituted a cutoff of age 60 for past champions. After he nearly won at 59, it changed its rules to allow a five-year exemption for any past champion who finished in the top 10. Watson is exempt through the 2014 Open, but he isn't thinking about that -- or looking back at his past glories.
While observers and fans tend to keep sentimental when an older golfer recalls the talent of his prime, champions don't get very misty when there is work to be done. "Well, honestly, when I went to play on Sunday," Watson said, "it was like I was playing it over for the first time. St. Andrews is a hard course to understand, and you have relearn it all and relearn and relearn it all the time. It's no different now than what it was, except I've got an artificial hip, I'm a little stiffer and I don't hit the ball as far. I do have a little more experience under my belt."
However Watson fares on the Old Course, it already has been a memorable week for him. Tuesday, along with Padraig Harrington and Arnold Palmer, he received an honorary doctorate degree from the University of St. Andrews. "I told Arnold, 'You've always been my idol,' " Watson said. "When I grew up, I was a member of Arnie's Army, and Jack [Nicklaus] came along and beat Arnie, and I couldn't stand Jack. I said, 'Arnie, the only reason I beat Nicklaus all those times is because he beat you. He got a laugh out of that."
Come Thursday morning it will be all business for Watson, who played solidly in the year's first two majors, opening with a 67 and finishing T-18 at the Masters and finishing T-28 at the U.S. Open at Pebble Beach. "I'm still here as a competitor to play the course the best I can, and that's what I'm doing," he said.
If it turns out to be the last time he competes at St. Andrews, Watson won't go out without a fight. The spirit that made him great keeps him in the game. If by some golf miracle he has a chance to intersect with history again this week, he will be ready.