News
Watson Says Goodbye To The Old Course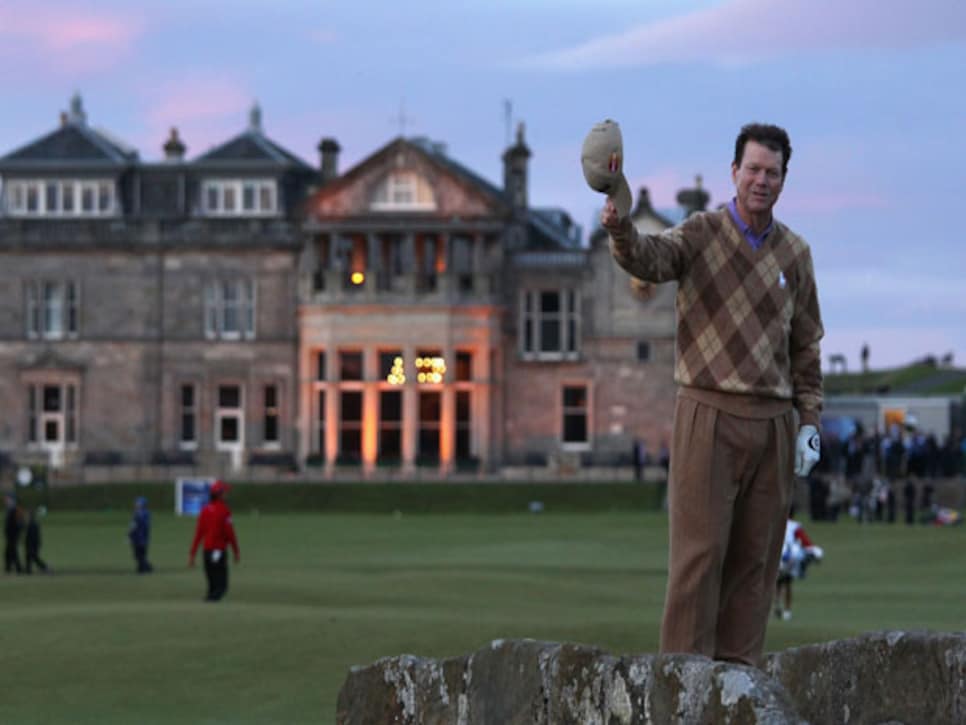 Watson poses on the Swilcan Bridge before finishing his second round at St. Andrews.
ST. ANDREWS, Scotland (AP) -- Tom Watson put one hand on the Swilcan Bridge, bent over and kissed the ancient stones.
This was no tearful goodbye. Rather, a fond farewell.
Watson played his last round in a British Open at St. Andrews on Friday, assured of missing the cut after shooting a 3-over 75.
"St. Andrews, when I first played here, I didn't like it," he said. "But I learned to like it. And, eventually, to love it."
Several hundred fans stuck around in the fading light for one last glimpse of Watson on the Old Course, and he didn't disappoint. With playing partners Padraig Harrington and Ryo Ishikawa well ahead so as not to steal his moment, Watson kissed the bridge and then took a last, nostalgic walk over it.
As applause and shouts of "We love you, Tom!" rang out, Watson stood on top of the bridge, took off his cap and waved it at the crowd. He gave a thumbs up and then stood still, soaking it all in -- just as his old friends and rivals Arnold Palmer and Jack Nicklaus had done before him.
"It just seemed the right thing to do," Watson said. "I thought of Arnold on the bridge and I thought of Jack on the bridge. Their last Opens were both right here at St. Andrews. My last Open is not, the good Lord willing and the creek don't rise."
Thanks in large part to Watson, the Royal and Ancient now allows past champions to play the Open until they are 65.
He put on a feel-good show for the ages at Turnberry last year, nearly becoming the oldest major champion in history a few months shy of his 60th birthday. He went to the 72nd hole with a one-stroke lead, but there was no magical ending -- he missed an 8-foot par putt and then lost the playoff to Stewart Cink.
While almost everyone outside of Cink's family was crushed, Watson was gracious in defeat. That gentlemanly manner is part of what has drawn fans to him for so many years, and that love was evident Friday night.
Fans leaned out second-floor windows of one of the hotels lining the 18th hole to cheer him. Every time he started to walk off the Swilcan Bridge, they broke into a new round of applause to hold him there just a few seconds longer. Finally, with one long, last look around, he waved and left.
Caddie Neil Oxman put his arm around Watson when he caught up to him, and the two resumed their last stroll up the 18th fairway.
"The main thing is the respect I have for the way the game is played here. And the respect that the people have for their game," Watson said. "The Scots invented golf, and they love the game with a passion unlike any other people. I enjoy that."
And Watson gave them one last thrill, chipping on and rolling to the very edge of the cup. The ball refused to drop for an eagle, but it allowed him to walk away with one last birdie. Just like Jack.
Watson never did win the claret jug on this course, but he leaves with no regrets.
"None at all," he said. "I had my opportunities here."