News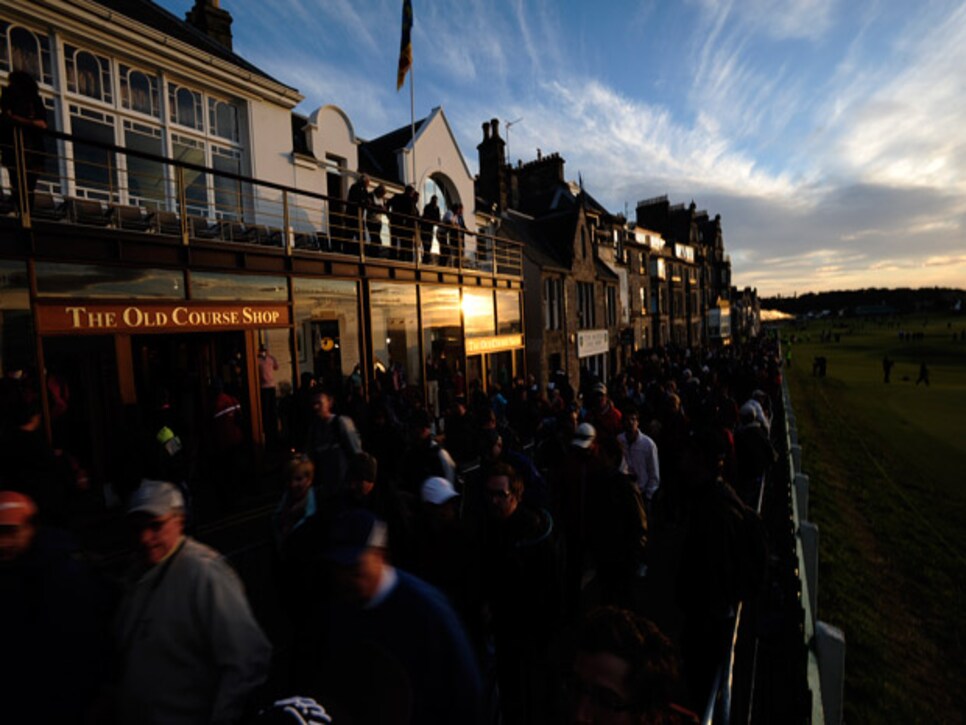 The Old Course confronts history at every turn.
Editor's Note: Richard Shirley was the winner of the Golf World Dream Assignment. After his story was selected as the winning entry by a panel of experts, he was awarded with a full-expenses paid trip to St. Andrews for the 139th British Open. Below are his reflections on his week in St. Andrews.
ST. ANDREWS, Scotland -- This is the place. But more on that later.
When strong winds halted play during Friday's round of the 139th Open Championship, a disgruntled Scot pointed toward me and huffed, "That is the American influence on the game. I have often played here when this was considered a zephyr."
Was the Scotsman's taunt reality or perception? Via ESPN, Sky TV or the BBC, it might seem every American golf course resembles the manicured slopes of Augusta National and every PGA Tour tournament is contested in weather fit for a June wedding. In Scotland, the game is meant to be played along the ground in rain and wind with a healthy portion of gorse. In the United States, it's Home Run Derby every Sunday as somebody named Bubba grips it and rips it.
What my Scottish friend might have been implying is when the Open is contested, especially at the Old Course, traditions should be observed and revered. Unfortunately, he chose the wrong Yank to accuse and convict. Without the elements, St. Andrews is a pitch and putt. You want to see a stern test of golf on a noble stage.
Charleston, S.C., my home state's "Holy City," emerged from a renaissance to become one of the premiere tourist destinations on the American east coast. The city launched a marketing campaign aimed toward Europe, convinced targeting travelers from across the pond could enhance its success.
The effort failed miserably.
During a post mortem, Charleston's city fathers came to realize that inviting folks to fly 5,000 miles to see history established during the 17th and 18th centuries is not too interesting to those who take their morning jog by buildings established during the 13th century. Conversely, I don't think the world of golf gathers at its birthplace for anything but pure, 100 percent, super-sized "would-you-like-to make-that-a-meal"-links golf.
You don't travel five time zones to watch a putting contest. You want somebody tweaking the Principal's Nose, stuck in Hell, or playing from the outward side of an inward green. Anybody can chip off of the road behind the 17th hole. Let the Royal and Ancient Golf Club give a piece of crystal to a player such as Spain's Miguel Angel Jimenez, who caromed his third shot at the 18th in Saturday's third round off of the ancient wall to a tucked pin.
That's what we came for. Creativity. Golf as it should be.
One of the older members at my Anderson, S.C., home course, Cobb's Glen Country Club, curses bad shots by declaring he is "swinging like a washwoman." The Old Course doubles as a St. Andrews public park. The only golf allowed on Sundays is when the Open is here. Before modern appliances, women would bring clothes and wash them in the Swilcan Burn. When Padraig Harrington dumped his approach shot into the burn during the opening round this week, it became clear how a washwoman and golf came to be connected. That's tradition and history.
The similarities of golf purists wherever they reside far outweigh any differences. One of the largest ovations all week was for Tom Watson on Thursday. His five claret jugs and heroic efforts in championships such as the 2009 Open garnered that respect. His reception is not unique to St. Andrews. Likewise, when a jerk from the crowd hollered, "Get in the hole," at impact of Tiger Woods' first putt of the week, the polished gallery roundly hissed him.
At the Masters, patrons are fearful of losing their badges over bad behavior. At St. Andrews, no such threat is needed. History and tradition are the only barometers necessary.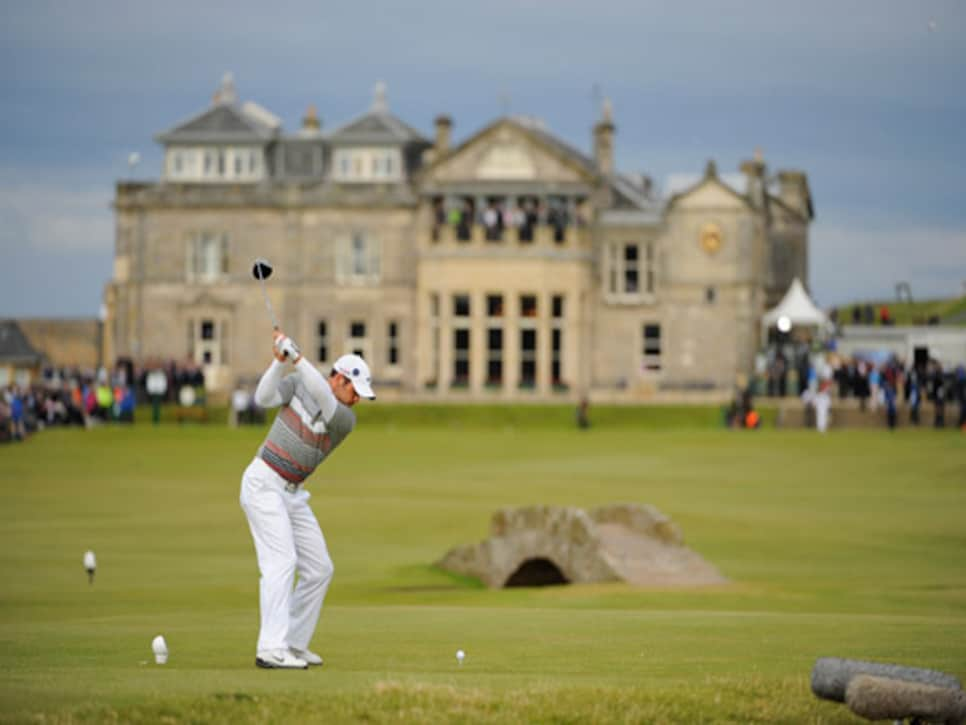 Even in the 21st century, the Old Course offers constant reminders of the game's simple beginnings.
The masses continue to gather here to watch strokes of triumph and swings of defeat. We remember Jack Nicklaus throwing his putter in the air in 1970 and Seve Ballesteros fist-pumping at center stage in 1984. We remember Doug Sanders' agony and Constantino Rocca's near-miss.
The birthplace of golf is also the sacred altar where benedictions are offered on stellar careers. Arnold Palmer bid farewell on the Swilcan Bridge in 1995, Lee Trevino in 2000, and Nicklaus in 2005. The Old Course was intended to be Ballesteros' curtain call this year, but the Spaniard's health prevented one last loop around. We saw Watson strike the pose on Friday night, although it might be a bit early. The call to stand between the ages and posterity is too great to ignore. It's not limited to the contestants, either. The patrons know they are stepping in footprints left long ago. You look not just for landmarks and named bunkers, but the ghosts of legends as well.
Celtic Christianity was forced from England in the sixth century. But it thrived in Scotland and Ireland. The Patron Saints, St. Andrew of Scotland and St. Patrick of Ireland, were so declared by the Celtics. The practitioners of this faith used the term "thin place" to describe those locales where Heaven and Earth are so close.
As another incredible week of golf, elements, and tradition has shown, St. Andrews is indeed a thin place. A mighty thin place.