News
McIlroy Matches Major Mark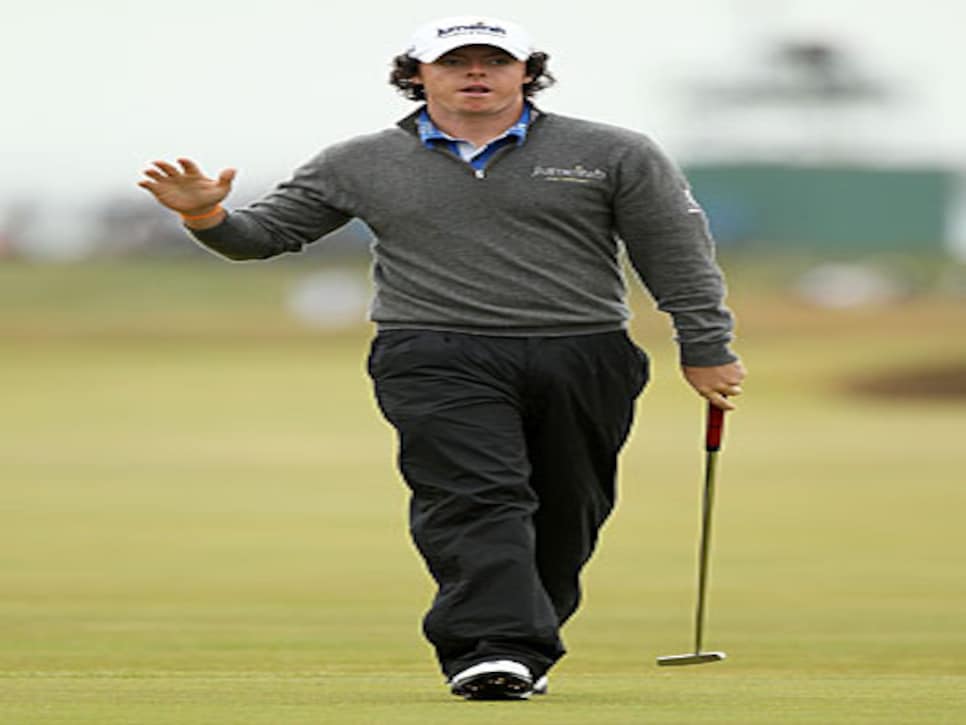 McIlroy was eight-under on his last 10 holes.
ST. ANDREWS, Scotland (AP) -- The Old Course was defenseless and no one took advantage of it more than Rory McIlroy.
The 21-year-old from Northern Ireland tied the major championship record Thursday by shooting a 9-under 63 in the opening round of the British Open.
One of golf's brightest prospects, McIlroy started his romp with an eagle at the 352-yard ninth, where he drove the green and rolled in the putt. He then made six birdies on the homeward holes for a 30 that tied the tournament's back-nine record.
McIlroy became only the eighth player to go so low at the British Open, equaling a mark from 17 years ago by the late Payne Stewart at Royal St. George. Overall, just 22 players have shot 63 in one of the four major tournaments, including Greg Norman and Vijay Singh, who each did it twice.
The last to do it: Tiger Woods at the 2007 PGA Championship. The world's No. 1 player wasn't quite as sharp to start this major, but a 67 put him in the thick of things.
Woods and everyone else were chasing McIlroy, who missed the cut at the first two majors of the year but began to live up to his enormous potential with his first PGA Tour win at Quail Hollow.
"I didn't get off to a flying start," McIlroy said. "The eagle on 9 really sort of turned things around for me, and I just got going from there. It was great to get into the rhythm of the round and get into a flow. And yeah, it was a very pleasant round of golf."
McIlroy had a chance to claim the record all to himself.
A brilliant approach at No. 17, the famed "Road Hole," left him with a 5-footer for birdie. But the putt slid wide of the cup, and McIlroy rolled back his head in disappointment after tapping in the par, knowing that he had squandered a chance at a truly historic score.
While no one ever expects to shoot 63 in a major, it was certainly a day for posting a low number.
Louis Oosthuizen of South Africa took a run at McIlroy until he failed to get up-and-down at 17, taking his only bogey on the way to a 65. John Daly matched the best score of his Open career with a 66, a number equaled by Scottish journeyman Andrew Coltart, England's Steven Tiley, Bradley Dredge of Wales and Sweden's Peter Hanson.
The birthplace of golf played like a muni for the morning starters, with hardly any wind blowing in off St. Andrews Bay and only a sprinkling of rain. In fact, the sun popped out just as McIlroy was finishing up, and competitors were able to strip off their jackets and play in short sleeves.
"The old lady had no clothes on today," said 60-year-old Tom Watson, who opened with a 73 and was one of the few early starters who failed to break par.
Winds stiffened as the day went on, making it more difficult for afternoon players like Phil Mickelson, who took a double-bogey 6 at No. 13 and had nothing but pars over the first 17 holes. He finally made his first birdie at 18, but a 73 left him more concerned about making the cut that going for the lead on Friday.
Mickelson would move to No. 1 for the first time in his career with a win at St. Andrews.
Clearly miffed at his performance, Lefty blew off interview requests and quickly skipped out of the clubhouse.
Just past 6 o'clock, the expected rains finally arrived, at least on part of the course, forcing players to scramble for their wet gear. From then on, it was a mix of showers and sunshine as the last groups finished up.
England's Lee Westwood wasn't surprised to see such a low score atop the leaderboard. Even with a less favorable afternoon start time and playing with a ruptured calf muscle, which limited his practice time the last two weeks, he shot 67 and was solidly in contention on a scoreboard filled with red numbers.
"The course was defenseless," Westwood said. "I expected somebody to shoot 62 for the first time today, to be perfectly honest."
Woods showed this might be the week for his first victory since being tarnished by a sex scandal that had the British media speculating as much about his personal life as the prospects of him becoming the first player to win three Open titles at St. Andrews.
His only stumble also came at the Road Hole, where he took a bogey.
Woods romped to dominating wins in 2000 and 2005; a third straight would give him 15 majors titles, just three shy of Jack Nicklaus' career record.
"It's getting better every week," Woods said. "I'm hitting shots that I haven't hit in a long time. It's building."
Daly knows a thing or two about problems away from the course, from failed marriages and financial woes to trouble with alcohol and weight.
He underwent surgery to deal with his ballooning waist line, and has lost nearly 100 pounds. But his game had shown little signs of turning around -- he's ranked 455th in the world and his best finish of the year was a tie for 24th at the Puerto Rico Open.
No matter, Daly still has quite the following. Fans of "grip it and rip it" had no trouble spotting him at the Old Course, where he wore lavender paisley pants, a sky blue sleeveless sweater, a peach shirt and a turquoise cap. None of it matched. Not that it mattered.
Strolling the course puffing on a cigarette and carrying a diet soda, Daly put up his best score since a 66 at Royal St. George in 1993. It could have been a lot better, too -- four putts lipped out or caught the edge of the cup, including one that spun 180 degrees around the back of the 12th hole to end a streak of four straight birdies.
Could it be 1995 all over again?
That year, Daly managed to put aside his problems long enough to capture his second major championship, beating Costantino Rocca in a British Open playoff with a mop of blond hair that was much longer than it is now.
"It's a golf course, I don't know, I just love it. I don't know why," Daly said. "It suits my game. Just a special, special place."
But the Old Course relies on the elements to provide its best defense. Without the usual rain and wind, it was like target practice for the world's best.
Of the first 84 players who teed off before noon, only 25 posted scores above par. Among those in the red: defending Open champion Stewart Cink, who got off to what normally would have been a very solid start.
This day, though, a 70 felt like an opportunity squandered.
"It was out there for the taking," said Cink, who beat Watson in a playoff at Turnberry after the five-time champion missed an 8-foot putt on the 72nd hole that would have made him the oldest major champion in golf history. "I definitely left a few out there."