New golf balls
Srixon Soft Feel golf balls: What you need to know
WHAT YOU NEEED TO KNOW: Now in its 13th iteration, the Srixon Soft Feel is one of the most venerable ball models in the game. Its soft feel with more than enough distance couples with an attractive price point to make it a viable option for a number of golfers willing to sacrifice a little greenside spin in exchange for a soft feeling ball that can save you a few bucks.
PRICE/AVAILABILITY: The price for the Srixon Soft Feel is $23 per dozen. Available in stores Feb. 16.
1. At the center of things. A reason why Srixon says it can offer a soft feel while also providing enough distance is what the company refers to as its FastLayer core. This technology allows for the core to be is extremely soft in the center and get gradually firmer as you get more toward the perimeter.
Another benefit of the technology is that while the core is one of its softest to date, it is also highly resilient, snapping back into shape quicker after impact to deliver more distance while reducing spin off the longer clubs.
2. They've got you covered. For the cover, Srixon continues to use its 338-dimple pattern, designed to produce a lower drag coefficient. Doing so allows the ball to cut through the air with less resistance, allowing for a penetrating launch while maintaining ball speed downrange for added carry.
Although low compression can affect greenside spin, it's typically less of a factor than cover thickness and softness, leading Srixon to produce a thin, soft cover for this ball that offers enough grab on chips and pitches to be useful.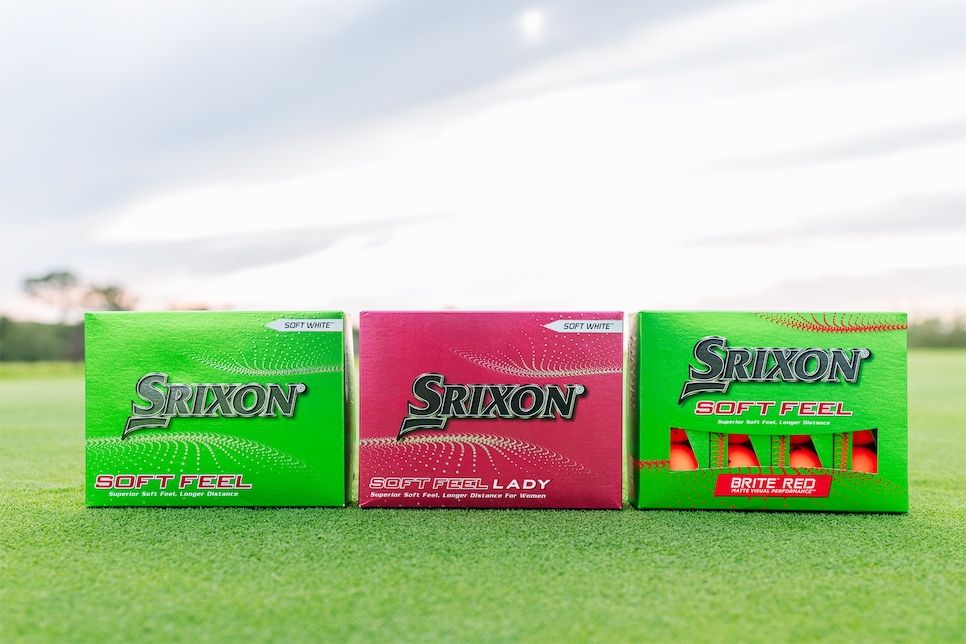 3. Color it up. Two additional Soft Feel options include the Soft Feel Lady and Soft Feel Brite. The standard Soft Feel is available in white and yellow, while the Lady model is offered in white and pink. The Brite model comes in matte red, matte orange and matte green versions.