Branded Content
SQAIRZ – The Science of Stepping Up Your Game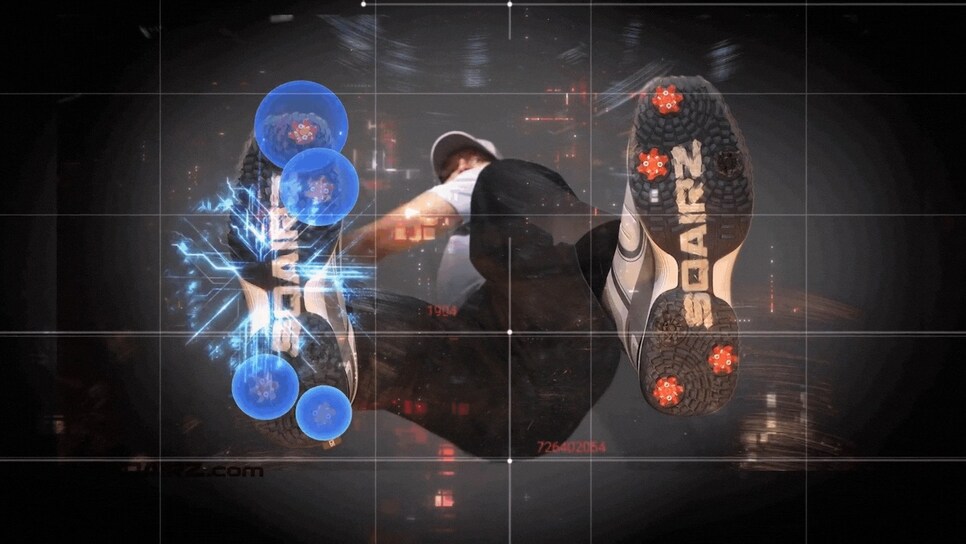 A golf swing's single-biggest power source is your feet. The science behind it is pretty simple: Planted on the ground, your feet stabilize and balance your body during the swing, letting you rotate your hips, transfer weight, and make a follow-through that generates distance and accuracy. Near the end of that 1.2-second event, your legs drive forcefully into the ground, resulting in the ground pushing back up into your body with an equal force that ultimately transfers to the club and ball. "Transferring that energy with the most efficiency allows you to generate the highest-possible clubhead speed and power," says clinical exercise physiologist Philip Stotter. "The golf shoes you wear determine how efficient your swing is. Once you put them on, they become part of your performance." In other words, the wrong pair causes imbalance and power loss, while the proper pair can actually improve your game.
That's why SQAIRZ golf shoes are so compelling. The toes of the shoes are square, letting your toes spread out naturally and tension-free inside, so your feet can efficiently start the proper kinematic swing sequence. In fact, the toe base is the widest around, with precisely located spikes that optimize ground connection, stability and mobility throughout the swing. As you whip the clubhead through impact on the downswing, the balls of your feet act as brakes that let the lower half of your body abruptly stop and transfer energy to your upper body while your hands keep moving forward, creating more snap, clubhead speed, power and distance. A shoe that grips the ground without slipping is key to leveraging energy transfer from your body to the club for control and speed.
As much as SQAIRZ shoes instantly improve your balance to help you milk more from your swing, they're also built with comfort in mind, sporting removable, cushioned insoles, EVA foam midsoles, and foam-padded collars and tongues. The silicon-painted Sta-Put laces comfortably form the shoes to the top of each foot and secure them in place; the shoes won't loosen during your round. First time I put on a pair -- and even though my feet are narrow -- I was blown away by the pillow-like feel and notable support.
To learn more about the performance benefits of SQAIRZ shoes, visit SQAIRZ.com and take advantage of the 30-day money-back guarantee. Once you try them, you'll see why tour pros like Sepp Straka, John Daly and Mark Calcavecchia made the switch – and how quickly SQAIRZ can improve your game, too.