The Loop
Sports without fans will never seem normal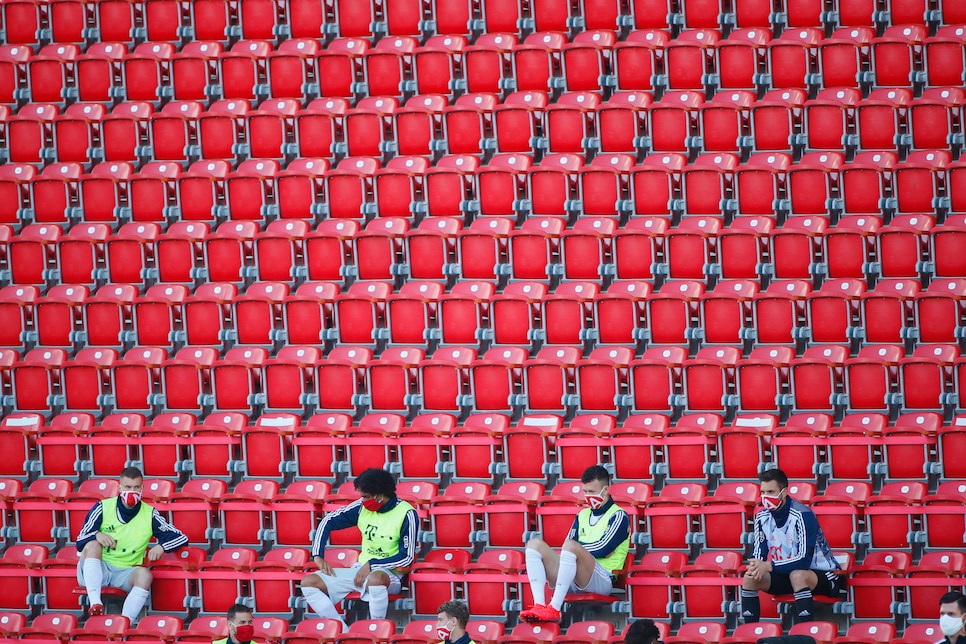 This weekend, like many other sports-starved Americans, I watched German soccer. Now, I have nothing against German soccer, but under normal circumstances you wouldn't catch me anywhere near it. I mean, it took me 37 years to start watching English soccer, the best league in the world, and once I started I wasn't even very good at being a bandwagon fan for one of the greatest teams ever. I absolutely do not have time in my life fortwo foreign soccer leagues, but special times call for special decisions, and this past weekend I watched parts of Borussia Dortmund v. Schalke, Frankfurt v. a team with a name too long to spell, FC Koln v. a team I can't remember, and Bayern Munich vs. Union Berlin.
I was distracted by a toddler for much of that time, so I still couldn't name five players in the entire Bundesliga, but here's my main review: Professional sports in an empty stadium are weird as hell.
The whole thing is disconcerting. In the Dortmund-Schalke match, I immediately noticed a tinny voice that seemed to be emanating from a loudspeaker, like something you'd hear at a prison camp in a dystopian movie. As it turned out, there was no PA system, and it was just the coaches on the sidelines shouting at their players. With the stadium empty, their voices carried and reverberated, and it was the soundtrack to the entire match. I mean, listen to the first goal, at least in the seconds before they started pumping in music:
That's weird, right? It's not just me?
Don't get me wrong, I'm still firmly in the "better than nothing" camp, and there were some cool touches, as when the Dortmund players applauded the empty seats where their "Yellow Wall" fans would have been, as per tradition:
All in all, though, it looked and sounded like a scrimmage, and because of that it felt like a scrimmage. Maybe not to the players, and maybe not to the hardcore fans watching on TV, but to everyone else there was a lack of intensity. If anything, it highlighted how special it is to have a crowd—how the energy, and the noise, and the reactions of thousands matter more than we ever thought. They help dictate momentum, and most importantly, they impart atmosphere. I probably wouldn't have known this before seeing what it looked like with absolutely nobody in the stands, but now that I have, count me among those who think the atmosphere is everything. Without it, nothing feels quite as important.
Also, to pat myself on the back, I think this take is righter than ever. Before, I absolutely could not imagine something like the Ryder Cup going off without the crowds. Now I can imagine it, and it's terrible.
Furious Quarantine Quote of the Week: Danny Rose, Newcastle
The English Premier League has been discussing plans to resume play, and by far the funniest, most direct quote came from Newcastle's Rose:
"The government is saying we are bringing football back because it is going to boost the nation's morale...I don't give a f--- about the nation's morale; people's lives are at risk."
Exactly. Plus, the English are tough. If they survived the Battle of Britain, they can survive a few more weeks without soccer.
Worst Madden Bowl Champ Ever: THIS GUY
Apparently "Madden Bowl" happened this past weekend, and that's news because, well, quarantine. Someone with the nickname "Joke" won the whole thing, but there's the crazy part: In the entire tournament, he never passed the ball. He didn't even bother using a QB, opting to let Redskins punter Tress Way take snaps and hand the ball off. Somehow, it worked, and he won 17-0 in the championship.
Now, look, framed a different way this might sound kind of awesome, like he's hacked the game. But I was a quarterback in high school in an offense that went out of style everywhere else in roughly the 1930s, and I had to hand the ball off all day from the wishbone formation. When I got to pass, which was rare, it was little four-yard pop passes to a tight end. I could have just shuffle passed it forward; it required no real skill (even though I managed to screw it up a lot). Point is, run-only offenses are traumatic for me, and if you can win without passing in Madden, someone needs to update the game.
The "He's Not Even Trying" Detail of the Week: Bills Beer Idiot
I am absolutely not making light of this story, in which Bills defensive lineman Ed Oliver was arrested for drunk driving and possessing an illegal weapon, but um...read:
The 22-year-old Oliver had an open beer between his legs and was determined to be impaired after a field sobriety test.
Not even bothering to throw the beer in the back seat? That's next-level arrogance, there...or next-level drunkenness.
The Impossible Rule of the Week: No Spitting in Baseball
MLB is trying to get super comprehensive in its return to play plan, and one item in the 67-page-and-growing manual is particularly interesting: Players can no longer spit.
A good idea, obviously, but it's one thing to make that rule and another to actually override years of competitive habit. As a former baseball player, I can tell you that spitting on the diamond is instinctive. There's no way these guys are going to be able to avoid doing it unconsciously, and it would be ridiculous if they then got punished for it.
There's another unfortunate rule, too: No more around-the-horn after an out, since they want to avoid multiple people touching baseballs where they can. Again, it's a good idea, but this would have killed me when I played. There are long stretches in the infield where you never see a ball, and around-the-horn was the only thing that kept my head in the game. Without it, I probably would have quite before Little League ended. That and spitting were all I really loved.