Chopping Onions
The sports crying moments we remember the most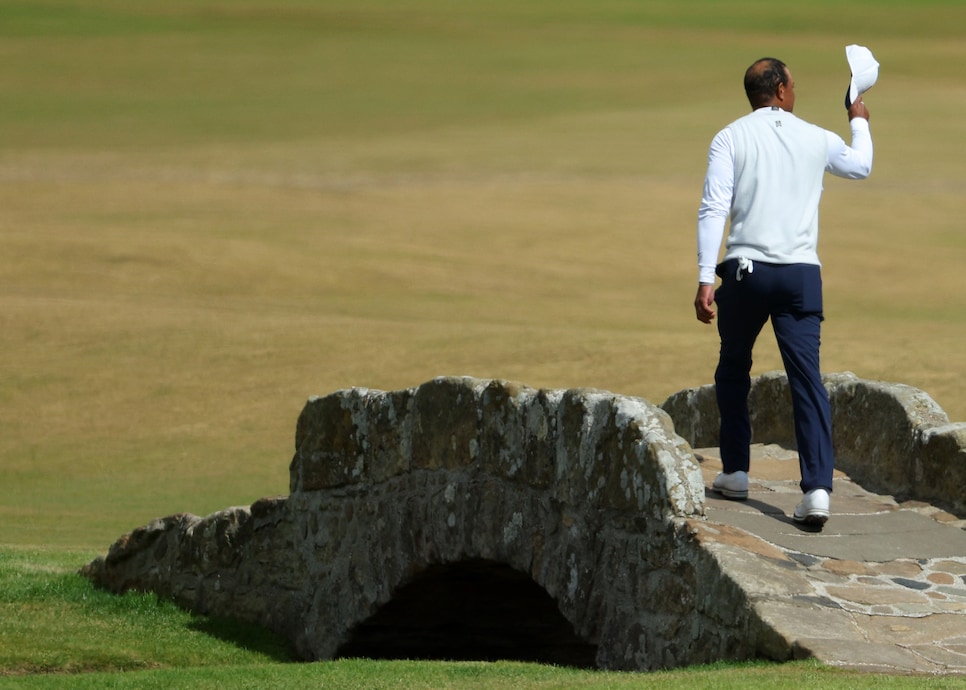 First off, this isn't meant to be trite or cold. We've all shed a tear at one point or another, and the athletes we root for and (sometimes) idolize are no exception. This is a judgement-free zone.
As Tiger Woods walked up the 18th at St. Andrews for perhaps the last time competitively, the 15-time major champ let his emotions get the best of him. It could've been due to Rory McIlroy's hat tip or the Old Course's standing ovation or a potpourri of small recollections flooding his memory bank, but Woods showed some genuine sentiment and accidentally expressed how important this course has been to him over the years.
This is far from the only instance of athletes letting the waterworks go, however, and because we love a list almost as much as a good cry, let's look into the past and weep softly to some of the best teary-eyed moments in sports.
Brett Farve's (first) retirement speech
Although a bit hackneyed now after retiring and unretiring (and then retiring and unretiring) over and over again, we can all remember Brett Favre's first retirement speech in which he choked up while talking about what the game had meant to him. The Super Bowl-winning quarterback's retirement may not have been real, but the tears were and his love for the sport was certainly evident.
Knowshon Moreno's star-spangled sobs
This is probably known as a GIF (with the g sound, not the j) now more than anything else, but Knowshon Moreno crying during the National Anthem is certainly memorable. Moreno went on to say that he was "definitely dehydrated" and that the slow-motion probably made it look worse than it was.
The Sandman gets sand in his eye
For opposing batters, nothing was worse than seeing Mariano Rivera saunter to the mound. Although opposing fans were glad to see him call it a career, no one can say this wasn't an emotionally affecting moment. With "Enter Sandman" as the catalyst, Mo's last game at Yankee Stadium is a tear-jerker for sure.
It may not have worked out perfectly in the NFL, but Tim Tebow's run at Florida was as good as college football can get. This is exemplified by his "Promise" speech in 2008, when Tebow broke down reflecting on his squad's loss to the Ole Miss Rebels and promised that they would be back and better than ever. The Gators went on to win their final eight regular-season games and beat Oklahoma for the BCS National Championship. So, yeah, it worked.
Chris Bosh's superteam blues
After coming together in Miami, LeBron James, Dwyane Wade and Chris Bosh unexpectedly fell short of a championship stunningly losing to a less-talented Mavericks squad in 2011. Cameras caught an emotive Bosh walking back to the locker room. He was unfairly ridiculed at the time and then the Heat won two trophies in a row … who's crying now?
Adam Morrison feels the March Sadness
This is a memorable one for sure as Adam Morrison and the Gonzaga Bulldogs lost a contested March Madness game to UCLA. It was Morrison's last game for the team and he certainly felt it. A truly great back-and-forth that unfortunately one team had to lose.
Roger Federer chokes ... up
As legendary a figure as there is in tennis, Roger Federer's career looks to be wrapping up and it seems like he's known it for awhile. After winning the 2018 Australian Open against Marin Čilić, Fed teared up as the crowd got to its feet.
Michael Jordan's bittersweet victory
The man became a crying meme, but we're instead going to go with Michael Jordan's unforgettable Father's Day championship in 1996. It was his first since his father passed away and it's clear how much his dad (and the moment) meant to him.
"That's my quarterback." There's a generation out there that best knows Tony Romo as a commentator, but there's another group of us that know him as the Dallas Cowboys Cinderella story who beat the odds. Terrell Owens defended his QB after a brutal playoff loss rocking sunglasses to hide the tears.
Tiger's other Open moment
We have to end with this one. At the 2006 Open, Tiger Woods won his first major after his father's death and the gravity of the moment caught up with him, sobbing into caddie Stevie Williams' chest. Golf faithful will remember Tiger as one of the best golfers the sport has ever seen, but also as a human being that we watched grow up and become a legend right in front of us.