Rules
How a face-painting session led to a crazy rules mishap at this top amateur event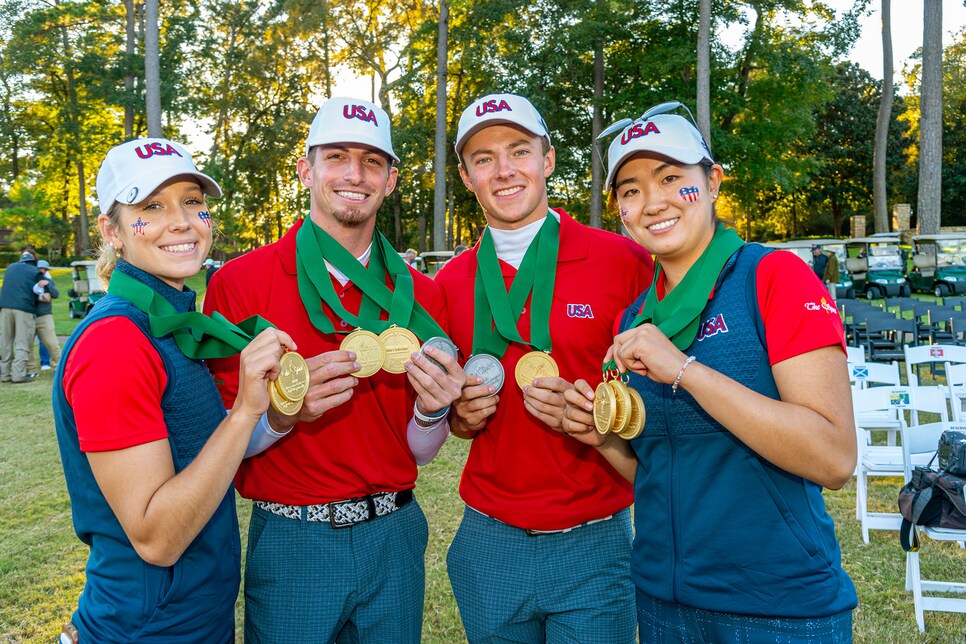 Sam Bennett (second from left) was all smiles at the end of the final round, despite the bizarre penalty he received on the first hole after having the wedge of Rachel Heck (far left) mistakenly in his bag. (Photo courtesy of SGA/Hugh Hargrave)
All's well that ended well for Sam Bennett and the U.S. team as they both proved victorious on Saturday at the Spirit International, an elite team and amateur competition played at Whispering Pines G.C. in Trinity, Texas. But it wasn't without some late drama that included a rules violation that indirectly stemmed from a seemingly harmless team face-painting session.
Yes, we said a face-painting session.
According to Golfweek, Bennett, a senior at Texas A&M who is currently the No. 1 ranked player in the PGA Tour U. college standings, received a two-shot penalty during the final round when he discovered a 15th club in his bag after he made par on the opening hole. As it turns out, that extra club was the wedge of U.S. teammate Rachel Heck. It would seem that the club had been left near Bennett's bag when he and fellow U.S. teammate and current U.S. Amateur champion James Piot were having face tattoos applied by Heck. Either Bennett or Heck them mistakenly picked up the club and put it in Bennett's bag presuming it was his.
Upon realizing the mistake, Bennett was assessed a two-stroke penalty for violation of Rule 4.1b, giving him a double bogey on the par-4 first. Impressively, the Aggie All-American didn't let it fluster him as went on to make seven birdies and shoot a closing 69. His 54-hole total of six-under 210 was still good enough to win the men's competition by two shots over Sweden's Huge Townsend.
"I knew the golfing gods would come back and help me," Bennett said. "I told myself, 'Let's just get back to even [for the round] by five.' I made birdies at Nos. 2 and 5 and then it was just game on."
"On the range, I was helping Sam put on his face tattoo and I set my club on his bag and I think he might have accidentally put it in his bag and I didn't notice," Heck told Golfweek. "I figured it out right before I teed off and I felt absolutely terrible. That should have cost me, not him. It really did motivate me. I wanted to contribute to the team and make sure we came out on top because I knew if we didn't I would feel like it was partially my fault."
The Americans, with World No. 1 Rose Zhang the fourth member of the combined men's and women's team, also went on to win the overall team title, shooting a 28-under total, 21 shots better than runner-up Canada.
Heck and Zhang won the women's title with a 12 under total. Zhang also captured the individual women's title with a 10-under 206 score while Heck, Zhang's college teammate at Stanford and the reigning NCAA player of the year, finished fifth.
The face-painting mishap did cost Americans one title: Bennett and Piot finished second to Sweden by one stroke in the men's team competition.