The Loop
Spieth's victory is a window to the future from a room with a view
A tournament with paint cans as tee markers in a town that not long ago seemed destined to lose professional golf doesn't project must-see TV, to use an old NBC slogan. Too bad for those who concurred.
As golf shows go, this was as good as they come outside the major championships, a bona fide Broadway hit performed in the off-Broadway tour stop in Palm Harbor, Fla.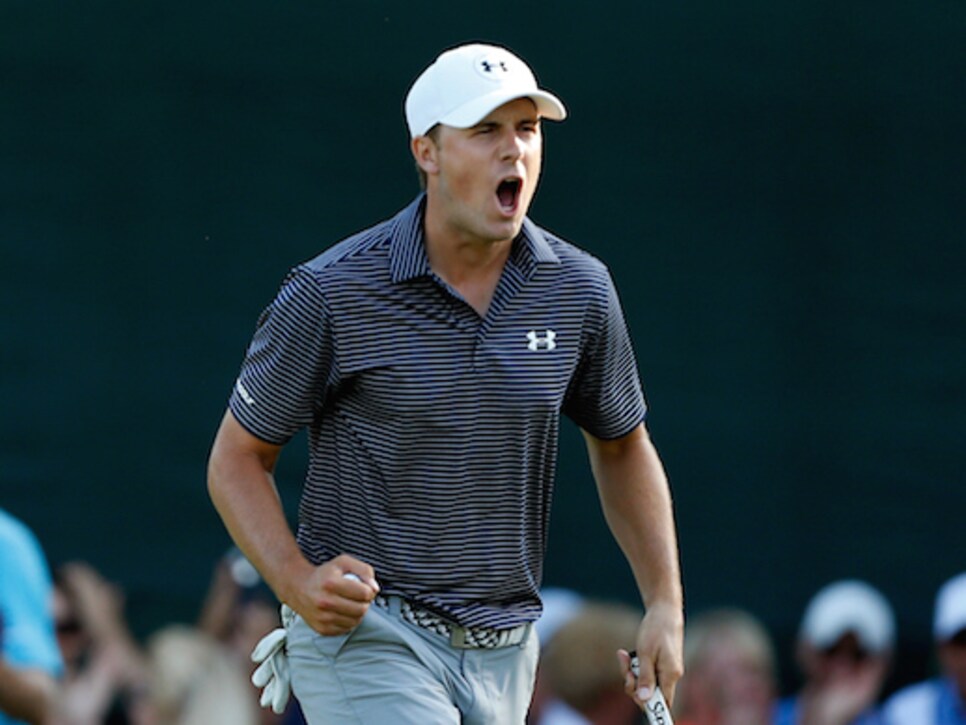 Jordan Spieth (Getty Images)
The playbill of the Valspar Championship featured the two best young players the U.S. has on offer a this point, Jordan Spieth and Patrick Reed, in a playoff with Sean O'Hair. The youngest of them, Spieth, still only 21, won with a remarkable demonstration of short-game skills under pressure and a 28-foot birdie putt he holed on the third extra hole.
It was a welcome jolt of electricity, a jump start, for a tour that had stalled in the absence of Tiger Woods and Phil Mickelson. The former remains wary of exposing his game to the public, hence his decision to skip the Arnold Palmer Invitational, a tournament he's won eight times. And the latter, who is closing on 45, has yet to prove that the wear and tear of a long career hasn't begun taking a toll.
This was a window to the future from a room with a view. Spieth is now sixth in the World Ranking and is homing in on Rory McIlroy and No. 1. It's still off in the distance somewhere, but now he can cite the goal with impunity.
"This is huge momentum for me," Spieth said afterwards. "It will jump me closer in the world ranking, which is obviously the number one goal long term. Most of all, it's big momentum, positive momentum for us going into the major championships."
On an Innisbrook course requiring precision ball-striking, Spieth won without it, the mark of a player with whom the PGA Tour is likely to be reckoning for decades. His short-game clinic on the back nine resulted in one-putt greens at 13, 14, 16, 17 and 18, and gave him a chance to win in overtime.
"A crazy back nine," he called it, while suggesting the winning putt "was just luck, right? If that doesn't hit the hole I've got a four-foot slider [coming back]."
Reed, meanwhile, is only 24 himself, already a four-time winner who has dispelled any notion that his victories were a fluke. He holed a 31-foot birdie putt on the 72nd hole to get himself into a playoff and is closing fast on proving his claims of being a top-five player.
Spieth and Reed are just two of eight players 27 or under ranked in the top 20 in the world. Golf, with or without Tiger and Phil, is in a good place and ought to be must-see TV, whatever network is televising it.