The Loop
Spieth's revival, an ageless miracle and why golf hates underdogs: Saturday Masters morning roundup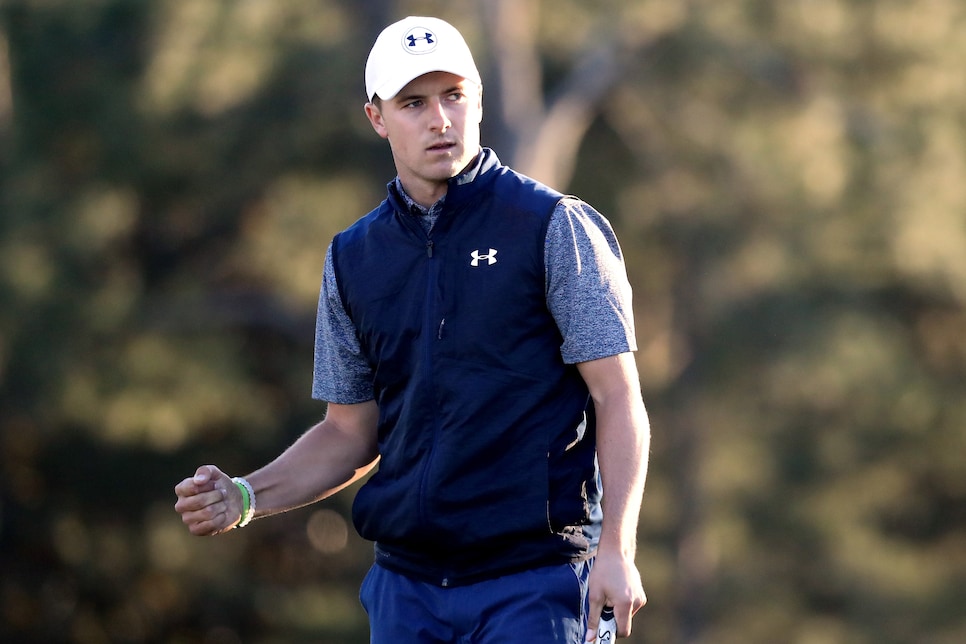 Welcome to the Dew Sweeper, your one-stop shop to catch up on the action from the golf world. From the professional tours, trending news, social media headlines and upcoming events, here's every golf-related thing you need to know for the morning of April 8th.
Is 74th time the charm for Sergio?
Current titleholder of the odious "Best Player to Have Never Won a Major" tag, Garcia is 36 holes away from losing that label after a three-under 69 on Friday. That he's tied for a major lead at 37 years old is not necessarily a surprise; in his last four stroke-play events, the Spaniard has three top-15 finishes, including a win at the Dubai Desert Classic.
What is shocking is Augusta National potentially serving as the precipice to rapture. In his last 12 tries at the Masters, Garcia has logged only one top 10. He admitted to reporters in 2012, "I'm not good enough...I don't have the thing I need to have," to win a green jacket.
And yet, here were are. Though two days remain, the spotlight will be particularly bright for Sergio on Saturday, as he's historically withered on Day 3 at the Masters with a 74.92 scoring average. Let's see if Garcia, who's making his 74th career appearance at a major, finds that "thing" he's been missing in the past.
It's 2017, right? We only ask because Fred Couples, winner of the 1992 Masters and one who turns 58 this fall, enters the weekend in red numbers thanks to a superb two-under performance on Friday.
Granted, Couples making magic at the Masters is nothing new; aside from his '92 victory, "Boom Boom" has 19 top 25s at Augusta National, five of which have come since turning 50. Even with that context...he's 57 years old! He's teeing off with Jon Rahm on Saturday, who was born two years after Couples won the green jacket.
Odds are long that Couples will be able to contend with this loaded leader board the next two days, but that he's in the conversation is a triumph in itself. May you find a muse that elicits the same zest Augusta National brings out of Fred Couples.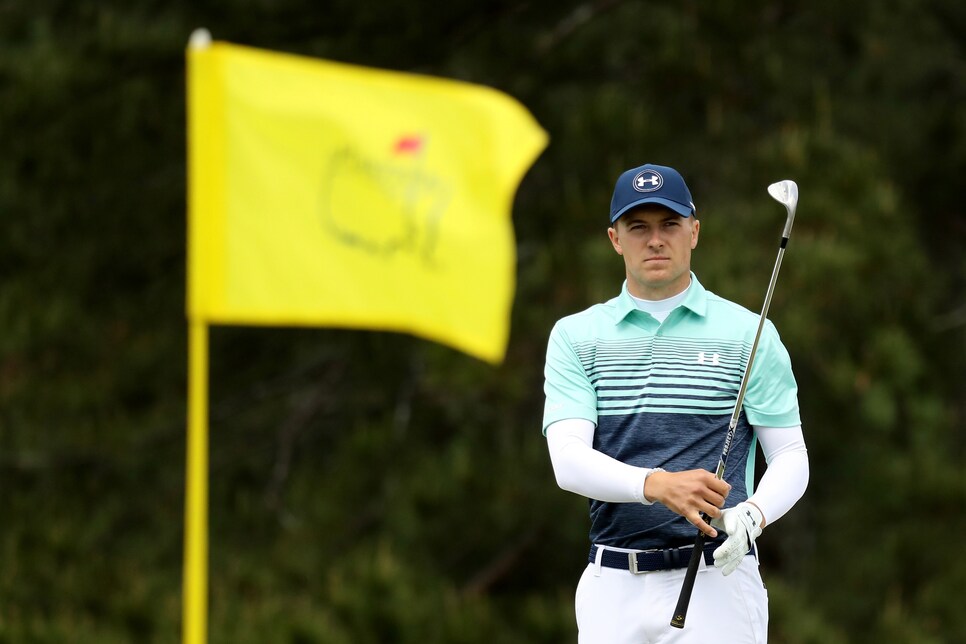 Oh yeah, that Spieth fella
Since carding a quadruple-bogey nine on Thursday at the 15th hole, Jordan Spieth has been out of sight, out of mind for viewers at home. Luckily for Spieth, the score board tells a different tale. The 23-year-old played his final 11 holes in four under Friday to bring his tournament back to even, a score that that's very, very much in the thick of things this weekend.
"We're in a position now where we, I think, can go out there and win this thing and certainly make a run," Spieth said. "So that right there just kind of gives me chills."
Also getting chills: the rest of the field, although of a different variety, the one that comes when a guy who's gone 2-1-2 in three Masters appearances pops into your rearview mirror.
Augusta National works in mysterious ways, and it almost seems fitting that Spieth -- who endured 12 months of questions and whispers following his crash at Amen Corner -- had to endure another quadruple before rising like a phoenix from the waters of the 15th. He's four shots back, with nine players ahead. Judging by his post-round moxie, it doesn't feel like he's behind anyone.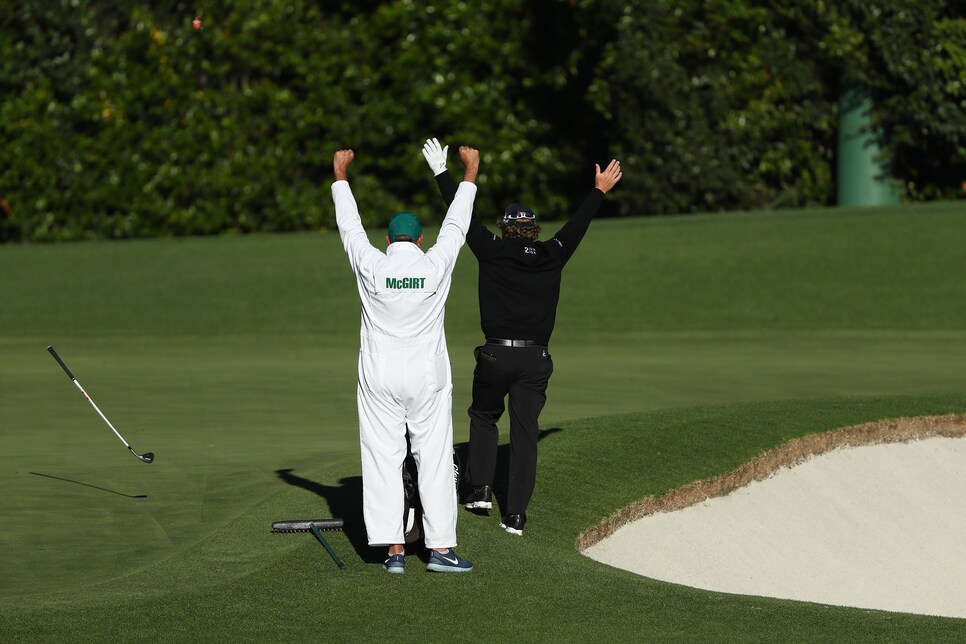 Hoffman, McGirt are trying to ruin your weekend
Sports loves its underdogs. Or should we say, all sports but golf. Fans do not care about journeymen or amateurs; they want to see the biggest names captures the biggest tournaments. Which is why many are looking sidewise at Charley Hoffman and Will McGirt.
Though he's won four times in his PGA Tour career, Hoffman, age 40, has just one top-10 major finish. Conversely, McGirt, 37, spent seven years in the minors, only recently notching his first tour win at the Memorial. Nice stories, but not ones -- in the eyes of spectators, at least -- that deserve to don the green jacket.
But here's the wonderful thing about golf: it is a meritocracy of the highest order. You don't have to worry about seeding, scheduling, or another force blocking your path; you are judged solely on your score. And through two days at Augusta National, Hoffman and McGirt have proved they belong at the 2017 Masters table. To you, they may be unwanted party guests. But they're here, and they're going to eat.
I'm contractually obligated to keep you updated on the whereabouts of Tiger Woods, who missed his third Masters in four years. Despite the absence, his buddy Notah Begay III insists the 14-time major winner could return within the month.
"[The Masters] probably wouldn't have been the best place for Tiger to start the year out after this most recent setback," Begay said on Golf Channel. "I think we should probably look, maybe something just after the Players Championship."
That sounds fine and dandy, until remembering 1) Tiger's back spasms, suffered on February 3rd, were not considered "major," yet he hasn't played since and 2) Woods was only able to hit balls for five minutes last week before realizing Augusta was a no-go. Back injuries are fickle in nature, but given the framework of the past few months, playing in a few weeks seems unlikely.
Our apologies for such an indifferent response, but we've seen this song and dance before. We hope for a full recovery for Woods, a presence that continues to invigorate the sport. Yet, we are going with the Doubting Thomas approach regarding his return: we'll believe it when we see it.