The Loop
Spieth stumbles coming in, but still in contention for the weekend
FORT WORTH, Texas - If body language came with subtitles there would have been a lot of frames of Jordan Spieth's second nine holes Friday at the Crowne Plaza Invitational underscored by #$%&@!!!
After a near-flawless 32 on the back, the 20-year-old from just down the road in Dallas drove into the bunker on No. 1, hit the lip with his second shot and made a bogey on a par-5 that is the easiest hole at Colonial Country Club.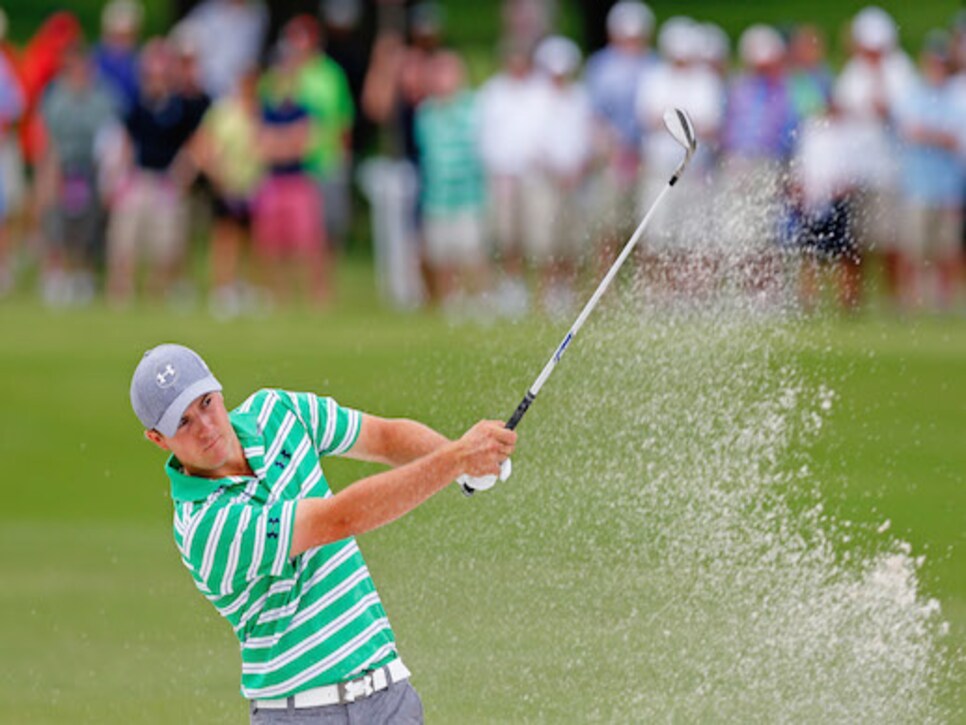 That started a roller-coaster ride in which Spieth made four bogeys and two birdies on his way to a 37 that turned what could have been a 65 into a 69.
"I was up and down again," Spieth said. "I made four bogeys on the back nine when I had it going."
About the second shot on No. 1 he said, "It was a bad club, a bad lie and, to be honest, I hit it thin. I was in an area where someone else had played, and I hit a 6-iron when I probably should have hit 7 or 8. But that [plays like] a par-4 and I felt like I had to get it up there [close to the green]."
Still, at four-under par after 36 holes, Jordan will go into the weekend with a chance for his second PGA Tour title since no one managed to get to double digits under par on a layout playing unusually stingy.
What we saw on the second nine Friday was a bit of a reprise of Spieth's behavior at the Masters and the Players Championship, both of which he was in the last group on Sunday and failed to close the deal.
Spieth is a remarkable talent who will start beating the field with regularity when he stops beating up on himself.
On No. 2, as his fairway wood off the tee calculated to end up short of the bunker rolled into the sand, he bent over in disbelief, hands on knees, muttering at himself.
What is clear is this — and it's a stat of which Spieth should take note — when he starts getting down on himself the putts stop falling. He missed makeable putts on three of his four bogeys and left a couple of birdies out there.
Jordan will have one very powerful weapon going for him on he weekend at Colonial: A large, loud, young hometown crowd carrying him along with shouts of "Hook em, Horns."
"It's fun to think that I'm here and Texas is playing for the NCAA championship," he said. If he can tap into that fun this weekend he could be adding his name to the Colonial Wall of Champions.