Takeaways
Spieth shares lead after walk-off eagle, Bryson's 'really bad' day and the meanest lip-out you'll see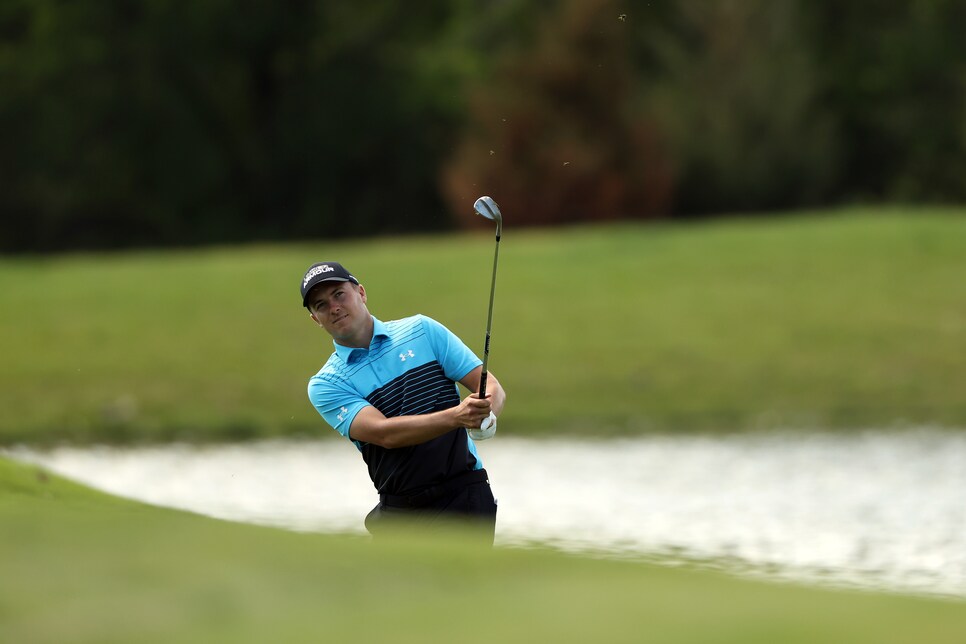 The Jordan Spieth Experience is often described as a roller coaster, only if that coaster hit a few banks, froze on its barrel roll and brandished an "out-of-order" sign for months. Thursday in Dallas … well, there was still the occasional bump against the railing. But Spieth's Round 1 at the AT&T Byron Nelson was a non-stop thrill ride that remained on the tracks and finished with fireworks, as a walk-off eagle gave Spieth a share of the first-round lead.
"I could certainly look back and say I missed a couple pretty easy putts, but I also made the one on 18," Spieth said after signing for a nine-under 63. "So all in all, yeah, I was a little surprised by kind of picking right back up."
Spieth was far from the only player seeing red on Thursday; more than 50 players shot 67 or better at the Nelson's new venue, TPC Craig Ranch. Still, the three-time major winner started hot (four birdies in his first six, making the turn in 31) and kept the fire going when a couple of bad swings threatened to douse the flames, highlighted by a ridiculous hybrid shot from a buried lie 245 yards out at the par-5 12th:
Despite a clean card, it wasn't all pretty. Spieth hit a bit of a wall in a four-hole stretch on the back, chunking a chip at the drivable par-4 14th and looking a bit fatigued as he finished.
"I noticed it in my legs. It's just one of those things," said Spieth, who tested positive for COVID-19 two weeks back. "It's like with basketball players. Basketball shape is nowhere near golf shape, but when they get out, miss 10 games, it takes a couple games to get your legs back. For me I noticed it in my swings coming down the stretch. Just got lazy in my lower body."
Yet he left on a positive note, riding the lightning 55 feet for a closing 3 on the par-5 18th.
Spieth's slump was busted well before Thursday, finishing fourth or better in five of his last seven starts (including a win at the Valero Texas Open). Conversely, as Spieth showed signs of life over the past few months, he talked not of results but a process, one that would beget the sustained success he enjoyed in the past. In the grand scheme of things—and Spieth is the type of player who's talked about in such a perspective—it will likely be a day forgotten by next week. Yet Thursday was a reminder that what we are seeing is no aberration; the process is working.
The Spieth Experience will continue to be an amusement ride. But you better believe it's out-of-order sign has been thrown in the trash.
Four other observations from Day 1 of the AT&T Byron Nelson.
Koepka struggles in return
There are roads in life that only lead to pain. Spending money on a direct-to-streaming Nic Cage movies. Thinking a v-neck is a smart fashion choice. Ordering Taco Bell when the sun is still out … or anytime, for that matter. Betting on the Mets. In our realm, one such route is doubting Brooks Koepka at a major championship. It is a projection guaranteed to miss its mark, which undoubtedly will lead to the American star ripping your misgivings to shreds on social media. Truly, it is a fool's errand.
So we say that to say this: Perhaps hold off on those Koepka-at-Kiawah bets.
Koepka, making his first appearance this week since a quick out at the Masters, continued to look hampered by knee issues Thursday, struggling to a one-under 71 at the AT&T Byron Nelson.
Now, a one-under performance doesn't seem all that devastating. But it is a deceiving score, as there are pitch-n-putts that put up more defenses than TPC Craig Ranch (which employed lift, clean and place) did Thursday. Koepka's 71 has him well outside the top 100 in the 156-player field, and he will need to get moving Friday in order to play Saturday.
Though he didn't talk to reporters after Round 1, Koepka did meet with the media Wednesday. While he admitted he's not 100 percent, he did say he's happy with where he's at physically. "I feel like the strength is getting there. The mobility is getting there," Koepka said. "I'm ahead of schedule. Long ways ahead of schedule of where I should be at this point, so I'm very pleased." However, it was clear Koepka's knee remains a problem. He still can't fully bend down to read putts, perhaps explaining why he lost nearly three strokes to the field on the greens. Weight distribution also remains an issue, evidenced in a so-so approach display.
In a sense, rust was to be expected, and one has to be careful of extrapolating too much from 18 holes. In that same breath, this was not an outing that inspired confidence a week out from the PGA Championship. Forget being one of the favorites; making it 72 holes at the Ocean Course seems optimistic.
Again, you never want to count Koepka out of a major, particularly at the PGA, where he owns two Wanamakers and another two top-five finishes since 2015. But if the Koepka of today is the one that shows up to Kiawah next week, it's going to be a quick out in South Carolina.
Please forget this section when he inevitably wins his fifth major in 10 days.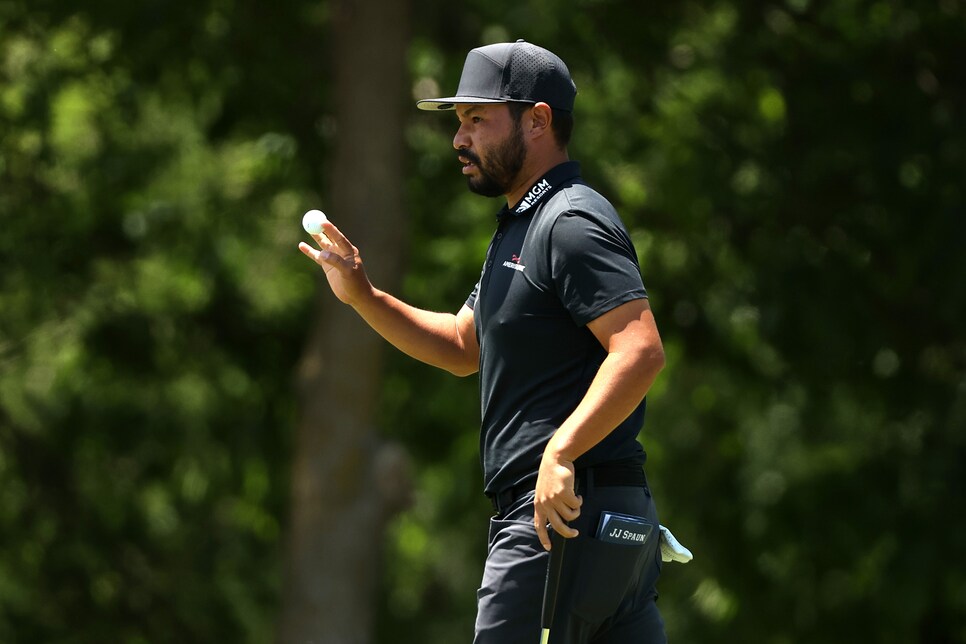 J.J. Spaun was in the worst slump of his career, missing the cut in eight of his first 10 starts of 2021. The two made weekends weren't anything spectacular, either, both outside the top 60 at the tour's alternate events in Puerto Rico and the Domincan Republic. But Spaun found something in Charlotte last week, posting a T-18 at the Wells Fargo Championship, and carried that something to Dallas, turning in a nine-under 63 on Thursday.
"Yeah, just solid round," Spaun said of his bogey-free day. "Played really solid. Took advantage of the soft conditions, the lift, clean, and place, ball in hand. So I was just kind of playing each hole as it came and was trying to make as many birdies as I can. Felt like when you looked at the leaderboard is it out there today for sure."
Spaun, 30, made the playoffs in his first three seasons on tour, but finished 185th in the FedEx Cup last year. After starting the 2020-21 campaign with a T-9 at the Safeway Open, this season hasn't been much better (165th in the FedEx Cup, 166th in strokes gained, 182nd in scoring).
"Yeah, it was a lot of searching," Spaun said. "I feel like that's something that us golfers kind of do too much of when things start to go wrong instead of just chalking it up to a bad week or couple weeks' slump with the striking.
"I started spinning my wheels there trying to find something to click. Each week I'm trying a different swing thought or a new feel or something. You know, just wasn't working out, and kind of started looking at some old swing footage from four, five years ago when I was playing really good and hitting it really good. Just trying to get back to that and just trust it, really. Know that I'm making some good putts, too, out there."
While it's easy to wonder what a good week can do for Spaun's career, he first must tangle with Round 2: Spaun is ranked 198th on tour this year in Friday scoring.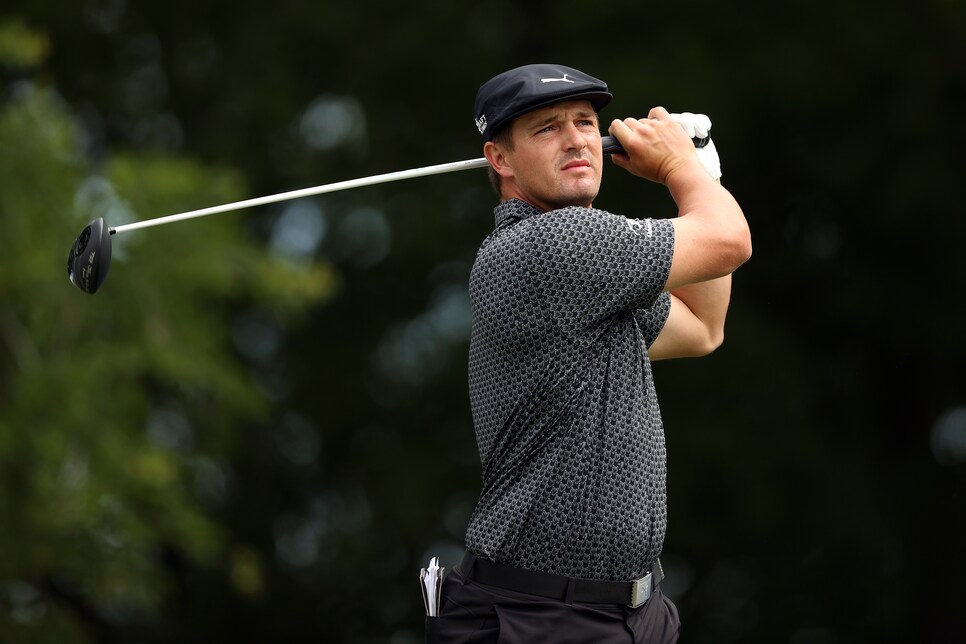 Bryson's "really bad" day
Mentioned above, the Nelson leader board was soaked in red. This explains why Bryson DeChambeau was none-too-pleased with a three-under 69. The reigning U.S. Open winner did not waste words when asked for his Thursday takeaway.
"That I played really bad," DeChambeau said.
DeChambeau, who leads the tour in strokes gained and sits atop the FedEx Cup standings, turned in a strong day with the driver, gaining two shots on the field in SG/off-the-tee. And he did rack up five birdies on the day. Yet, big stick aside, every other aspect of DeChambeau's game was a tad off, and a double at the first took a major bite out of his score.
"Just things just didn't go my way today," DeChambeau said. "I hit it really well, putted pretty well. Putts didn't go in and the wind turned on me a couple times and just unlucky."
DeChambeau later calculated he left "six shots out there" on his round. "Could have shot 9-under like nothing," he said. "Didn't even make anything out there."
Leaving six shots out there. Never has DeChambeau been more relatable. The nine-under stuff, not so much.
One of the meanest lip-outs you'll see
Scottie Scheffler is a Texas boy. The 15th hole treated him like he's from Oklahoma.
Dallas's own Scheffler was five under on his round when he reached the par-3 15th. He played a safe approach, keeping his tee shot away from the greenside water and leaving 30-something feet for birdie. His try for 2 came up short, but close enough to be considered in the circle of friendship.
Unfortunately for Scheffler, the guys on tour play by slightly different rules than our Thursday night league, and what looked to be a gimmie turned into a "You got to be kidding me" result.
How Scheffler didn't walk straight into the pond is a fortitude we do not know.
Scheffler bogeyed the 16th as well, but did bounce back with birdies on his final two holes for a five-under 67.