The Loop
Spieth, Fowler, Reed, oh my! The 10 best battles in NCAA match-play history
With the match-play portion of the NCAA Division I men's golf championship set to begin on Tuesday, now seems like a good time to take a look back at the short, exciting history of the format. From 1965 to 2008, NCAA team and individual champions were decided exclusively by stroke play. That remains true for the individuals, but in 2009, the NCAA added a wrinkle: The top eight teams after stroke play are sorted into a single-elimination bracket, with golfers from competing schools playing match play in a best-of-five-match format to determine the winner.
In the six years since, the change has produced a surprising amount of high drama. Many of the PGA Tour's great young players, including Rickie Fowler, Jordan Spieth and Patrick Reed, have a history in NCAA match play, and that trend will only continue. After disappearing down the rabbit hole and studying six years of results, I emerged to rank the 10 best matches of the modern match-play era.
Note: Keep in mind that I'm looking backward -- most college golfers are not household names while they're in school, and matches take on added significance based on how the players have performed in the professional ranks. Note also that I'm ignoring the pre-1965 match-play years and focusing entirely on post-2009 action.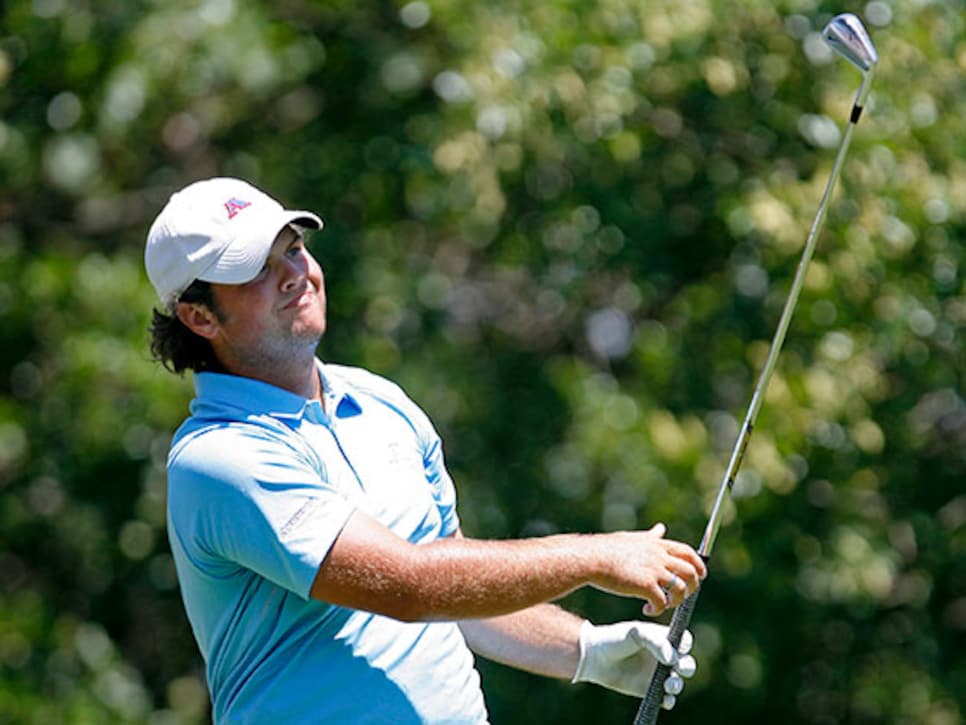 10. Patrick Reed, Augusta State, def. Chesson Hadley, Georgia Tech, 2010
From Golf Digest's Ryan Herrington, on the quarterfinal match between the two future pros: "Jaguar sophomore Patrick Reed had a 1-up lead on Yellow Jacket senior Chesson Hadley with both looking at birdie putts on the home hole. Hadley putted first, from 35 feet, his ball rolling over a ridge and impressively into the center of the cup. As the ball disappeared, the recent ACC champion let out an emotional roar.
As the crowd settled down behind the green, Reed, a semifinalist at the 2008 U.S. Amateur, composed himself. He then proceeded to drain his 15-foot birdie, letting out a roar of his own."
9. Talor Gooch, Okahoma State, def. Maverick McNealy, Stanford, 2014
I swear this is not just because of their names. Well...not entirely. Gooch needed 21 holes to put McNealy away, holing out from 30 feet to win the match, sending Oklahoma State to the championship round with a 3-2 win and teaching a valuable lesson to one of the most interesting -- and promising -- young golfers in the country.
8. Russell Henley, Georgia, def. Henrik Norlander, Augusta State, 2011
Along with Reed, Norlander was the driving force on Augusta State's two title teams, and he came into the 2011 title match with a 4-1 record. But Henley was a force of his own: at 4-0, he had never been defeated in NCAA match play, and this would be the final match of his career. It was a clash of the titans -- in some ways, it's a shame Henley and Reed didn't meet -- and Henley came out on top, winning 3 and 2 to graduate without a loss.
7. Patrick Reed def. Peter Uihlein, Oklahoma State, 2010 & 2011
Reed frustrated Uihlein, one of the best amateurs in the country, in the 2010 championship when he refused to concede an early short putt, and Uihlein missed. Reed won 4 and 2, and the following year, Oklahoma State was eager for revenge. Uihlein had just won the Ben Hogan Award as the best golfer in the country, along with the U.S. Amateur title the previous August, and he was playing on Oklahoma State's home course, Karsten Creek. But it all didn't matter. Reed destroyed Uihlein in front of a huge partisan crowd, 8 and 7, still the most lopsided result in any college golf match.
6. Bronson Burgoon, Texas A&M, def. Andrew Landry, Arkansas 2009
In the first championship of the new match-play era, Burgoon (another wonderful name) held a massive 4-up lead with five holes to play in the deciding match. He proceeded to lose four straight holes in what looked like a massive choke job, only to recover by hitting a wedge to three inches on 18 -- a gimme birdie, and the shot that won A&M the national title.
5. Carter Newman, Augusta State, def. Sean Einhaus, Oklahoma State, 2011
Newman wasn't Augusta State's best golfer, but with a career 5-1 record in match play, he always seemed to find the magic when it mattered -- though that one loss came to Einhaus in the 2010 championship. As Oklahoma State seemed on the verge of getting its revenge for the 2010 team loss, Newman made a long putt on 17 and a sand save on 18 just to stay alive. Newman won on the first extra hole with par to send Augusta State to its second-straight title match and finish off a stunning road upset.
4. Thomas Pieters, Illinois, def. Max Homa, California, 2013
In a too-good-to-be-true match-up of the 2012 and 2013 individual national champions, Homa had a shot to follow up his stroke-play title by winning the deciding semifinal match against Pieters. What's more, many thought that Cal could secure "greatest college team of all-time" status if it won a title—prior to that, the Bears had won 11 of 14 tournaments, including the Pac-12 Championship. Homa held a 3-up lead at the turn, but Pieters fought back to square the match almost immediately, and they went back-and-forth until the 20th hole, when a three-putt from Homa gave Pieters, and Illinois, the big win.
3. Jordan Spieth, Texas, def. Justin Thomas, Alabama, 2012
In 2012, Justin Thomas won the freshman of the year and player of the year awards, beating out Spieth for both, so it seemed appropriate Spieth might get some revenge when they were matched up in the championship round at Riviera. On the 15th hole, already 2 up, Spieth hit a wonder-shot with a 4-iron on the long par 4 that tracked toward the hole and fell in for an eagle 2. He won the match on the next hole, and Texas won the title by a point.
2. Brian Harman, Georgia, def. Rickie Fowler, Oklahoma State, 2009
After making an eight-foot putt for par to stay 1 down on the 15th hole in the deciding match of the Georgia-OSU quarterfinal tilt, Bulldog senior Brian Harman looked up to see that Fowler had already walked off to the 16th tee, leaving him to fetch the flag. It infuriated Harman, and he played the rest of the match in a cold rage, making three straight birdies to win 1 up on the 18th hole. The loss left Fowler in tears -- it was his last performance as a college golfer.
1. Patrick Reed, Augusta State, def. Harris English, Georgia, 2011
You know the story by now: Reed left Georgia after his freshman season, and there was no love lost between him and his former teammates. Nor was he well-loved by his current teammates at Augusta State, who approached English before the match to wish him luck. It didn't matter -- Reed had never lost in five NCAA matches, and he wasn't about to start now. With the teams tied 2-2, Reed secured a 2-and-1 win on the 17th hole, and Augusta State had its second straight title.
Now, just for fun -- and to get as nerdy as possible -- here are my ranking of the 15 best college match-play golfers in the modern era. Keep in mind this is not synonymous with "best golfer" --it's a small sample size, and of course a player needs a good team to even have the opportunity to play multiple matches and accrue a record. Nevertheless, these are the golfers who have found the most success in the crucible of championship match play:
__ Honorable Mention: Zach Wright, LSU: 2-0 in 2014, one of only two players to defeat Cory Whitsett in nine tries, will play again this season. __
__ 15. __Thomas Pieters, Illinois: 3-1 over two seasons, won the deciding match over Max Homa.
__ 14. Morgan Hoffmann, Oklahoma State: 4-2 over three seasons. __
__13.Henrik Norlander, Augusta State: 4-2 over two seasons, two national titles. __
__12.Trey Mullinax, Alabama: 4-2 over two seasons, two national titles, 2-0 in title round. __
__11.Cody Gribble, Texas: 3-1 in two seasons, including perfect 3-0 title year in 2012. __
10. Scott Strohmeyer, Alabama: 4-1-1 over two seasons, one title.__ __
__T-7.Jason Cuthbertson and Jamie Marshall, Arkansas: Both 3-0 in 2009, only appearance. __
__T-7.Wyndham Clark, Oklahoma State: 3-0 in 2014, only appearance. __
__T-7:Bryden MacPherson, Georgia: 3-0 in 2011, only appearance. __
__6.Bronson Burgoon, Texas A&M: Perfect 3-0 record in 2009, only appearance, won deciding title match. __
5. Carter Newman, Augusta State: 5-1 over two seasons, two national titles.
4. Bobby Wyatt, Alabama: 6-2-1 over three seasons, two titles, 3-0 in championship rounds (only player with three wins in title round).
3. Russell Henley, Georgia: 5-0 over two seasons.
2. Cory Whitsett, Alabama: 7-2 over three seasons, two national championships, both losses 1 up, most wins all-time.
1. Patrick Reed, Augusta State: 6-0 over two seasons, two national championships.
Thanks to Ryan Herrington for help with finding historical results.