The Loop
Fans put on day's most impressive performance
NEWPORT, Wales -- No matter how long one has been going to golf tournaments, it is still striking what spectators will put up with, how hardy they are. The opening day of the 38th Ryder Cup was one of those days.
Consider the scenario at Celtic Manor. Two hours of play Friday morning in heavy rain, but thousands of fans around despite the lousy conditions. Then a suspension and no golf for more than seven hours. Followed by a resumption of play at 5 p.m. on a saturated property that was extremely muddy in many areas outside the ropes.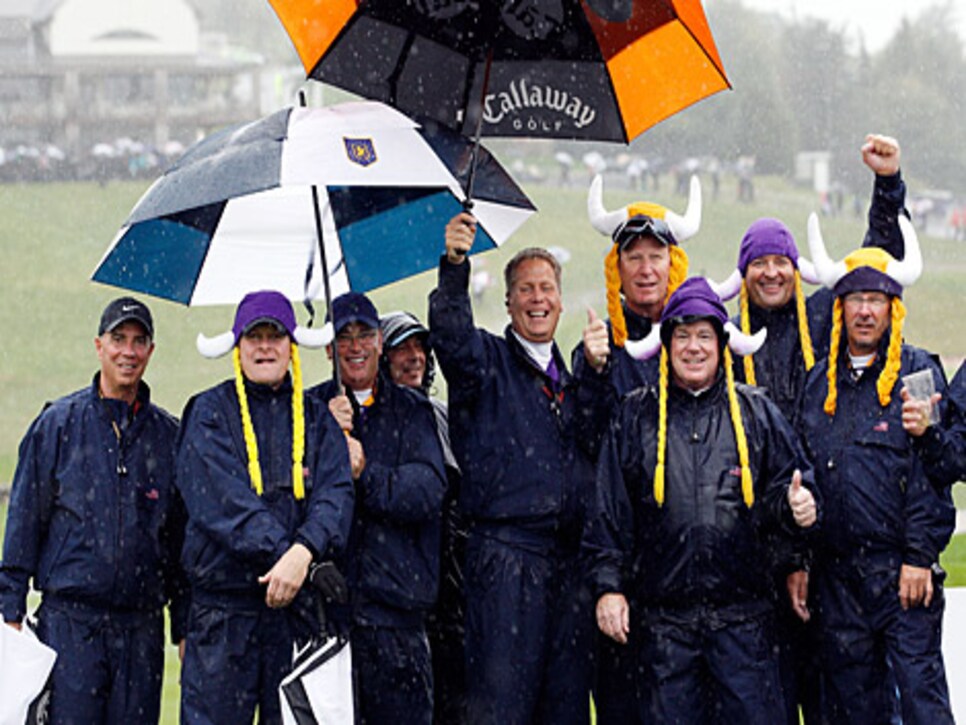 As far as sloppy going for spectators was concerned, it ranked with the slick and smelly 2002 Masters and the extreme muck that fans had to endure to watch the 2009 U.S. Open at Bethpage Black.  When the golf was stopped by darkness a hair before 7 p.m., the scheduled morning session was just a little more than half completed, but thousands had stuck around to see it.
Golf galleries get taken for granted sometimes. Fortunately as dusk turned to dark, there was at least some perspective on who was really put out on Friday.
Asked about how difficult the day had been, European captain Colin Montgomerie struck the right note. "Forgetting the players, we are used to weather delays and we have these lovely team rooms - we're spoiled rotten and have very comfortable televisions and chairs. Who I feel very sorry for is the spectators today. They pay a lot of money, and unfortunately the appalling weather conditions out there today made it very tough on them."
Bad weather makes it hard for players; it makes it miserable for those watching. In the face of some of the worst conditions a tournament could receive, the fans were troopers, enthusiastically getting the day started and enlivening it when they finally got a chance to see some shots hit in anger after such a long hiatus.
"I think the fans were great," said American captain Corey Pavin.