Special Report: The Future of Golf on TV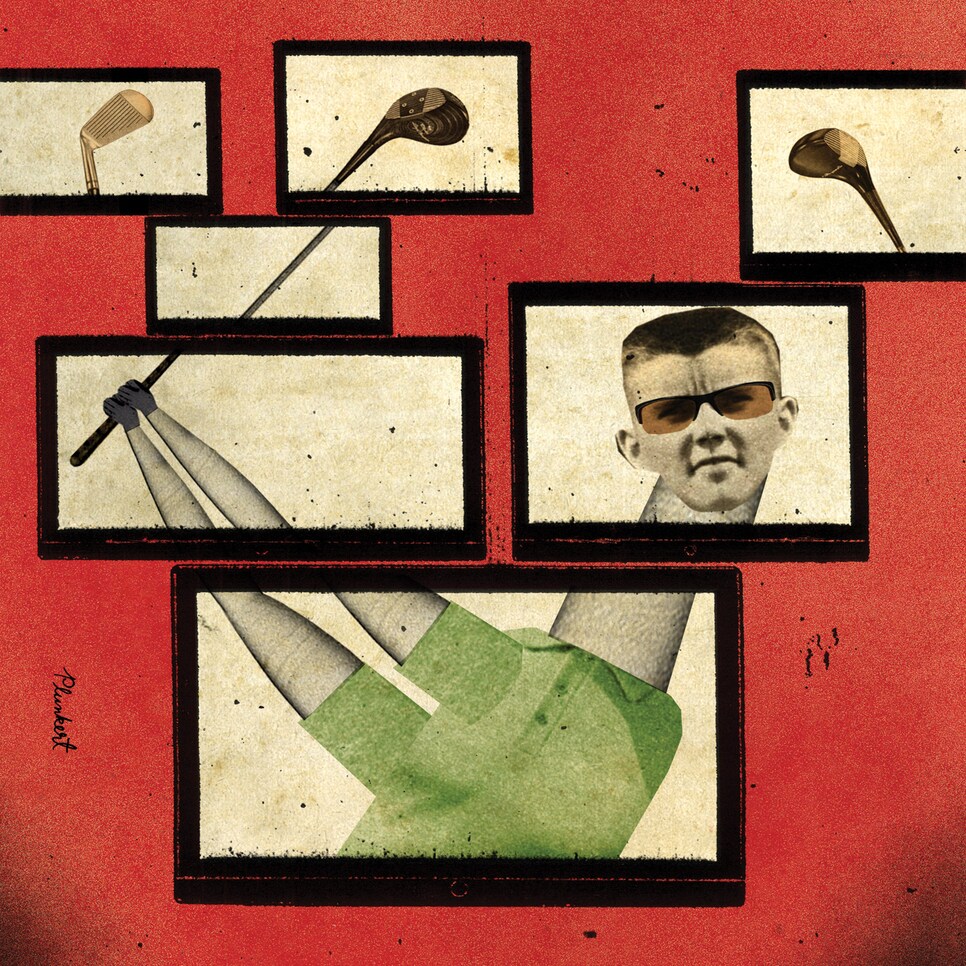 Illustration by David Plunkert
It's a tumultuous time in live-sports programming as crucial television negotiations for golf loom against a backdrop of new media developing seemingly endless options catering to individual tastes.
With the USGA championships owned by Fox Sports through 2026, the British Open controlled by NBC/Golf Channel through 2028, the Ryder Cup under contract with NBC/Golf Channel until 2030 and pretty much everyone agreeing the Masters will keep its one-year deals with CBS and ESPN essentially in perpetuity, the next key TV dates in golf are 2019 and 2021. That's an eternity in the rapidly changing world of media, but those deals are already very much on the minds of the key players.
In 2019, the contracts CBS and TNT have with the PGA Championship expire, as does the LPGA deal with Golf Channel. Two years later, the PGA Tour's deals with CBS, NBC and Golf Channel run out. At the moment, it's a seller's market, with Fox and NBC launching all-sports channels to compete with ESPN, creating a windfall for those owning live sports--the product advertisers love.
Content sellers eye the future in network TV, cable and emerging digital platforms.
"There has been $140 billion in sports-media business deals since 2010," says a source involved with brokering those deals, "and ESPN and Fox have done about $80 billion of that." Though the growth in rights fees is expected to cool somewhat, all the experts say the demand for live events--viewers don't DVR them and skip the commercials--remains high.
What content sellers are trying to figure out is what the future holds for delivery of those products as network TV, cable and the emerging digital platforms jockey for dominance.
"The challenge for those selling content is whether to sign a long-term deal for oodles of cash or sign a short-term deal and roll the dice on what new opportunities will be out there a few years from now," says David Carter of the consulting firm Sports Business Group and a professor at the Marshall School of Business at the University of Southern California.
Indeed, the $93-million-a-year USGA deal came nowhere near breaking even for Fox Sports in its first year. Multiple industry sources say Fox lost $50 million on the U.S. Open--a figure Fox disputes without supplying alternative numbers. But those same experts say a decade from now the USGA deal might look like a steal for Fox as it drives up the subscription base of the fledgling Fox Sports 1 cable channel.
"You can't look at an event in a profit-and-loss silo," says the source involved in brokering broadcast deals, who was not involved in the Fox/USGA negotiations. "Fox needs quality summer programming for FS1. This is a long-term deal that will work out for them."
In more than a dozen interviews with network executives, analysts, those who control the rights to tournaments, and agents who do media contracts--most speaking anonymously so they would not compromise their role in upcoming negotiations--Golf Digest uncovered a picture in which experts say rights fees will continue to grow even as buyers and sellers of content try to figure out how to make money off new media. Though the future of media is an uncertain haze--the buzz words are "cord-cutters," for those abandoning cable for digital content and watching content on personal devices other than a traditional TV--money continues to flow.
"We've heard about the 'bubble' in sports for more than 40 years," says a source who for decades has been on both sides of TV talks, as a buyer and a seller. "There was a bubble [in the late '70s], then ESPN entered the scene. [In the early '90s], there was another bubble, and Fox Sports came along. Another decade passed, and the promise of the Internet was next. Now we're in a place where technology can deliver high-quality video in a variety of ways. The owners of the content are still in the catbird seat." As proof of that, ESPN showed 135 Little League World Series games this year. And one of golf's selling points is that it's an all-day affair that can be cut into portions rather than limited to a two- or three-hour window.
The experts also agree that the PGA Tour will remain strong with young talent like Jordan Spieth, Rory McIlroy, Jason Day and Rickie Fowler, and that the women's game is a growth product with young, talented, multinational stars. The challenge is for traditional business models to adapt to new realities: Golf Channel and ESPN were forced to cut budgets this year.
"What if Google were to buy CBS, for example?"
"There will be unbundling [of cable]," says Carter, predicting that instead of being forced to pay $99 for 200 channels, for example, the consumer might be offered 40 channels for $29, opting not to purchase all of the ESPN or Fox or NBC products, but just the ones you want.
"And there will be players that don't even exist right now," Carter says. "We've gone through several technology cycles in a relatively short period of time: TiVo, Yahoo, Google, YouTube, Periscope. Start-ups that deliver content in a different way can disrupt things."
But new players can also breathe new life into the industry. Though the kings of content production--CBS, NBC, ESPN, Fox, TNT--are likely to remain the major players, new forces are sure to emerge, as will new ways to deliver content. The trick is to figure out how to make money off those new forms of delivery.
Though new media giants pose a threat, they also provide an opportunity. "You want competitive bidding in the marketplace," says the source with experience as a buyer and a seller. "AT&T just bought DirecTV [for $48.5 billion]. They could be bidding for tournaments. But pretend you're Google. Do you want to buy a bunch of content, or do you want to buy a network that already has content? What if Google were to buy CBS, for example?"
"Clearly [the PGA Tour] is asking, 'What's the next thing?' " says a source familiar with its thinking, noting that the tour is the only major sport without its own network. "[The tour] is trying to figure out how it can develop other platforms without displacing its TV partners." The PGA Tour lined up its negotiations for the 2021 talks in 2011, signing deals with CBS and NBC structured to end when its Golf Channel deal ran out. And then a couple of years back, the tour, which had co-produced its Web presence with Turner, took control of that product so it could construct an all-encompassing deal in 2021.
"All the rights they have are going to be available at the same time, which is by design," a New York-based source involved in TV talks says about the Florida-based tour.
Though spikes like the $1.1 billion deal the USGA signed with Fox in 2013--to $93 million a year, up from $37 million annually under its previous contract with NBC and ESPN--are unlikely to continue, the ripple effect is still being felt. Two months later, NBC extended its Ryder Cup deal with the PGA of America through 2030. Earlier this year, NBC/Golf Channel took the British Open away from ESPN, paying nearly twice the $25 million a year ESPN was paying, according to multiple sources.
The core message of selling golf to television has always been: We might not deliver NFL-like ratings, but we deliver an upscale audience that spends money. Marketing golf has as much to do with selling the quality of the audience to advertisers as it does with selling the quality of the players to that audience. Part of what Fox gains from its USGA contract is a more upscale viewer, which attracts a more upscale advertiser. Golf strayed a bit from that marketing message during the heady TV ratings spikes created by Tiger Woods, but it has returned to its core value: Quantity doesn't matter as much as quality.
As rights fees have risen dramatically, they have caused some cuts in the industry. The Hollywood Reporter says ESPN has been told by its parent, Disney, to trim $100 million from its 2016 budget and $250 million from the 2017 budget, figures that ESPN, which declined to address the matter for this article, says are not accurate.
But undisputed is the fact that ESPN, like other cable networks, has seen cord-cutters flee, costing the network more than 3.2 million subscribers in barely more than a year, according to the Wall Street Journal.
"ESPN was not a factor in the bidding [for the British Open]," says a source involved in those talks. In fact, multiple sources say ESPN is trying to get out of the final year of its British Open deal­­--but at a hefty price. An ESPN spokesman told Golf Digest: "We have a contract for 2016." NBC/Golf Channel takes over in 2017, but don't be surprised if the change happens a year earlier.
Golf Channel, which like NBC/Universal is owned by the cable giant Comcast, laid off about 3 percent of its workforce in May. The cuts were pretty much all in the reality-show division and not in live golf coverage. No on-air talent was affected.
"I think the kind of explosion [in rights fees] you've seen in the last few years is not going to sustain itself," says one broadcast executive. "But you will continue to see strength in the marketplace. I think the next major deals--the PGA Championship and the PGA Tour--will remain primarily in broadcast TV. The [tour's] sponsor model is based on network TV. Network TV is still seen at the prestige place to be."
The PGA Tour sells about two-thirds of the commercial time on network TV to its title sponsors and business partners, sources say, creating a virtually no-lose situation for the rights holders. That will make the competition for the post-2021 contract hotly contested, putting Golf Channel in an awkward position. "It would be a disaster for Golf Channel if it lost the PGA Tour deal," an industry source says.
And what will the broadcast industry look like when those contracts come up for bid? "That is the billion-dollar question," the network executive says. "All of us are hedging our bets by getting involved in new media--whichever way we think the advertisers go, whichever way the revenue goes, we will adapt. The real issue is monetizing those alternative forms of delivery. Right now, [revenue] comes from advertising and subscription fees rather than new media."
Never has the word "media" applied as broadly as it does now. Network TV, cable, print and digital have all been tossed into a blender of endless and evolving possibilities. Though the final product remains a mystery, it's clear sports are a huge part of the mix--and that golf is a key ingredient. Content remains king, and golf is quality content.