The Loop
The most common inquiry: Where's the best buddies trip destination?
If your group includes once-a-year golfers but you like to wear khakis, collars and a sweater, I say Pinehurst. You have multiple golf and food options and you don't need a rental car. Hunker down and have fun. Cheaper, and less formal alternatives, would be:Austin, Tex.,RTJ Trail in Ala., Myrtle Beach or Tree Tops in Mich. (not necessarily in that order).
If your group is full of a few couples and you're loaded, I say Sea Island,La Quinta near Palm Springs, Kapalua on Maui or Pebble Beach.Central Oregon would be a cheaper alternative.
If your group is full of accomplished golfers (handicaps of 20 or lower) and everyone is in decent shape (no carts unless you get a medical waiver)--nothing beats Bandon Dunes.
In the summer Golf Digest ran a contest to reveal some of golf's best buddies-trip planners. We pampered the six winners to a free trip to Pinehurst. They received clothes, balls, hats, food, three rounds of golf (rounds on No. 8, 4 and 2--which included caddies) and they got spa treatments. What we got out of the deal was their expertise about what they've learned over the years of planning buddies trips. Here's a link to that story--it's full of practical information (be sure to click on "related links" for a list of the tips, a round-table Q&A and shoulder-season specials).
Here's a tip from Bob Sandt, one of the six winners: You can have people pay for their own hotel, but when you go out for dinner and drinks, it's nice to just pay for it with a community pot. You don't have to deal with, "What do I owe?"
Is there anything worse than the guy, at a table of 12, who wants to only pay for what he ordered? That's a deal breaker for me. That cheap jabroni is not on my trip.
Speaking of cheap, here's a deal I received today from Pinehurst (and the second time I had an excuse to run this picture on my blog):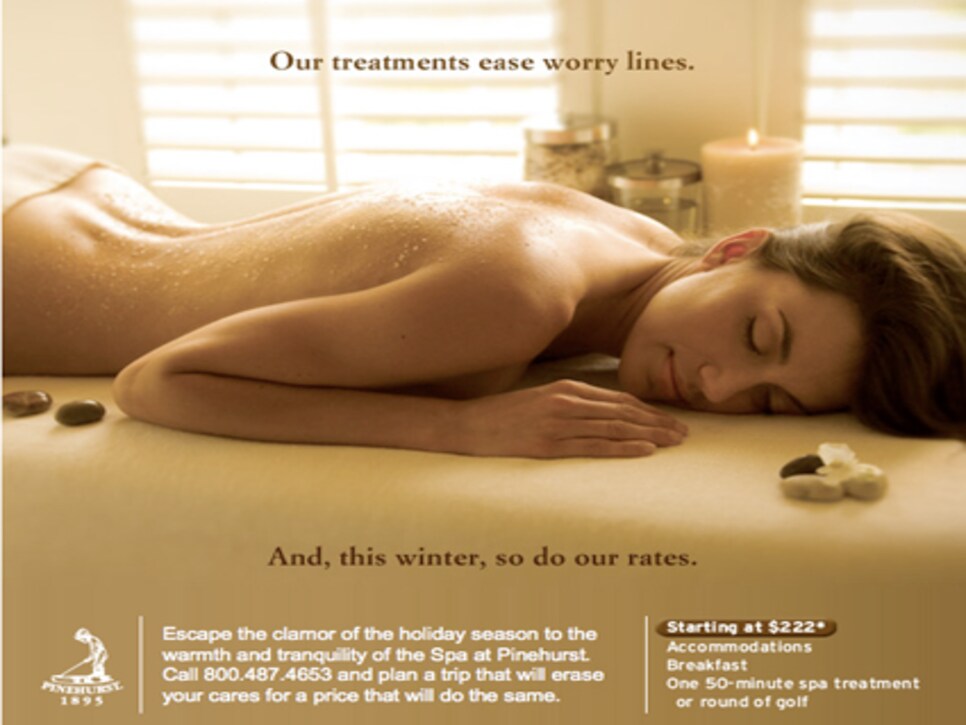 Rate is per person, per night based on double occupancy. Valid 11/8 -- 12/31/09. Subject to tax and resort service fee. Some restrictions apply.