The Loop
Sorry Andy Murray, but there is no such thing as a "Big Four"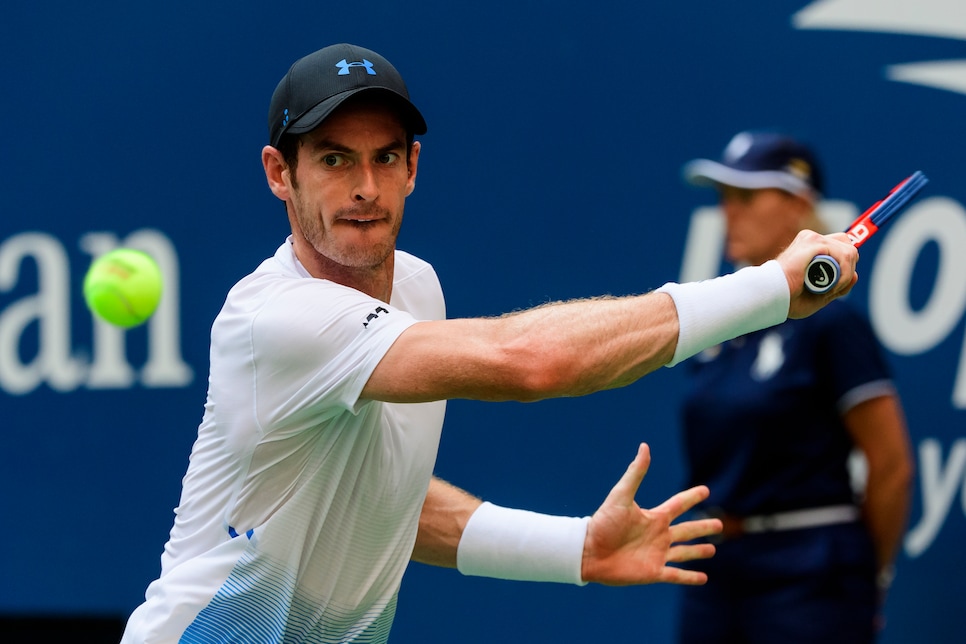 Let's play a quick game of "which one doesn't belong." Below, you'll find the resume of three tennis players.
Player one: Three grand slam titles, 28 ATP titles, one gold medal, one Davis Cup title, highest world ranking no. 3.
Player two: Three grand slam titles, 45 ATP titles, one year-end championship title, two gold medals, one Davis Cup title, 41 weeks as no. 1 player in the world.
Player three: Thirteen grand slam titles, 70 ATP titles, five year-end championship titles, one bronze medal, one Davis Cup title, 223 weeks as no. 1 player in the world.
This exercise is not meant to be 100 percent clear-cut, because clearly player two has a better resume than player one. However, player three is so much better than both that there's only one conclusion to draw: Players one and two are the most similar, and player three is the one who doesn't belong.
Tennis fans already know that player three is Novak Djokovic, the "least" accomplished of the triumvirate that currently rules men's tennis. Compared side by side with the accomplishments of Rafael Nadal and Roger Federer, his resume would be third-best.
And yet, he's clearly several levels of greatness above both player one, Stan Wawrinka, and player two, Andy Murray. Which leads to my main point: While Andy Murray is clearly the fourth-best player of his generation, it does a disservice to Djokovic, Federer, and Nadal—three of the greatest champions the sport has ever known—to use the term "Big Four." Harsh as it may sound, Andy Murray doesn't belong in that discussion. He is more properly viewed as the leading man of the second tier that includes Stan Wawrinka and Juan Martin Del Potro. He has far more in common with these men than he does with the giants above him.
Ultimately, greatness in tennis will always be judged by grand slam titles, and the next most reliable metric is time spent as the no. 1 player in the world. And here's the astounding truth: By the time Djokovic, Nadal, and Federer have finished their careers, they will be the top three in career grand slam titles (it might happen as soon as next weekend, when Djokovic could tie Pete Sampras with 14 titles at the U.S. Open). If Nadal spends 12 more weeks as the no. 1 player in the world, all three of them will have reached the 200-week mark with that honor—a feat previously achieved only by Connors, Lendl, and Sampras. And in terms of overall ATP titles, they make up three of the top seven historically (Murray is 14th).
If there's one stat that gives Murray the best claim for inclusion in the troika, it's career winning percentage. Bjorn Borg holds down the no. 1 spot with an .831 mark, but second through fourth are Nadal (.829), Djokovic (.825), and Federer (.820). Murray is respectable (ninth, with a .779 mark), but even if we were going to ignore the need to win grand slams to cement a historical legacy, and give this metric added weight, Murray still lags behind his contemporaries. His most compelling argument still places levels below his superlative peers.
The situation was hammered home for me this past weekend at the U.S. Open, when all three men made the fourth round (Federer lost in a Monday night thriller, but Djokovic and Nadal went through to the quarterfinals), while Andy Murray fell in the second round. The Big Three are on a different magnitude of greatness, and while I would reiterate that Murray has had an incredible career—and deserves massive credit for delivering the U.K. a long-awaited Wimbledon title, along with two gold medals—it does a disservice to history to use the term "Big Four."
When this era has finally come and gone, and a new generation rises at last to take their place, we'll look back and understand just how lucky we were to see three of the greatest players in tennis history plying their trade. And if we take an honest look at the numbers, we'll also understand that Andy Murray was a foil to the these men—great in his own right, but not one of the three kings. No matter how many times we said the words, there was never a Big Four.
The "I Think I've Just Seen the Future of Tennis" Human of the Week: Aryna Sabalenka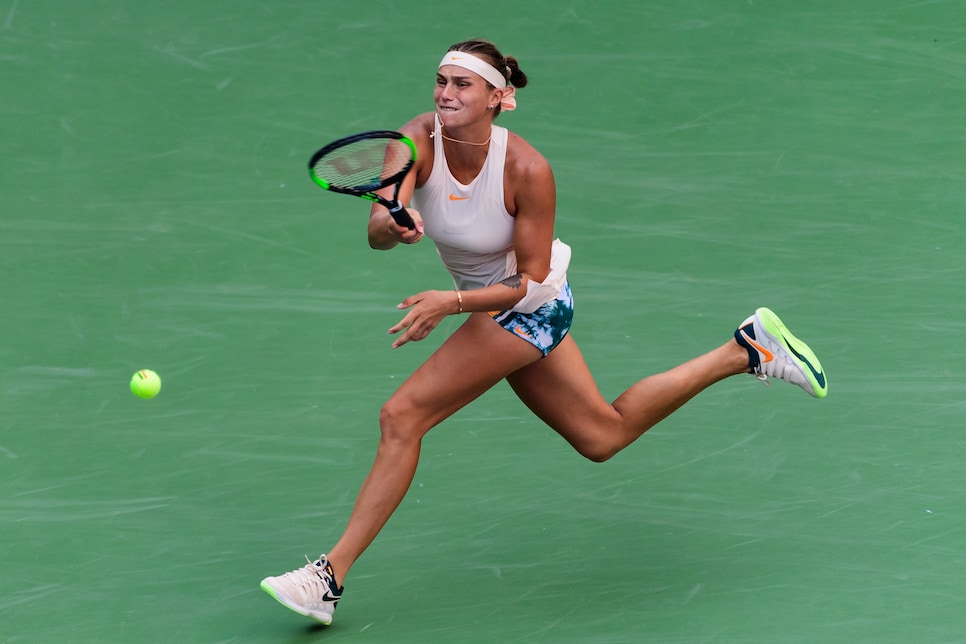 Have you ever heard of Sabalenka? If you're not a serious tennis head, the answer is probably "no." I was only peripherally aware of the 20-year-old Belarusian before this year's U.S. Open, but the name started to creep onto my radar as she made her way through the draw. Finally, I caught her third round match against fifth-seeded Petra Kvitova and was astounded—the sheer power and consistency of her game had my jaw on the floor. I had to tweet about it, I had to call my mom to tell her to watch, and I concluded in my state of initial enthusiasm that I was looking at the future of women's tennis. "She's going to win ten grand slam titles," I told my friends the next day.
I was unreasonably excited to see her fourth round match against fellow 20-year-old Naomi Osaka on Monday, both because I wanted to witness her surreal ability again, and also wanted to see if I had gone overboard in my raving the round before. I felt invested in this match—I thought I had seen something extraordinary two days before, and I wanted to repeat the experience, to confirm my astonishment.
In the first set, she choked. The brilliant power was out of control, backhand after backhand flew long, and Osaka was the smarter player by far. I was unduly upset by this—was Sabalenka nothing more than a Denis Shapovalov type, hugely gifted but unable to harness her weapons, and destined to lose when she was "off" because she didn't know how to stop going for outrageous winners? I felt like I was watching the specialness I'd imagined evaporate into ordinary miscalibrated bludgeoning, and it was disappointing.
Then the second set began, and everything changed. The genius returned, and it was spectacular—Osaka could only watch as Sabalenka controlled...well, everything. The stunning pace was on full display, now with more consistency, as she overwhelmed her opponent with winner after winner. It was, for a tennis obsessive like me, ecstatic viewing. The set score was 6-2 to Sabalenka, but it could easily have been 6-0. I knew for sure that she had shaken off her nerves and was about to win, and I especially knew it when she took an early break in the third set to go up 2-1.
Then, agonizingly, the nerves hit again. The errors returned, she lost her break, and she played mindless tennis, practically handing Osaka the match. Not that she didn't show some real grit; twice, she fought back from 0-40 deficits on her serve to reach deuce, and she held the first time. But on the second try, despite giving herself a game point, she fell back to deuce and eventually double-faulted to lose the match. In anger, she threw her racket toward her chair, drawing gasps of censorious delight from the crowd in Louis Armstrong Stadium.
Despite the loss, I came away from the match convinced that I'd been at least half-right—at her best, I'm not sure we've ever seen anything quite like Aryna Sabalenka. I honestly can't tell if her sheer strength and power come with the inevitable trade-off of inconsistency. Was her Osaka match simply a matter of nerves, or will it be impossible for her to win a grand slam with that relentless, spectacular style of play? What I do know is that at her best, she is a stunning talent capable of real greatness. It will be fascinating to watch her attempts to channel that gift and transform nascent genius into concrete results.