News
Sophie Gustafson receives the GWAA's Ben Hogan Award
When LPGA star Sophie Gustafson decided to ask for a sit-down interview with the Golf Channel during the Solheim Cup last September, she never imagined the impact it would have on her life. In her 13 years on the LPGA Tour, she'd always flown somewhat under the radar despite five wins and a stellar Solheim Cup record. Many golf fans didn't even know the stoic Swede suffers from a severe stuttering problem, because she'd stayed away from giving interviews and victory speeches. But as her eighth Cup rolled around, she resolved to let the cat out of the bag.
"It's always a bummer during the Solheim Cup because everybody else is doing interviews and press conferences, but no one even bothers asking me if I want to do them anymore," Gustafson told Golf Digest Woman afterward. "That's why I wanted to try something for this edition. I feel like I have a lot to say and can actually be pretty funny, but it's hard to get it out since I usually keep my mouth shut in public."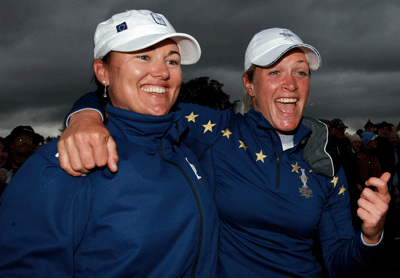 *Gustafson (left, with Suzann Pettersen) put up a perfect 4-0 record for the victorious 2011 European Solheim Cup team. (Photo by Getty Images)
The reaction to Gustafson's candid interview, during which she sat alone in a room with a camera for over an hour, was overwhelming. She was applauded in the media and on Twitter as a great inspiration to others, and the Golf Channel has since re-aired the piece several times. The once anonymous player became one of the most talked-about names in golf in 2011. "I received notes from parents after my TV interview telling me that their kids stutter and now they finally have a sports 'hero' that they can relate to, to look up to," Gustafson tells Golf Digest Woman. "It's very special to get that kind of feedback from people."
On Wednesday, the Golf Writers Association of America announced Gustafson as the 2012 recipient of its prestigious Ben Hogan Award for remaining active in golf despite a physical handicap or serious illness. From the GWAA release: "Gustafson has been on eight Solheim Cups and won five LPGA events in her 13-year career, but hasn't gotten the attention that such a record would merit because of her stuttering problem. Last fall, she opened up and went 'outside my comfort zone' to do a pre-Solheim television interview with incredible grace and dignity. She often lets her thoughtful -- and fun -- side and her sense of humor show through on her blog and in her tweets. She edged Bryce Molder for the Award. Heath Slocum finished third."
Gustafson is grateful for the recognition. "I'm incredibly honored and humbled to receive this award," she tells us. "I've never seen my stutter as much of an obstacle in playing golf, but if people can use my handicap as inspiration in realizing their dreams, I couldn't be happier."
Gustafson, along with William D. Richardson Award winner Major Dan Rooney and ASAP/Jim Murray Award winner Brad Faxon, will be honored at the annual GWAA Awards dinner April 4 in Augusta, Ga.