ANA Inspiration
Sophia Popov enjoying delayed gratification, is in contention in another major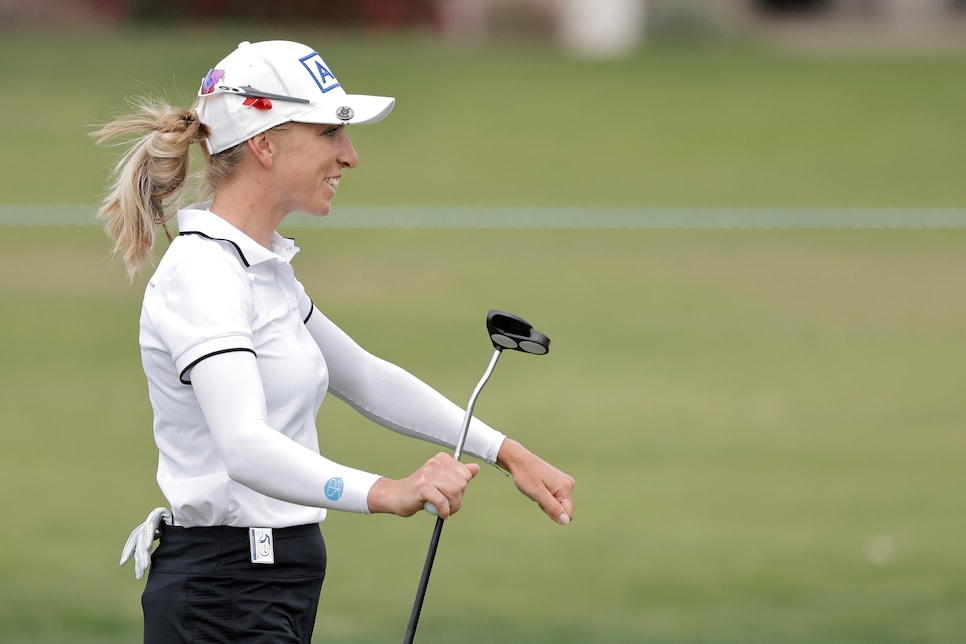 RANCHO MIRAGE, Calif. — Instant gratification dominates the culture, but denied it in the wake of her victory in the AIG Women's British Open last summer, Sophia Popov is finding delayed gratification agreeable, too.
Moments after winning the British Open, Popov learned that a technicality would not allow her to play in the 2020 ANA Inspiration that had been postponed until September. Instead, she would have to wait to make her debut in the LPGA major until 2021.
Patience may be the art of concealing impatience, as someone once suggested, but Popov had no choice but to wait, and the wait is proving to have been worth it. Popov is in contention midway through the first major on the LPGA schedule. She shot a three-under-par 69 on the Dinah Shore Tournament Course at Mission Hills on Friday to get to five under, which at the time was only two strokes off the lead.
"Obviously so far so good," Popov said. "You know, with good play you're actually having fun, so, so far it's been awesome. It's kind of what I hoped for. I watched this tournament so many times. Been here, watched my former teammates play. It's an amazing course obviously in really good condition and I'm playing I guess up to my expectations, so that's good."
Popov, who has dual citizenship, in Germany and the U.S., was a college star at the University of Southern California, but struggled with the transition to professional golf, until her surprising breakthrough victory at Royal Troon last summer. Since then, she has not missed a cut and has sustained a level of quality that includes two top-10s and six top-25 finishes.
"I guess I'm just like a lot more calm out there," she said. "I'm enjoying myself. I'm hitting good shots. I wouldn't even say every part of my game is 100 percent right now, but I think the confidence is really giving me that little edge.
"So when a round could go one way it's going the other way just because I feel like I don't have a lot to lose. I'm not sure why I feel like I'm in that position, but I think I am. So I'm just kind of going out and trying to create as many chances as I can and going along and trying to make birdies."
She three of them on Friday, seven over two days and has played only one hole over par, a double-bogey 6 on the seventh hole on Thursday.
"Definitely happy about a very solid round today," she said. "No stress. I hit almost all greens, you know, and I made up and down when I had to. Probably left a couple out there, but like I said, if it's stress-free and you're making a lot of pars, that always feels good."