The Loop
Son's health issue becomes Tony Finau's priority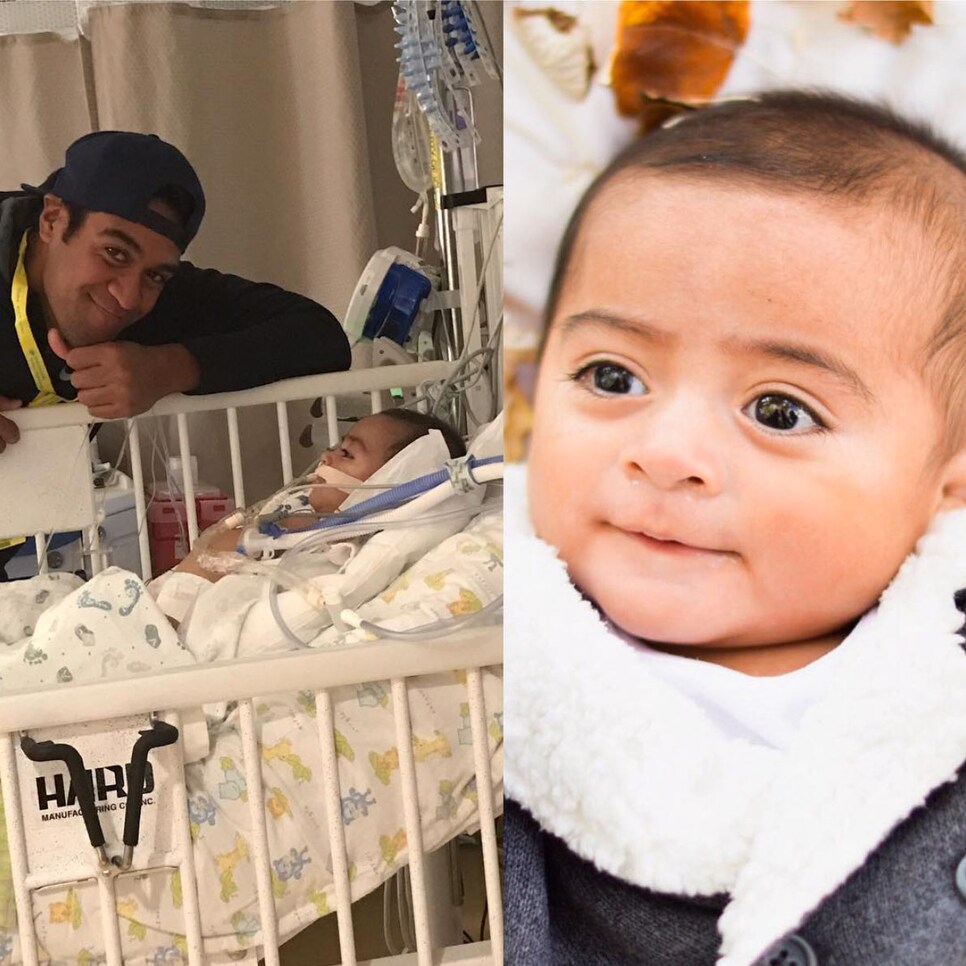 Congenital Cystic Adenomatoid Malformation. You hear that diagnosis as a parent, and the sheer size of the words can bring chills. It gets worse when doctors explain what it can mean.
Sage Finau, Tony and Alayna Finau's 6-month-old son, was born with a CCAM, which is best described as a lung lesion appearing as a cyst or lump in the chest that can vary in size and could lead to cancer if not removed.
Tony and Alayna, who have three other children with son Jraice the oldest at 4, were given this piece of news after an ultrasound during Alayna's pregnancy. They knew it would mean a lengthy surgery, but as the hours ticked by at Primary Children's Hospital in Salt Lake City on Nov. 18, the anxiety and fear continued to mount.
Doctors had blocked a three-hour window, but the surgery ended up lasting eight hours. Instead of three small incisions to pull out the tissue with a scope, doctors needed to cut a one-inch opening near Sage's right lung.
"It was a lot tougher than anticipated," Finau told me last week after Sage returned home, the surgery ultimately a success and the prognosis good. "They gave us an update every hour and a half. We knew what was going on, but it was really nerve-wracking just in the fact it was going to be no more than two-and-half hours, three max. The third hour comes around. The fourth hour comes around. The fifth hour comes around. As each hour went by we thought it could be more sophisticated, maybe even the surgery wasn't going well. Just all those emotions; you can imagine as parents what we were experiencing."
Sage was 13 pounds, 8 ounces when he was released from the hospital last week. The first six months of his life, he'd had trouble breathing.
His dad is 6-foot-4, 200 pounds, can dunk a basketball flat-footed. His average ball speed with a driver of 184.16 miles per hour was highest on the PGA Tour last season. At 27, his life and career have been coming together. In March, he won the Puerto Rico Open for his first tour victory. Before the Fall Series, he picked the brain of Jason Day about taking the next step in his career.
"I've been fortunate to never be hurt or injured seriously," Finau said. "The way I swing a golf club, with how fast I swing it, that's not always the case with guys my size. I have to be grateful for that and take advantage of that."
Finau, who is of Tongan and American Samoan descent, describes himself as a spiritual person of the Mormon faith. He has been through drama in his life, growing up without much and losing his mother in a car accident five years ago. But his outward calm is such that his friends say you would never know it.
Still, the idea of Sage going through the pain, Finau contemplating the possibilities while seeing other children in the hospital without arms or legs, with heart problems or breathing through tubes, was life-changing.
"His kid was fighting for his life, but he was almost helpless other than being there," said Finau's father, Gary. "He grew a lot."